Reading International (NASDAQ:RDI) engages in the development, ownership and operation of entertainment (cinema & theatre) and real property assets. The company was founded in 1937 and operates in Australia, New Zealand and the United States.
The company currently trades at a substantial discount to a conservative estimate of intrinsic value. RDI's cinema business and hard real estate asset's provide significant downside protection and any asset sale / development announcement provides a near term catalyst for the market to re-evaluate RDI's share price.
Why the discount?
The CEO controls the company through majority ownership of the voting class of shares (NASDAQ:RDIB). As a controlled company, there has been uncertainty as to when and if management will work to unlock value and move the stock price closer to RDI's intrinsic value. I believe this 'governance issue' along with RDI's small size has led the market to ignore / undervalue RDI stock.
Recent announcements by management concerning value unlocking real estate transactions present a near-term catalyst that should lead the market to giving RDI a second look and closing the gap between share price and intrinsic value. The recent entry into the Russell Indexes presents another small catalyst.
Valuation
Cinema Segment
The cinema segment accounts for over 90% of revenues for RDI. The company owns and manages a total of 57 cinemas comprising a total of 471 screens. The geographic breakdown of the cinemas is as follows: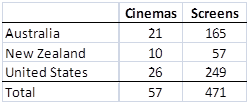 source: RDI 10K
The cinema segment has generated about $30M of EBITDA in each of the last three years. The following table highlights key financial metrics for this segment for the last five years.

source: RDI 10K's
The strong box-office to kick-off the year with films like "The Hunger Games," "Sherlock Holmes: Game of Shadows" and "The Avengers" breaking records, has led to higher than average cinema attendance. RDI has benefited from this industry wide trend so far this year. Q1 Revenue at RDI's Cinema's grew over 16% and EBITDA by 48% compared to Q1 last year.
Perhaps the most straight forward way to value RDI's Cinema Segment is to value it based on the multiples competitors are receiving. RDI compares itself to the following four cinema companies - Regal Entertainment (NYSE:RGC), Marcus Corporation (NYSE:MCS), Carmike Cinemas (NASDAQ:CKEC) and Cinemark Holdings (NYSE:CNK). RGC, CKEC and CNK are pure-play cinema companies that lease 70-85% of their theatres. Thus, the multiple that the market assigns them is a near perfect multiple for a cinema company.
source: yahoo finance
Thus, the Cinema Segment alone should be valued at somewhere between $250M - $300M. RDI's current EV is $320M. At $275M (the mid-point of my range), buyers get all of RDI's substantial real estate holding for only $45M. So how much are the real estate holdings worth?
Real Estate Segment
RDI owns real estate in Australia, New Zealand, and the United States. The portfolio is made up of land, real estate developments, and the rental of retail, commercial and live theatre assets. RDIs principal real estate assets of December 31, 2011 comprised of:
Interests in 55 cinema's
Interests in four live theatres
Fee ownership of approximately 1.2 million square feet of developed commercial real estate
Fee ownership of approximately 15.6 million square feet of land
RDI's commercial real estate is often a retail center with an RDI Cinema as the anchor. RDI's land portfolio consists of numerous lots in urban areas in Australia and New Zealand. The book value of the land alone is over $150M with the Buildings and Leasehold Interests accounting for another $180M+ (before depreciation). These book values however, most likely underestimate the true value of RDI's real estate holdings.
For instance, RDI's 2011 10-K lists the gross book value of its Cinemas 1,2 & 3 property in New York (59th Street and Third Ave.) at $23.5M. This property has a 15M mortgage on it. RDI has revealed that it has received multiple bids in the $40-45M range for it. In fact, Capstone Equities made a $100M combined bid for both the Cinemas 1, 2 & 3 and RDI's Union Square Theatre (Gross Book Value - $9M, Mortgage Debt - $7M) properties. Management said at the annual meeting that they are continuing discussions with parties about different alternatives to develop this property.
RDI's Burwood property consists of 51 acres of land that has been zoned for commercial, retail and residential use. This land is unencumbered and has a gross book value of $53.4M. RDI has been trying to sell this land for over a year now. While the initial plan was to sell all the land in one parcel, the company has now decided to pursue subdivision and monetize the commercial, retail and residential zones separately. At the annual meeting the CEO said the land was worth about $75M in his view.
While attempting to monetize some of its real estate, the company has continued to make investments in real estate assets. The company recently purchased 202 acres of land in Coachella, California for $5.5M in a foreclosure auction. This land has been up-zoned for residential development into 843 single family residential units. The last time this land transacted was five years ago, for $48M - $12M in equity and $36M in debt. The developer had also spent an additional $3.7M to entitle this land from agricultural to the planned residential development.
RDI's real estate can be valued in a variety of ways. The task is further complicated as there is no property level NOI data in RDI's filings. The real estate segment has generated operating income of approx $11m for 2011 and $8m for 2010. For my valuation, I use RDI's book values and estimates of various properties ($350M) as a starting point. To this number I apply a 20% discount to be conservative. This yields a real estate segment value of $263M. Because RDI has announced a willingness to sell real estate assets when a buyer proposes a fair price, I believe this is an appropriate method to value its real estate holdings. RDI's history of carrying real estate on its books at below market prices, as well as, the 20% discount provide an additional layer of safety to my admittedly crude estimate of RDI's real estate value.
Debt
While RDI does carry a good bit of debt on its books, the vast majority of it does not mature till 2014-15. RDI's cinema business produces excellent free cash flow which should allow RDI to pay down debt over the next two years (before refinancing). Additionally, RDI owns considerable amounts of property without mortgages that could be encumbered if needed in a crunch.
NOL's
The company has significant NOL's that could be used to shield taxes from the sale of real estate. The US NOL's ($33.4M) do not expire until at least 2025, while the Australian ($45.9M) and New Zealand ($15.8M) NOL's never expire.
Ownership Structure and Governance
The company does have a dual-share class structure. The A shares are non-voting. The B shares are voting shares and the CEO James Cotter owns a significant majority of these shares. The company does engage in related party transactions with Mr. Cotter. Family members work in the business and appear to be very well compensated so there seems to be a bit of inside dealing going on here. Somewhat mitigating the risk of this structure is the fact that the CEO continues to own approx 25% of the company.
Other risks
In addition to governance risk, other risks include currency and property market risk. The property market in Australia has softened. Prices have fallen for five consecutive quarters and volume continues to be weak.
Catalysts
New York City properties being sold or developed.
Burwood property being sold.
The real estate sales mentioned above could alleviate some of the "value-trap" worries among investors and prove the thesis that assets are carried on the books at significantly below market prices. Additionally, the company has engaged in small share repurchases ($750,000 in 2011) in the past.
While this article relies on information from various sources, Andrew Shapiro's articles in particular have helped me gain a better understanding of this opportunity. Please do read his articles to get a more detailed understanding of the company.
Disclosure: I am long RDI.