Durect Corporation (NASDAQ:DRRX) is a specialty pharmaceutical company developing pharmaceutical systems based on its proprietary drug delivery platform technologies.
The company's product pipeline currently consists of seven investigational drug candidates in clinical development, including one New Drug Application (NDA) submitted to the U.S. Food and Drug Administration (FDA) that is the subject of a Complete Response Letter, one Phase III product candidate, two Phase II product candidates and three Phase I programs.
Durect's more advanced programs are in the field of pain management and the company believes that each of these targets large market opportunities with product features that are differentiated from existing therapeutics.
Click to enlarge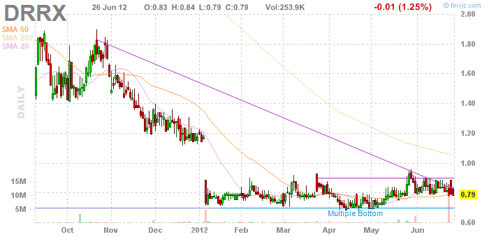 I see at least three reasons to buy the stock currently:
1. REMOXY FDA meeting planned in Q3/2012
An NDA was submitted in June 2008 by Pain Therapeutics, in response to which the FDA provided a Complete Response Letter in December 2008. King Pharmaceuticals took over the NDA from Pain Therapeutics and resubmitted the NDA in December of 2010. On June 23, 2011, a Complete Response Letter from the FDA was received by Pfizer (NYSE:PFE) on the resubmission to the NDA for REMOXY. The issues raised in the Complete Response Letter relate primarily to manufacturing. Pfizer has efforts underway to resolve these issues. On January 31, 2012, Pfizer stated that it intended to conduct two bioavailability studies in the second quarter of 2012 and anticipated meeting with the FDA during the third quarter to discuss next steps.
REMOXY is a unique long acting oral formulation of oxycodone intended to treat moderate to severe pain. Based on DURECT's ORADUR technology, which is covered by issued patents and pending patent applications owned by the company, REMOXY is designed to discourage common methods of tampering associated with prescription opioid analgesic misuse and abuse.
2. POSIDUR pre-NDA meeting with the FDA expected to occur in the summer of 2012
The company's post-operative pain relief depot, POSIDUR, is a sustained release injectable using the company's SABER delivery system to deliver bupivacaine, an off-patent anesthetic agent. SABER is a patented controlled drug delivery technology that can be formulated for systemic or local administration of drugs via the parenteral (i.e., injectable) route. POSIDUR is designed to be administered to a surgical site at the time of surgery for post-operative pain relief and is intended to provide local analgesia for up to 3 days, which the company believes coincides with the time period of the greatest need for post-surgical pain control in most patients.
On January 5, 2012, the company announced results from the U.S. pivotal Phase III clinical study for POSIDUR known as BESST (Bupivacaine Effectiveness and Safety in SABER trial). BESST was conducted to measure the safety and efficacy of POSIDUR versus placebo in one abdominal surgical procedure and versus an active comparator (injections of standard bupivacaine) in two other abdominal surgical procedures. The co-primary endpoints were pain intensity as well as the use of opioid analgesics over the first three days following surgery.
While the results trended positive for both pain reduction and reduction of supplemental opioid use in the first three days after surgery, they did not reach statistical significance. There were no signs of systemic safety issues, although local site reactions were observed more frequently in the POSIDUR and SABER-Placebo groups than in the active comparator groups.
The company currently holds worldwide commercialization rights to POSIDUR following the notice given in the first quarter of 2012 by Hospira and Nycomed to terminate their collaborations related to the program.
The company intends to hold a pre-NDA meeting with the FDA which it expects to occur in the summer of 2012, with a potential NDA submission under section 505(b)2 later this year, depending on FDA feedback.
3. Insiders are buying
Armand Neukermans purchased 20,000 shares on June 14, and currently holds 95,000 shares through a family trust. Armand Neukermans, Ph.D. has served as a Director since March 2001.
Felix Theeuwes purchased 190,113 shares during May 2012 and currently holds 2,182,714 shares by a family trust. Felix Theeuwes is Chairman, co-founder, and Chief Scientific Officer at DURECT Corporation, established in July of 1998 as a spinout from ALZA Corporation to focus on the development of pharmaceutical systems and products to treat chronic debilitating diseases and enabling biotechnology drugs.
David Hoffmann purchased 25,000 shares on May 10th. David Hoffmann has served as a Director since December 2002 and as a Lead Independent Director since December 2010.
James Brown purchased 20,000 shares on March 14th by Brown trust. Brown currently holds 1,764,530 shares directly and 560,000 by family trust. James Brown, D.V.M. co-founded DURECT in February 1998 and has served as President, Chief Executive Officer, and a Director since June 1998.
Conclusion
The shares are currently trading at rock bottom valuation due to two disappointed news items on June 2011 and January 2012. I believe the recent insider buys indicate the confidence the company has despite the setbacks.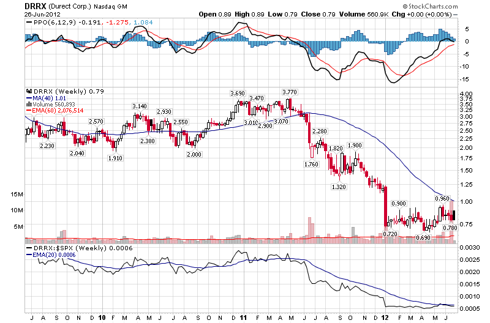 Disclosure: I am long DRRX.