When investing in turnaround companies, we believe it is essential to perform strong due diligence on the company even when it is paying an 8% dividend yield and is trading at less than 2.3X free cash flows. In the case of Supervalu Inc. (NYSE:SVU), we needed to touch upon the following 10 factors that we deemed of paramount importance to our investment thesis:
Supervalu's underfunded pension plan
Supervalu's ability to maintain its dividend
Supervalu's store investment program
Save-A-Lot hard discount stores
Operational investments in price competitiveness
Evaluation of management and its guidance
Supervalu's heritage business as a wholesaler to independent grocers
Sales momentum
Cash flows and debt management
Real Estate owned by Supervalu (stores owned by SVU instead of leased)
In this concluding installment of our analysis and evaluation of Supervalu, we will be covering the following three factors.
Save-A-Lot hard discount stores
Operational investments in price competitiveness
Sales momentum
Supervalu's Save-A-Lot hard discount stores
Save-A-Lot was founded in 1977 by Bill Moran, while Moran was working with General Grocer Company to enable small grocers to compete against emerging mega-stores and created Save-A-Lot's limited assortment business model. Save-A-Lot food stores typically are approximately 15,000 square feet in size, carry about 2,500 SKUs, and stock primarily custom-branded high-volume food items generally in a single size for each product sold.
Save-A-Lot was acquired by Wetterau, a St. Louis area food wholesaler and retailer. In 1993, Supervalu acquired Wetterau and Save-A-Lot. The current CEO of the Save-A-Lot division is Santiago Roces, who joined the company in 2011 after more than a decade of experience at Wal-Mart (NYSE:WMT), where he was most recently senior vice president and general manager, Small Formats Division. Since Craig Herkert has been CEO of Supervalu, the company has emphasized directing store count growth towards the Save-A-Lot chain.
Supervalu opened 52 new Save-A-Lot stores in 2012, including 16 corporate owned Save-A-Lot stores. Supervalu opened 92 Save-A-Lot stores in 2011 and will open ~50 new Save-A-Lot stores in 2013. We expect that the Save-A-Lot chain will generate positive identical sales growth in 2013 after enjoying a 3.2% identical sales growth in 2012 and generating positive operating leverage to stabilize Supervalu's operating margin.
The Save-A-Lot platform has 1,332 stores as of FY 2012, including 397 corporate owned stores and 935 stores owned and operated by franchise licensees. We also like the fact that Supervalu has placed the majority of these stores in food deserts (neighborhoods underserved by grocery stores). Not only is Supervalu doing good for the public by operating the Save-A-Lot chain, the chain is doing well for SVU's shareholders as it provides positive identical sales growth. We agree with Supervalu's management that there exists strong growth potential for the Save-A-Lot chain and we believe that at some point, SVU's management should break-out the Save-A-Lot hard discount segment into its own reporting business unit.
Click to enlarge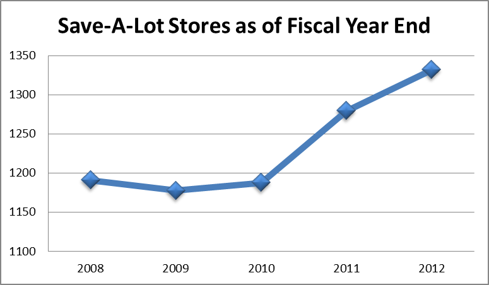 Click to enlarge
Source: SUPERVALU's 2012 Investor Fact Book
Supervalu's operational improvements in price competitiveness
In FY 2012, Supervalu made progress towards improving its pricing competitiveness. Supervalu is committed to prefund price-reduction investments by reducing costs in order to provide the funds necessary to support the initial price-reduction initiatives targeted by management. This way, in case the price reductions don't generate the initial increase in sales volumes, Supervalu does not see a collapse in sales, unlike J.C. Penney (NYSE:JCP). SVU lowered everyday retail prices by up to 20% on approximately 200 items and completed this reset early in the fourth quarter. This resulted in unit volumes improving by over 300 basis points since implementation in Q3, outpacing unit movements in the rest of the store.
Supervalu is also expanding its private brand offerings. Supervalu's new private-label brand Essential Everyday rolled out 41 categories with more than 500 SKUs. Supervalu also aggressively expanded Shopper's Value, its entry-level price brand, which added 68 new SKUs and saw an 11% increase year-over-year. Supervalu seeks to bring pricing in line with its competitors and narrow the gap with discounters. We expect these investments to pay off in the form of increased customer traffic and consumers changing their perceptions of SVU's value proposition.
Supervalu's sales momentum
Supervalu is seeing positive momentum in its sales trends. While Supervalu is expecting to see another identical sales decline in its retail grocery segment for FY 2013, we are pleased that the decline in identical sales projected for FY 2013 of 1-2% is less than the 2.8% identical sales decline in FY 2012 and much less than the 6% identical sales decline in FY 2011.
Supervalu is pursuing a "hyper-local retailing" strategy by putting more control in the hands of its store directors to make its stores reflect neighborhoods preferences. Supervalu's growth engine is the Save-A-Lot business, which generated 3.2% identical sales growth last year. Supervalu is also making significant progress in improving the sales at its traditional grocery stores. Based on our in-the-field analysis of the recently remodeled Chestnut Hill store, we can see why that store was generating a brisk level of business, despite the fact that it was on a Friday afternoon during the summer. In our experience in the food retail and food advisory businesses, we have found that Friday afternoons during the summer are typically slow periods for grocery stores.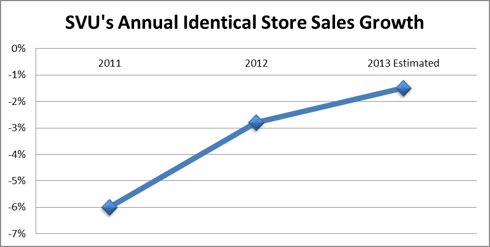 Click to enlarge
Sources: SVU's 2012 Annual Report and Q4 Earnings Call
In conclusion, we are confident about our investment in Supervalu. We invested in Supervalu because we felt that the concerns surrounding the company have pushed the stock price to what we believe are bargain levels. We believe that investors should not only purchase shares of Supervalu, but take advantage of market uncertainty to build a position in SVU. We believe that assertive investors who are interested in a Fortune 75 company that is stabilizing its revenues, net income and free cash flows should look no further than Supervalu, as we believe that its stock is a 'super value' for prudent investors.
Disclosure: I am long SVU.
Additional disclosure: Saibus Research has not received compensation directly or indirectly for expressing the recommendation in this report. Under no circumstances must this report be considered an offer to buy, sell, subscribe for or trade securities or other instruments.