A tougher competitive environment in 2008, and the risk this poses to Telus Corp.'s (NYSE:TU) current guidance and consensus estimates, has led to a downgrade of the Canadian telecom company courtesy of Citigroup.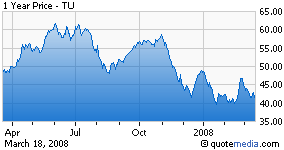 Analyst Michael Rollins lowered his rating from "hold" to "sell" and shaved C$5 off his price target to C$37 per share. He expects revenue at Telus will fall 1% short of the current consensus for 2008, or roughly $50-million below the low-end of the company's guidance range.
In a note to clients, Mr. Rollins listed several factors that continue to impact Telus' free cash flow production and share valuation, including its "dilutive" C$763 million purchase of health care services expert Emergis Inc. [EME/TSX], potential investments in the upcoming spectrum auction, and the possibility of a rapid shift to GSM technology. Then there is also the impact of aggressive competition in the wireless space from Rogers Communciations Inc. (NYSE:RCI) and BCE Inc. (NYSE:BCE).