Shares of Genworth Financial Inc (NYSE:GNW) led the S&P 500 on Thursday closing higher by more than 10% on news that Highfields Capital Management increased its stake in the company.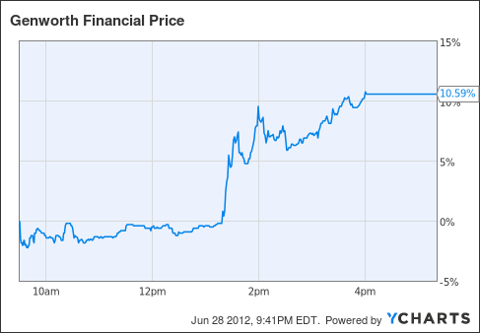 Click to enlargeGNW data by YCharts
Highfields Capital Management LP
Increased stake in GNW to 5.2% from 3.8%.
Has "maintained a dialogue" with GNW management about possible options for mortgage insurance assets.
Possible Downgrade
On Wednesday, Moodys said it was reviewing GNW for a possible downgrade into junk territory.
CEO Resignation
At the beginning of May, CEO Michael Fraizer resigned. CFO Marin Klien was named interim CEO and the search for a permanent CEO is ongoing.
Price/Book
GNW is trading at just 0.16 times book value. Comparably, MGIC Investment Corp (NYSE:MTG) trades at 0.48 times book value and Radian Group Inc (NYSE:RDN) trades at 0.38 times book value. While all of these companies are trading at a significant discount to book value, GNW is trading at a greater discount than MTG or RDN.
Australia Unit IPO Delayed
In mid April, GNW announced that it was delaying the IPO of its Australian unit because of weakness in the business. A sale of part of the Australian unit could help the capital structure of GNW.
Insider Buying
Since May, insiders have purchased over $500,000 in stock. This is a strong vote of confidence in the troubled company.
My Take
Given the current valuation based on book value, the newfound activism from Highland, and recent insider buying I believe GNW is a speculation worth making.
Disclosure: I have no positions in any stocks mentioned, and no plans to initiate any positions within the next 72 hours.