I have written quite a few articles regarding Apple (NASDAQ:AAPL) and the trends this stock brings to the table. Many of the traders, investors, and even those who consider themselves just avid "fans" of the stock feel that Apple is its own animal. That the rules of the market don't apply and that it is on a clear cut straight arrow to $700, $800, even $1,000 a share.
Click to enlarge
I would tend to agree that Apple is a monster and will continue to be a monster for years to come. But there are times when the arrow does not go straight and true and…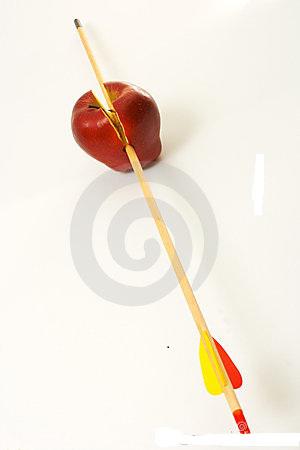 There goes a slice of your profits, the stock pulls back and needs to regain the ground it lost. Like an engine driving a vehicle up a hill, if it stalls out, the car will roll backwards until the engine restarts and can regain momentum. I have shown these charts before, but they're worth the look again:
Click to enlarge

This shows the dips the stock had taken back in mid/late 2011 and into early 2012. I wrote about this stating I felt Apple would see $500 before $600. I was somewhat right, the stock DID pull back (see chart below) in early March, but not back to the $500 level.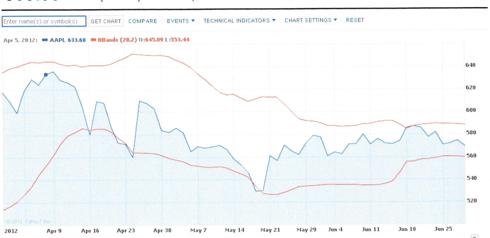 These are not small pullbacks, but are double digit and provide opportunities to either accumulate more shares OR (if you are hedging) the chance to write covered calls against your position to profit while still remaining bullish on the stock and also protect against downside.
As you can see over the last three months, the stock had a down cycle that sent shares as low as $530 a share in May, and are now floating in the $560-$580 range. It has been acting like a YO-YO, a theory I have discussed on articles on stocks such as Sirius (NASDAQ:SIRI). This stock is starting to develop the same disease as Sirius did for the 12 months preceding April and May's drop.
Assume for a minute you own 300 shares of this stock with a Cost Basis of $500. You are already enjoying a 10% ROI if you choose to sell the stock tomorrow, but you believe that the stock still will grow. This is not a bad position to be in! Let's assume you wrote 3 covered calls (each call equals 100 shares) tomorrow and got the price listed below:
What the $4.40 is the premium you would collect for each share. So you would collect $1320.00 less commissions and fees (about $15) for about a $1,300+ payday. IF (and this is a big IF) the stock climbs AND (more importantly) closes at or above $600 at the end of trading on July 20th (settlement date in this example) your shares are sold (at a 20% premium to what you paid, $30,000 profit) AND you keep the $1,300.
If the stock does not remain at or above $600 in less than 30 days from now, you simply keep your stock AND the $1,300 you collected. Remember, the key is the stock has to STAY above the Strike price which means it needs about a 7% increase in 21 days time with only 15 of those days trading days. Not likely and if it does not, you make about a 1% profit on the value of your shares in 20 days. That works out to about an 18% ROI over the course of a year.
The point today is there are ways to remain bullish on a stock and continue to make money as you hold it. This stock is no different. As you can see from history, outside influences and much more, ANY stock is vulnerable to swings in the market. The key is to be there to profit from them.