Osiris Therapeutics (NASDAQ:OSIR) was founded way back in 1992, around the same time as Geron (NASDAQ:GERN). Unlike its more famous competitor, Osiris has stayed in the stem cell game. In May this year Osiris made history by having the world's first approved stem cell drug: Prochymal. Prochymal helps children who have received bone marrow transplants and contracted Graft Vs. Host disease. This deadly disease was heretofore untreatable, and Prochymal is now an approved treatment in Canada. Despite this being a huge validation for stem cell research, Osiris's price failed to react.
Shortly after the approval of Prochymal, Medicare issued reimbursement codes to cover Osiris's skin graft therapy: Grafix. This approval will likely be a great new source of revenue for Osiris, however, the stock price still failed to move. It was only when New Zealand followed Canada's approval of Prochymal in mid-June that the stock price climbed over 100%.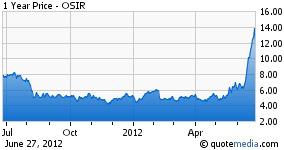 The question now is: Will the market continue to keep the faith in growing revenues and support the stock price? Osiris has seen a higher price before in its 5 year history as a public company, and with biotech stocks, what quickly rises, may also fall. One troubling note is a recent 50% drop in Osiris's revenue, now $4.6 million per quarter, down from around $10 million in the previous 3 quarters.
Further, Osiris has a lot of new things in the development pipeline, such as heart tissue repair, and insulin creation for diabetics. The problem is that clinical trials need cash. Osiris is burning through $5 million per quarter. It currently has $41 million dollars to spend, down from $60 million in the previous year.
Yet, where there is risk, there is return. Osiris is creating products to treat diseases for which there are no alternatives, and therefore, no competitors. If the clinical trials are successful then there will be a big payoff, if not, Osiris can ease off to its already approved therapeutics.
Basically, Osiris is a stem cell company with mature products that can generate revenue and profit. These are characteristics sadly lacking from other stem cell companies in the game. As someone who believes in the promise of stem cells and rejuvenation therapy, Osiris stands out as the most robust company to invest in. Other companies with great promise for regenerative medicine include: Advanced Cell Technology (ACTC.OB), Neuralstem Inc. (NYSEMKT:CUR), Aastrom Bioscience (ASTM), StemCells Inc (STEM), and Pluristem Therapeutics (NASDAQ:PSTI). All need your investment and cash. All of them are priced under $3 a share, and can have a much higher return.
Does Osiris's recent success signal a new light for stem cell research and products? Is Osiris leading the way in a new age of regenerative medicine? Whatever happens it is going to be interesting times, and we as investors can support these companies for a better future.
Disclosure: I am long OSIR, ACTC.OB.