A recent poll conducted on behalf of software giant SAP showed that small and midsized companies are expecting to make large profits with "Big Data." The term Big Data refers to basically data pools that are captured and stored for getting aggregated and analyzed.
There has already been an exponential growth of corporate and government data volumes, thanks to the digitization revolution in past three or four years. This growth is expected to continue as more and more corporations use analytics-based solutions for gaining detailed consumer insights to segment their markets and customize marketing and new product development plans.
According to a recent McKinsey report, a retailer using Big Data to the full has the potential to increase its operating margin by more than 60%. The report goes on to highlight critical uses and even discusses sectors where big data can be used for driving competition and growth. If you are already owning or planning to own stocks of Big Data companies (e.g. STX, IBM, HPQ, EMC etc.), this report is a must read.
So what company is a growing leader in providing Big Data technology, both in terms of software and hardware? Take a look at EMC Corp (EMC).
EMC is one of the world's largest suppliers of Enterprise Storage
Systems or ESS in the government and private sector around the world and offers an array of products that help in Data Recovery and Cloud Computing.
The company operates in two business segments:
The Information Infrastructure segment provides mainly ESS and supporting software tools that help in key processes such as data warehousing, e-commerce, content management and transaction processing.

EMC's main competitors in the ESS are Hewlett-Packard with about 17.5% market share, followed by IBM with about 16.5%. EMC enjoys a solid 22.6% market share in this domain. Companies like SeaGate Technologies have a bigger market share in hard disk drives rather than the ESS domain (although, STX is another tremendous growth story with huge profit potential, and this article discusses why).

The VMware Virtual Infrastructure segment is involved in virtualization based cloud infrastructure applications. The company has an 80% stake in VMware, which is the largest provider of server virtualization software.
Recent Stock performance
EMC is down about 7% in the past 12 months, 15% in the past quarter and 3.5% in the past month. The main and growing concern has been the sluggish economic growth globally and especially in the US, and of course, the mess in Europe.
Technicals
The near-term chart for EMC still shows bearish signals, but recently some bullish signals did appear on the chart.
Bearish signs: The MACD still indicates a bearish trend, and so does the Relative Strength. The 50 day MA has been falling which shows weakness in the stock.
Bullish signs: There were a few signs of a reversal recently. The 10 week MA is above the 40 week MA, indicating possibility of a bullish trend. Also, the 200 day MA is rising, and the up/down volume pattern shows that stock is under accumulation. A technical Hammer formation appeared recently on June 15th, after an Outside Bar formation had appeared on June 8th.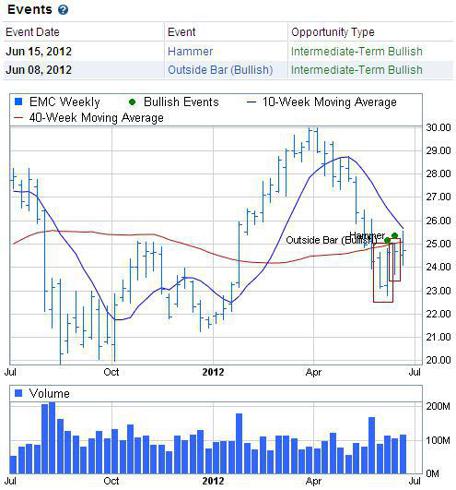 Note: Investors must remember that historically, the June-July summer rally is more contained compared to the rallies in Q1, Q2 and Q4. Also, the months of August and September have historically been neutral to very bearish. Investors must consider those aspects when using intermediate trends to decide on entry points for long term investments.
These technicals are more useful if you are trading the stock and plan to get out before the end of a confirmed rally, and then get back in after a downtrend. In such cases, investors should read and review the chart daily for possible bullish or bearish signals and act accordingly.
Key Statistics
EMC's earnings growth have outpaced their trailing twelve months Revenue Growth. Their projected EPS growth going into the next 5 years appears pretty good. Their EBITD Margin is a solid 25%, and ROE and ROI are both very good compared to peers. The Key Statistics table shows these impressive numbers.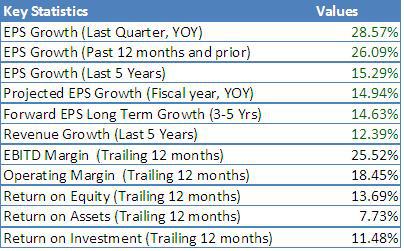 What makes EMC special?
EMC has several good reasons to be proud of their 2010 and 2011 achievements.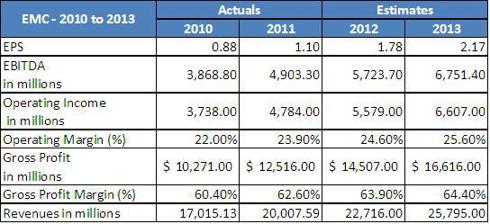 Positive trends
EMC's 2011 revenue growth was higher than any other company in the Computer Storage & Peripherals sub-industry. Their revenues, gross profit margins, operating margins and EBITDA are all expected to improve going into the next 5 quarters. Take a look at the actuals for 2010-11 and estimates for 2012-13. The fact that operating margins are widening into 2012 and beyond is very encouraging, as it indicates that expenses as a percentage of revenues are decreasing.
Acquisitions are working:
EMC's acquisitions have been very strategic and sound, and more importantly, they are working. Overall, EMC has made about 48 acquisitions in the past 16 years, including VMWare in 2003, which is already a Wall Street success story.

In 2006, EMC bought RSA Securities, which deals with security management solutions (yes, the RSA SecureID tokens are now made by EMC). 2011's Q4 annualized revenue in fact touched $1Billion for the RSA security division, which was the best quarter ever. RSA outpaced its competitors, with a leading 12% market share in 2011 and an 11.7% YOY growth, according to this report on June 28.

EMC's 2010 acquisition of Isilon has worked with flying colors as well. In terms of results, revenue's from Isilon's products have doubled in FY 2011, and in terms of prospects, the acquisition has given a cutting edge differentiation to EMC's Big Data offering because of its existing EMC's Atmos cloud storage platform. The fact that these products have integration capability with VMWare's virtualization and cloud infrastructure systems is another great differentiator.

Also in 2010, EMC had acquired Greenplum, that added the capability to sort through huge data sets with capacity for millions of transactions per day and according to EMC's 2012 investor letter, "hundreds of billions clicks."

EMC converts a larger percentage of its revenues to profits compared to peers. This indicates that the company is more efficient and profitable, and both are important aspects in maintaining market leadership.
The data storage market is expected to grow around 8% in the next 12 months. The demand will be driven by digitization of media as well as the growing popularity of social networking tools like LinkedIn and Facebook (the benefits of using big data from these websites are huge and invaluable for B2C companies). The usage of e-recordkeeping and cloud computing will continue to grow exponentially in all sectors, not just IT. IDC projects Big Data technology to be a $16.9B market in 2015.
Target Price for 2012 Year end
The lowest 2012 EPS estimate among all the 33 analysts who cover EMC is 1.69, and the highest EPS is 1.82. The average estimate is 1.74.
Considering EMC's 5 year historical average multiple of 16, EMC should trade between the $27.04 and $29.12 range (closer to its 52-week high). The price target based on the average 2012 EPS estimate is $27.84. The stock is undervalued at its current price of around $24, by at least 10%.
The next earnings date for EMC is July 24, 2012, and the analysts will be waiting for comments regarding the outlook for 2012 second half.
Target Price for 2013 Year end
The lowest 2013 EPS estimate among all the 31 analysts who cover EMC is 1.86, and the highest EPS is 2.17. The average estimate is 2.0.
Considering EMC's 5 year historical average multiple of 16, EMC should trade between the $29.76 and $34.72 range. The price target based on the average 2013 EPS estimate is $32.00. The chances of EMC trading much higher than $32 are very good, as more and more companies will have to adopt the Big Data solutions.
Risks
Reduced global IT spending tends to be the biggest risk for EMC and its competitors. Also since EMC operates globally, foreign exchange volatility could potentially cause the company to miss its estimates.
Disclosure: I am long EMC.