We previously had a position in American Capital Agency Corporation (NASDAQ:AGNC) and we noticed that it went ex-dividend on June 19. We also noticed that AGNC's little mortgage Real Estate Investment Trust brother American Capital Mortgage Investment Corporation (NASDAQ:MTGE) went ex-dividend on the same date.
Before AGNC went ex-dividend, we were concerned that the company would take advantage of its market price premium in comparison to its book value and issue a secondary share offering. Now that the company's shares are trading ex-dividend with regards to its $1.25 per share quarterly dividend, we believe that the likelihood of a secondary offering is less than likely since its estimated premium based on our forecasted book value as of June 30 will only be 6.97%. We believe that based on these three factors, we won't see a secondary offering for at least a month.
That said, we do believe that investors should be vigilant in watching out for a secondary offering.
Click to enlarge

Source: American Capital Mortgage Q1 10-Q and Saibus Research Forward Forecast
American Capital Agency is another one of our favorite mREITs. The first thing we like about it is that it is managed by an affiliate of American Capital (NASDAQ:ACAS), which also manages the mortgage book for American Capital Mortgage Investment . We previously held American Capital Agency and we sold it on May 11 because we were concerned that it would issue a secondary offering of stock to take advantage of its 10% market price premium to book value. AGNC did not issue a secondary offering of stock. However, MTGE ended up issuing a secondary offering of stock.
We also like the fact that an investor is achieving a 15.4% annualized dividend yield by holding AGNC, based on its most recent quarterly dividend of $1.25per share. Even if AGNC reduces its dividend by 10.7% like it did earlier this year, it would still provide investors a nearly 14% annualized dividend yield, which is more than satisfactory in our opinion for the best in breed mREIT.
Finally, we like that the company's spread income per share increased from $.98 in Q4 2011 to $1.42 in Q1 2012, in spite of the steadily flattening yield curve and the increased shares outstanding due to the secondary offering that brought in $2.2B worth of equity capital in March 2012.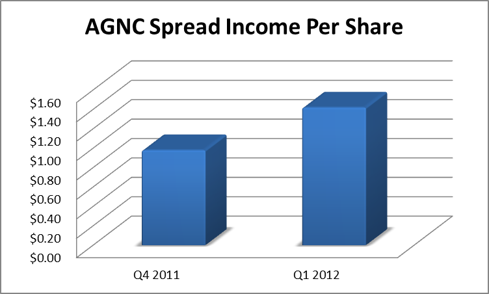 Source: American Capital Agency Q1 Earnings Release
We are also impressed with American Capital Agency's growth. AGNC was founded in January 2008, went public in May 2008 and already it has increased its size to $88.4B as of Q1 2012. We believe that AGNC has been able to achieve this impressive growth due to its ability to identify high-quality mortgage-backed securities that offer favorable prepayment and coupon characteristics.
The most important reason to invest in AGNC is its mortgage portfolio book. AGNC is managed by the same company that manages American Capital Mortgage's mortgage portfolio. We find that AGNC and MTGE are amongst our favorite mREITs because American Capital, LLC (which manages the mortgage portfolios for both companies) is able to acquire and maintain a portfolio of securities with favorable prepayment characteristics and lower coupons as beneficial to returns in the current market and to maintaining reasonable performance in a variety of potential market scenarios for both companies. This has led to AGNC's agency MBS portfolio enjoying Constant Prepayment Rates well below the Fannie Mae and Freddie Mac fixed rate universe.

Source: American Capital Agency's Q1 10-Q Report
In conclusion, we have a favorable opinion of AGNC and recommend it to investors who want or need high current income from their investments. We believe that the Federal Reserve will maintain its low interest rate policy. Though we were disappointed to see the Fed persist in its ridiculous Operation Twist program, we were glad that it did not go further with a third round of quantitative easing. This ensures that even if AGNC, MTGE and other mREITs end up cutting dividends, the dividend cuts will not be steep and that investors will still be able to generate satisfactory double-digit dividend yields on investments in high-quality mREITs like AGNC and MTGE.
Disclosure: I have no positions in any stocks mentioned, but may initiate a long position in MTGE over the next 72 hours.
Additional disclosure: Saibus Research has not received compensation directly or indirectly for expressing the recommendation in this report. Under no circumstances must this report be considered an offer to buy, sell, subscribe for or trade securities or other instruments.