We have been impressed with the performance of Gale Klappa and his management team since they took over the executive leadership of Wisconsin Energy Corporation (NYSE:WEC) from Richard Abdoo and his team. We had first purchased shares of Wisconsin Energy in 1997 not long after its disaster-piece attempt to merge with Northern States Power.
Though the company was never more than 1% of our portfolio, we were disappointed with Wisconsin Energy's performance from 1997 to 2003 and we think that WEC's board should have put Abdoo and the rest of WEC's management out to grass earlier. At least in 2003, the board hit a grand slam by hiring Klappa, Fred Kuester and Allen Leverett away from that august utility powerhouse Southern Company (NYSE:SO).
Click to enlarge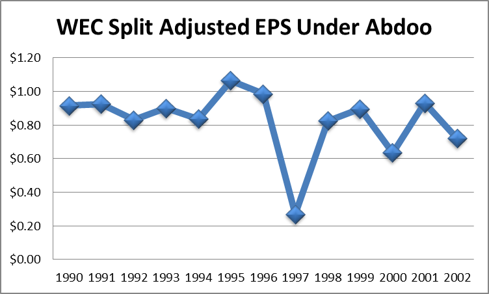 Source: Wisconsin Energy 1994-2002 Annual Reports
Under Klappa and the executives he recruited to Wisconsin Energy from Southern, the company has seen a significant transformation. Klappa brought a renewed emphasis on customer satisfaction to Wisconsin Energy because of the energy utility deregulation that took place in the US during the 1990s and 2000s. Though Wisconsin has not seen energy deregulation, the neighboring states of Illinois and Michigan have and we believe that Klappa wanted to ensure that Wisconsin Energy's customers stayed with WEC when deregulation comes to Wisconsin. Klappa and his team led the company through its Power the Future Initiative, which came to a successful conclusion last year. Under Klappa's leadership, Wisconsin Energy has seen its EPS increase every year and the company restored the dividend to its pre-cut levels in 2010.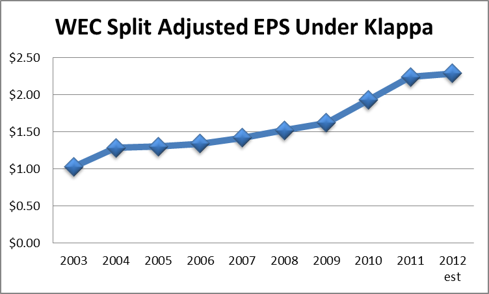 Source: Wisconsin Energy 2003-2012 Annual Reports and Saibus Research estimates
So far in 2012 we can see Wisconsin Energy continuing its strong absolute and relative performance. Despite facing the warmest winter in over 122 years, Wisconsin Energy still generated 2.8% growth in year-over-year EPS growth in Q1 2012 versus Q1 2011. Revenue declines were offset by lower operating costs, interest expense and a 1% reduction in average outstanding shares.
Wisconsin's Unemployment rate was 6.8% in March, which was well below the national average. We attribute this to fiscal reforms enacted by Governor Walker and the Republican legislature. Electricity sales to WEC's largest business customers rose by 3% in Q1 2012 versus Q1 2011.
With regards to construction projects, Wisconsin Energy is building a 50 MW biomass plant in Northern Wisconsin and the air quality control upgrade at the original Oak Creek units. WEC is making excellent progress on the biomass plant in Northern Wisconsin. WEC already topped out the structural steel for the boiler and the steel structure for the turbine and fuel storage buildings are now 90% complete. Construction of the cooling tower is underway as well as excavation work for the auxiliary boiler. The biomass plant will enable WEC to meet the 10% renewable energy requirements as of 2015.
We would also like to point out that Wisconsin's 10% requirements is easier to reach than the 25% requirement that Exelon (NYSE:EXC) has to face in Illinois. We like to point that out to investors because we believe that Illinois's increased taxes, regulations and projected power costs will push Illinois residents and businesses over the border into Wisconsin. FatWallet already took that plunge.
Wisconsin Energy is in the last stages of completing the air quality control upgrade for the older coal-fired units at its Oak Creek site. The four older units at Oak Creek are still among the most efficient base load units in the Midwest. We agree with management that the economic solution for its customers was to invest approximately $900 million, including allowance for funds used during construction for the installation of wet scrubbers and selective catalytic reduction facilities. This is the second largest construction project in the history of the company.
Natural gas prices were at historical lows; spot prices are about $2.35 per million Btu and forward prices for the summer are in the $2.35 to $2.55 per million Btu price range; which was clearly influencing locational marginal prices in the MISO market. However, because of the Power the Future program, Wisconsin Energy had moved away from its 70%+ reliance on coal to an expected 50% in 2012. PTF called for the retirement of nearly 600 megawatts of older less efficient coal-fired capacity.
At the same time, the new capacity that Wisconsin Energy added was almost equally balanced between natural gas and coal. Of the approximately 2,200 megawatts that WEC built in the past decade, 1,090 megawatts was natural gas fired combined cycle capacity and 1,056 megawatts was highly efficient pulverized coal capacity. Wisconsin Energy will reduce its coal burn by about 16% in 2012 and increase its natural gas burn by 75%.
Wisconsin Energy's electric customers enjoyed no base rate increase in 2012 and filed a rate request with the Wisconsin Commission seeking an increase for electric and steam customers for 2013 and 2014 and a decrease in base rates for natural gas customers in 2013.
Wisconsin Energy's board has authorized a $300M share repurchase program scheduled to run from 2011 until the end of 2013. Though no stock was repurchased in Q1 2012, $100M has been repurchased under the program so far. Wisconsin Energy has also adopted a dividend policy that seeks to reach a 60% payout ratio in the year 2014, which should enable double-digit dividend growth and reach a payout ratio that is more competitive with its regulated utility peers. Wisconsin Energy's capital investment budget for 2012-2016 is expected to be $3.5B, which is less than the $4.8B spent during 2007-2011 due to the Power the Future program concluding in 2011.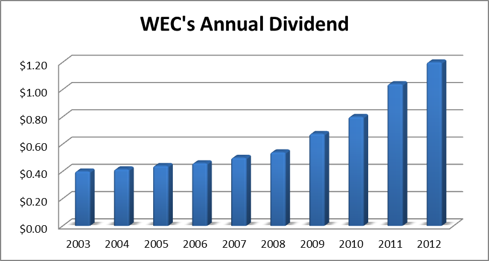 Source: Wisconsin Energy Investor Relations Dividend History Section
In conclusion, we are pleased with the performance of Wisconsin Energy. We expect continued growth from the company. Though we believe that the industry is fair valued, Wisconsin Energy is our utility of choice and the utility we recommend to anyone interested in utility industry exposure. We can see why its performance has significantly exceeded the SPDR S&P 500 Utilities Index ETF (NYSEARCA:XLU) since the XLU's inception in 1998. Not only is Wisconsin Energy recognized for reliability amongst Midwestern utilities, we believe that it could potentially benefit if Governor Walker goes further and privatizes Wisconsin's state-owned power plants.
Disclosure: I am long WEC.
Additional disclosure: Saibus Research has not received compensation directly or indirectly for expressing the recommendation in this report. Under no circumstances must this report be considered an offer to buy, sell, subscribe for or trade securities or other instruments.