We own BlackRock (NYSE:BLK) and have owned it since 2004, six months before it announced its first major acquisition. We were especially pleased that our first published report on BlackRock was referenced by Ignites Europe (subscription required), an affiliate of the Financial Times and a leading information content provider covering the asset management industry.
Recently, BlackRock announced four high profile executive departures in June alone. The first executive departure was Robert Doll, who served as BlackRock's Chief Equity Strategist and as the lead portfolio manager for BlackRock's $1.6 billion Large Cap Core fund, $41 million Large Cap Core Plus fund, $1 billion Large Cap Growth fund and its $1 billion Large Cap Value fund. While we respect Bob Doll's investment career and wish him well in his retirement, we are glad that he has been put to grass. It appears that Doll retired due to ill health, as people were sick and tired of his mutual funds underperforming the S&P 500. We think that if you are a once-great portfolio manager who has been consistently underperforming the S&P 500 for the last five years and you can't even be bothered to come up with your own models, then it's time for you to go. At Saibus Research we use our own intelligence and analysis to identify research and evaluate high quality companies for our proprietary seed capital portfolio book and with regards to the companies that we publish investment research reports on. BlackRock's Chief Investment Officer of Fundamental Equities Chris Leavy will be succeeding Doll as manager of the aforementioned BlackRock funds. BlackRock is focused on transitioning Doll's "portfolio management" duties to Leavy and haven't focused on finding a new Chief Equity Strategist.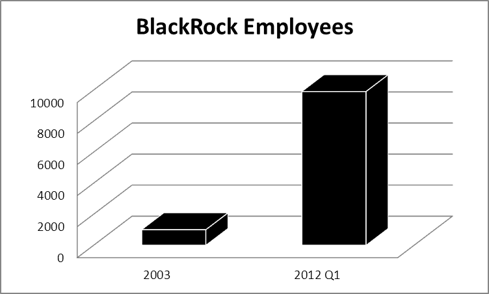 Click to enlarge
Sources: BlackRock 2003 Annual Report and Q1 2012 10-Q Report.
The next high-profile executive departure involved Susan Wagner, who announced her retirement on June 20th. This will take effect on June 30th and upon her retirement; she will be elected to BlackRock's board of directors. Wagner will also serve as a Director of DSP BlackRock Investment Managers, the firm's joint venture in India. Since Wagner had given up her role as Chief Operating Officer and was only serving as a Vice Chairman of BlackRock and since she will still be with the company as a member of the Board of Directors, we are not too worried about this change.
The next high profile departure was Daniel Rice, who co-managed $4.4B in energy and natural resources assets, including the Energy & Resources Fund and the All-Cap Energy Resources Fund. The two funds Rice co-managed were rated 3 stars by Morningstar Investment Research. Rice's service with BlackRock and its predecessors went back to 1984, when he joined State Street Research and Management, which merged with BlackRock in 2005. Rice is resigning due to his previously undisclosed multimillion-dollar side business Rice Energy. Rice only had a token amount (between $100,001 and $500,000 combined for both funds) of personal funds invested in the mutual funds that he managed.
The last notable executive departure for BlackRock was Robert Capaldi. Capaldi served as a Senior Client Strategist for BlackRock CEO Larry Fink and had left the company on June 1. The announcement was released on June 22. BlackRock spokesman Brian Beades could not provide further information on Mr. Capaldi's departure or plans to replace him. This is the only departure that concerns us as it relates to BlackRock's client business and there so far doesn't seem to be any known performance issues and or ethical conflicts.
In conclusion, we are maintaining our holding in BlackRock. While we are not pleased to see four notable executives leave the company in such a short period of time, we noticed that one (Susan Wagner) was serving as a Vice Chairman and did not seem to have any direct line responsibilities we were not too worried over her retirement, especially since she would be joining BlackRock's Board of Directors. We also weren't worried about Robert Doll's departure as he had lost his touch as a portfolio manager and was using off the shelf investment models while claiming creation for them. Nor were we worried about the departure of Daniel Rice since this avoids the potential for conflict of interest because of Rice's previously undisclosed involvement in Rice Energy. Though we would like to get more color on Robert Capaldi's departure, our thesis on BlackRock has not changed. Also, BlackRock is no longer the small, fixed income boutique that it was back in 2004 when we bought it. When we first invested in BlackRock, it had about 1,000 employees. Now it has 9,900. And because of that, we believe that BlackRock is less dependent on any one single employee now versus 10 years ago.
Disclosure: I am long BLK.
Additional disclosure: Saibus Research has not received compensation directly or indirectly for expressing the recommendation in this report. Under no circumstances must this report be considered an offer to buy, sell, subscribe for or trade securities or other instruments.