Recently, we wrote about Berkshire's recent newspaper investments. We received a boisterous level of feedback and were inspired to follow-up on our initial research report. In this report, we were interested in examining further the newspaper portfolios of the companies that Warren Buffett and Berkshire Hathaway (BRK.B, BRK.A) have invested in the past and have invested in recently. The consensus behind Buffett's boring broadsheet buys was that the papers were primarily "small-town community newspapers", which were less vulnerable to the newspaper industry shakeout in comparison to the largest national papers, such as The New York Times, and regional papers, such as The Boston Globe. Our thesis was that while the majority of the newspapers Buffett purchased were "small-town community newspapers", the majority of revenue comes from the larger national and regional broadsheets, which causes us to reject the thesis advanced by the consensus investment community.
The first company we will look at is the Washington Post Co. (WPO). Buffett purchased ~17% of the company back in 1973 and his stake in the company has increased to 23% as of Q1 2012, due to the company's steady buyback program. We previously touched upon how it went from being an outstanding business franchise to an ordinary commodity business in less than 25 years.
We agreed with Robert Hagstrom (author of The Warren Buffet Way) when he pointed out that Buffett considered Washington Post stronger than the rest of its media publishing peers since Washington Post diversified out of newspapers and into for-profit education (Kaplan), Cable TV systems and TV stations, plus had less outstanding leverage, and had Warren Buffett around to make sure that excess cash flows went to dividends and share repurchases. Washington Post also took the difficult but necessary step of selling Newsweek in 2010 for $1 plus assumed liabilities to Sidney Harman.
Washington Post publishes community newspapers as well; however, we think the average daily circulation, including Sunday of 554,810 for Washington Post, represents a more important proportion of the division's revenues than the weekly circulation of 816,000 from its Post-Newsweek Media community newspaper portfolio. Regardless, Washington Post gets the overwhelming majority of its revenue from Kaplan Higher Education as opposed to its legacy, flagship and namesake newspaper.
Click to expand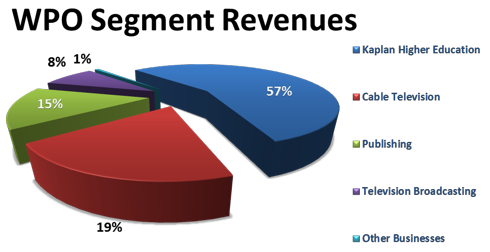 Click to enlarge
Source: Washington Post Q1 2012 10-Q
Berkshire also owns The Buffalo Evening News. It was for years the only newspaper fully owned by Berkshire. Though it is private, we can see that it's not a "small-town community newspaper" but rather a regional metropolitan area newspaper. We will concede that if Buffalo's population declines continue its proud, 60+year streak, then The Buffalo Evening News will be a "small-town community newspaper" without having to do anything on its part to make it happen. We previously touched upon Buffett admitting that his investment in this paper was not rational, as well as the poor socio-macro-economic environment of Buffalo, NY, and to a less extent of the Buffalo metro area.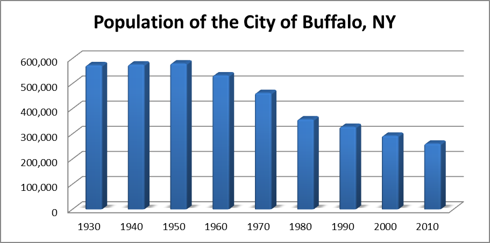 Click to enlarge
Source: U.S. Census
We previously expressed our support for his November 2011 purchase of the Omaha World-Herald back. Though the Omaha World-Herald is not technically a small-town community newspaper like The Newton Tab or The (Lawrence) Eagle-Tribune, we believe that the Omaha World-Herald was a great buy for Berkshire. We believe that Omaha and its surrounding area has less of a "big city" feel to it than say Chicago, St. Louis or even Kansas City. We also believe that the Omaha World-Herald was most likely a financially healthy newspaper due to the culture of ownership and accountability you would expect from local ownership consisting of the Peter Kiewit Foundation and OWH employees. Unlike Buffalo and its metro area, Omaha and its surrounding area registered average to above average population growth versus the rest of the United States.
We previously touched upon Berkshire's $26M in Gannett Co., Inc. (NYSE:GCI) stock. Gannett's most recognizable asset is USA Today. Gannett also owns a diverse portfolio of local newspapers, television stations and Internet assets, including 53% of CareerBuilder.com. With regards to Gannett's newspaper franchise, it publishes 82 newspapers in total. Our thesis on Gannett's newspaper franchise is that it has the majority of its newspapers in small towns but the majority of its revenues and circulation come from USA Today and regional newspapers in a central city of a large metro area. Gannett's top nine papers were national and large regional metro papers, and those top nine papers accounted for at least two-thirds of Gannett's total circulation.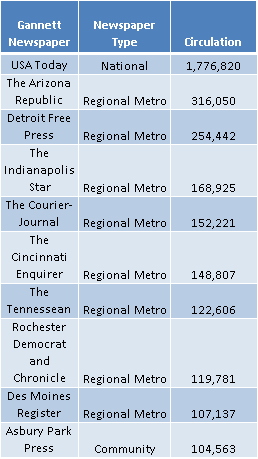 Source: Gannett's 2011 Annual Report
Berkshire also bought 63 newspapers from Media General (NYSE:MEG) for $142M as part of its rescue of the beleaguered company. The Tampa Tribune was not included in the sale. Media General only provided an itemized breakdown of its daily papers; however, we concluded that our thesis of Media General's regional daily newspapers accounts for the majority of the circulation for Media General's newspapers business.

Click to enlarge
Source: Media General's 2011 Annual Report
Berkshire also bought 1.655M shares of Lee Enterprises, Incorporated's (NYSE:LEE) common stock and $85M worth of Lee Enterprises loans, which were to be exchanged into junior debt and an at least 4.1% stake in the company as part of its bankruptcy. After taking a second look at the company, we have a greater appreciation for this investment. Our opinion on Lee has moderated because we broke it down into two different companies as follows:
Legacy Lee Enterprises, which primarily published community newspapers, and
Legacy Pulitzer, which Lee acquired in 2005 for $1.46B
When Lee acquired Pulitzer, Pulitzer relied on the St. Louis Post-Dispatch and other related properties for 71% of its revenue. Pulitzer also published the Tucson, AZ based Arizona Daily Star, which is now Lee's second biggest paper by circulation. Despite serving the fast growing Tucson, AZ metro area, the Arizona Daily Star has seen a steady erosion of its circulation since Lee bought Pulitzer. Despite the weakness of the legacy Pulitzer operations, we have come to appreciate Berkshire's investment in Lee Enterprises since it has a 100% free cash flow/market price ratio and a pre-tax free cash flow return on adjusted investment capital of 17%. We would especially be interested to see if Buffett can use his influence to get Lee's management to sell-off the St. Louis operations since the St. Louis metro area is seeing weak growth, especially in its central city.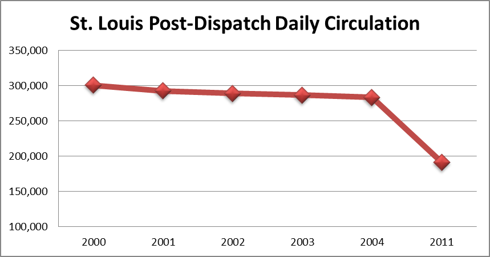 Click to enlarge
Sources: 2004 Pulitzer Annual Report and 2011 Lee Annual Report
In conclusion, we have shown that the hypothesis articulated by the investment community that Berkshire's investments are primarily centered on community newspapers is incomplete. While the majority of the newspaper companies are small-town community papers, the majority of revenues from Berkshire's investments in newspapers are coming from large national and regional metro area newspapers, which we believe are less insulated from the newspaper shake-out as the community papers. We also took a second look at Lee Enterprises and while it is most certainly not a company we would recommend as a core investment holding, we can see what the living legend of investing Warren Buffett saw in Lee Enterprises and why he wanted to keep this one secret.
Disclosure: I am long BRK.B.
Additional disclosure: Saibus Research has not received compensation directly or indirectly for expressing the recommendation in this report. Under no circumstances must this report be considered an offer to buy, sell, subscribe for or trade securities or other instruments.