In this article, we will provide you with financial fundamental analysis of footwear retail and manufacturing companies on U.S. stock exchanges. For each company, we have provided price targets, buy/sell/hold ratings, buy/sell ranges and theses. Additionally, using a multitude of financial analytical ratios and comparisons, we have given each company a score on growth, profitability, financial health, value and management indices to compare each company and see where the companies excel and where they have weaknesses. We have featured four of the 12 companies in the full report, which can be seen here.
The 12 companies we have initiated coverage on in the footwear retail and manufacturing industry are Brown Shoe (BWS), Collective Brands (NYSE:PSS), Crocs (NASDAQ:CROX), Deckers Outdoor (NASDAQ:DECK), DSW (NYSE:DSW), Finish Line (NASDAQ:FINL), Foot Locker (NYSE:FL), Genesco (NYSE:GCO), Nike (NYSE:NKE), Skechers (NYSE:SKX), Steve Madden (NASDAQ:SHOO), and Wolverine (NYSE:WWW).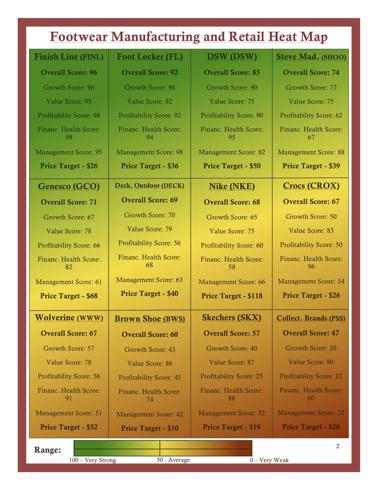 Click to enlarge
(Click to enlarge)
In Part 1, we are going to take a closer look at Crocs , Deckers Outdoor , Finish Line , and Foot Locker .
CROX, Buy, PT at $26 -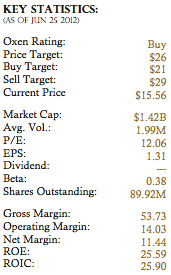 Crocs was a great momentum company that became a company that looked like potentially could become obsolete, and now, they have defined a solid business line and client base to create a small economic moat. The company has excellent financial health, good value, and looks like they are set for good growth in the coming years.
Over the next five years, we see operating income improving at least 50% with margins staying strong and that decent growth is not being respected by current valuations. The P/E ratio is sitting at 12 right now with future PE under 10, which sits below the 15 threshold that we use to find value. Price/book is also below 3, which is another threshold we use to determine value.
The question for many, though, is the staying power for Crocs going to last. The company is in a current strong growth cycle during tough economic times, which is definitely a positive sign. They have become very popular with youth, aquatics, and we see them as less of a fashion item compared to convenience item. Further, they patented their composite they use for their shoes that creates a decent economic moat
Additionally, the company has moved beyond their clogs as well. The company is seeing solid results for their toes, other sandals, and golf shoes. Clogs are only 50% of the mix now for the company, and while that saturation is high, we do see a better diversification of their portfolio now.
Now is the time to buy Crocs!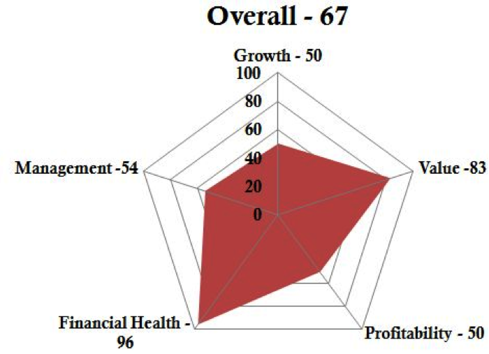 Click to enlarge
Deckers Outdoor, Hold, PT at $40 -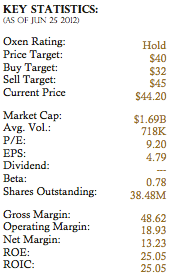 We believe that Deckers Outdoor has some definite flaws that create very limited upside long-term potential couple with strong downside risk that make us want to avoid the stock. The issue for DECK is that Uggs were over 80% of sales in 2011 for the company, and their other lines have not been able to come to popularity like Uggs to properly diversify their portfolio.
The company is similar to Crocs in 2008. They saw amazing early demand, saturated the market, and now they either need to diversify and find a consistent niche or they will go by the wayside like so many other "fads."
The company does have potential with their Sanuks line as well as the diversification of the Ugg line itself to other areas other than female boots. Yet, those lines have not grown enough to justify an investment yet. With that lack of diversification, the company is very prone to margin swings due to input costs for Uggs.
Further, unlike Crocs that have patented composite technology, Deckers offers very little economic moat. They had brand name during their fad, but as that dries, they offer little to no moat in a crowded winter boot/shoe market.
Positives for the company are they have no debt and strong cash flow. They also have a high short float already. So, if they do see some stronger than expected data points, they can put on a solid short squeeze. Buy on further dips on value, as the growth story is questionable right now.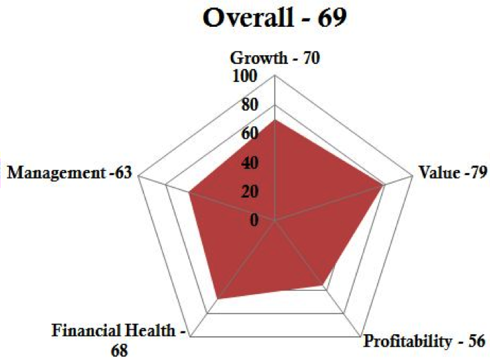 Click to enlarge
Finish Line, Buy, PT at $26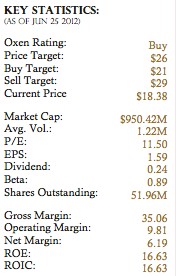 Finish Line was our top scorer in EquityAnalytics, and we believe the company is a great pickup right now. The stock has a great combination of growth, value, and profitability. They have tons of upside potential, and we believe they are the best current investment in this space.
First off, the company outperforms Foot Locker in margins, and they have already stated that they believe they will have $200M in operating income by 2016 as well as $2B in revenue.
How is the company going to turn on even more growth in the next five years?
The company is introducing amazing digital capabilities that we believe will create great margin growth in 2014 and beyond while seeing some pullback in margins in the next year. These capabilities include having tablets in each store that will allow better streamlining of inventory and customer data.
Some stores also will have interactive surface tables that will collect customer data and allow a more customer direct approach. These directives were modeled off of the Apple store image, and we believe they will be very beneficial in footwear retail.
The company is a great value right now after a recent pullback, and we believe Finish Line is going to continue a great growth story over the next several years.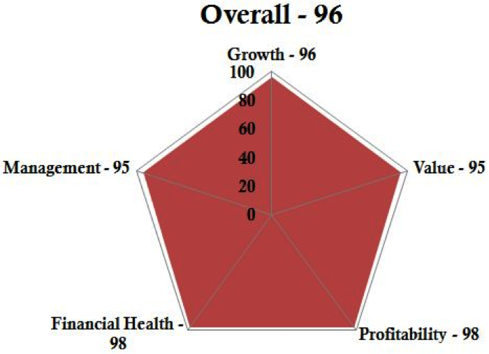 Click to enlarge
Foot Locker, Hold, PT at $36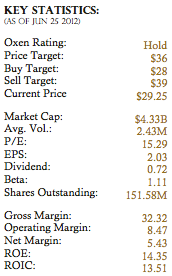 While we believe FINL is one step above Foot Locker, this company is definitely another great place to invest. We see them as just slightly outside our buy target, but they are very close to that level. We would like to see them come down just a bit more to get involved.
What we like about FL is that they have good growth with a good yield and decent value. They have a 2.4% yield, which is good for the industry. Further, they are creating more value with a current $400M stock buyback program. They are attracting growth, value, and income investors to them right now.
The company, additionally, looks solid in international markets, and they are expanding into Israel and Asia currently. The company has been seeing good revenue growth in the past several quarters while decreasing inventory, which is a very healthy and positive sign for a retail company.
One area of concern for us is that they do have a strong European portion of their business. They have commented that things are fine there, but if that situation becomes direr, it would negatively impact FL. Further, their profitability lags competitors and needs to be improved.
They have good financial health and will continue solid growth, so look to buy on weakness.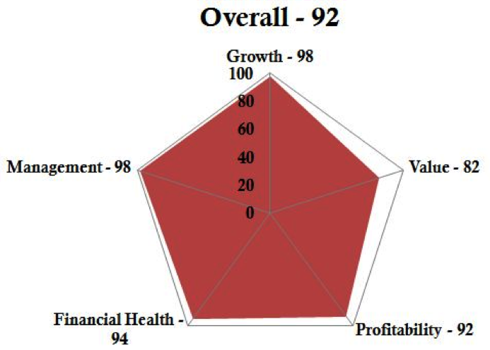 Click to enlarge
Disclosure: I am long PNRA.