A while back, I wrote an article describing my contrarian viewpoint on Bank of America Corporation (NYSE:BAC). You can read the full article here, but for new readers, a quick overview of my thesis:
Essentially, I (along with Bruce Berkowitz, Morningstar Manager of the Decade) believe that once Bank of America finishes the arduous process of sorting out these various problems, it will return to previous heights.
Well, there's some good news on that front, not just for Bank of America, but also for the financial sector (Financial Select Sector SPDR ETF: XLF) as a whole:
U.S. banks held fewer troubled mortgages in the first quarter of 2012, according to a report issued on Wednesday by the Office of the Comptroller of the Currency. Overall, the percentage of mortgages that were 30 to 59 and 60 to 89 days delinquent also decreased to their lowest levels since the OCC began tracking the mortgage data in the first quarter of 2008. - Chicago Tribune
It's no secret that the entire financial sector has been decimated by the subprime mortgage crisis.
Click to enlarge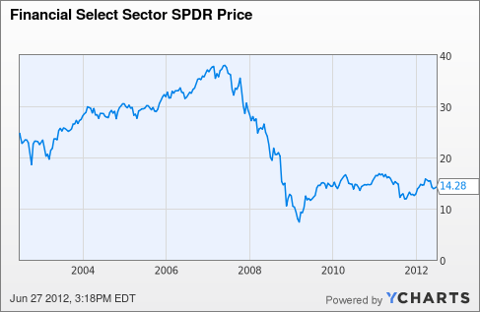 Click to enlargeXLF data by YCharts
The improving mortgage situation is definitely a step in the right direction for Wells Fargo & Co. (NYSE:WFC), JPMorgan Chase & Co. (NYSE:JPM), Citigroup Inc. (NYSE:C), and Bank of America.
The OCC stated that the improvement is attributable to strengthening economic conditions and the ongoing effects of both home retention loan modification programs, among other factors.
Don't expect banks to jump by a factor of ten tomorrow, of course. The road ahead is still fraught with difficulties associated with the process of deleveraging and writing off bad assets. Most analysts estimate that these effects will continue to hamper growth for another five years, but they do see revenue continuing to rise during that time period.
While financials will continue to be volatile over the next few years due to the European crisis, I do believe that we are starting to see signs that they have learned from their mistakes and are being more cautious going forward (hopefully). Investors looking to dip their toes back into the game might want to start with financial-sector companies with primarily US exposure, since what happens in Europe is something of a wildcard at this point.
Bank of America reports earnings next month on the 17th, and many of the other major banks will do so as well. I'll be listening closely to see what management says about the state of mortgages, foreclosures, and bad assets. Positive results may signal the start of the long-awaited turning point for the US financial sector.
Disclosure: I am long BAC.