As a result of the flight to "safe haven" assets like Treasuries, many solid stocks have been beaten down to extremely attractive valuations.
One such stock is LyondellBasell Industries (NYSE:LYB), a chemicals company with fingers in both oil refining and polymer/chemical production. As you can see from the chart, LYB has retreated about 15% from the recent high.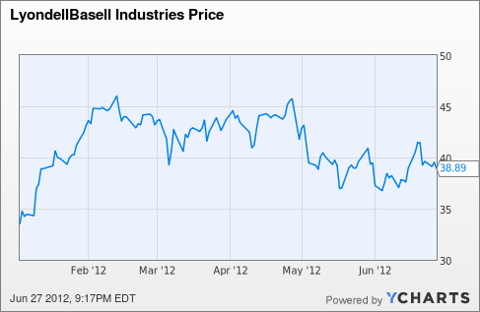 I view this pullback as a buying opportunity for a number of reasons:
The chemical industry has strong fundamentals, despite sector underperformance over the past year. According to the American Chemistry Council, exports grew 11% year-on-year and are projected to grow at this rate through 2014.
LYB is attractively valued, with a P/E of 11.14 (below chemicals average of 13.69) and a PEG of 0.85.
The company has an annual dividend of $1.60, which is a solid 4% yield at current stock prices. The dividend was recently boosted by 60% from 25 cents/quarter.
Analysts are solidly bullish on LyondellBasell. EVA Dimensions, Thomson Reuters, and Jefferies all established "Buy" ratings on the stock in June, and GMI established an "outperform" rating. None of the 17 analysts currently covering the stock have a sell rating -- 4 have a "strong buy," 10 have a "buy," 2 have a "hold," and 1 has a "reduce."
Analysts' price targets range from $39 to $60, suggesting that all the downside is priced in already. The mean target of $50.90 represents a 34% upside to current share prices.
Projected EPS growth is 18% year-on-year and 13% long-term (3-5 years). These figures are ahead of the chemicals sector average: 14.25% year on year and 10.73% long term.
Disclosure: I have no positions in any stocks mentioned, and no plans to initiate any positions within the next 72 hours.