Few companies have been the subject of more controversy, or as much heated debate as Dendreon (NASDAQ:DNDN). The maker of Provenge is constantly the subject of debate over its future and market potential. Over the past year, shares are down over 80% as investor expectations and sentiment have soured.

Click to enlarge For purposes of disclosure, we recently bought both shares and options of Dendreon, and we will explain our rationale for doing so below. But first, in light of recent takeover chatter that has been swirling around the markets.
A Dendreon Takeover: When Perception Becomes Reality
Simply put, we think that Dendreon will not be taken over, at least not for the foreseeable future. The reason, in our view, has to do in large part to the sentiment market participants have towards Dendreon.
Rightly or wrongly, the market, and almost certainly would-be acquirers, view Dendreon with deep skepticism, and have serious doubts about the company's future potential, given the presence of Johnson & Johnson's (NYSE:JNJ) Zytiga and Medivation's (NASDAQ:MDVN) enzalutamide (to be clear, we are not commenting on Provenge's superiority or inferiority versus those two drugs; we are saying that perceptions of Provenge have worsened over the past year, as evidenced by Dendreon's stock price). Were Dendreon to be acquired, it would almost certainly occur at least a year from now, when and if Provenge has proven itself. Given that if Dendreon sees success in ramping up Provenge sales, the share price would likely be much higher.
Why then would a potential acquirer wait to strike? Wouldn't it make sense to buy Dendreon now, when the shares are trading at these levels? The answer is no. In the biotechnology industry, most companies are taken out when their drugs are either already on the market, or almost at the FDA. Acquirers need a reasonably high level of certainty that the drugs they are buying will not only make it to market, but also post good sales. Therefore, it is better to pay up later for certainty than to acquire a company with Phase I compounds cheaply, only to watch that compound fail. Bargain hunting is not something that is commonly found in the biotechnology sector. It is better to wait and see how a drug plays out than to place an early bet on an unproven compound.
Jefferies, in another demonstration of the skepticism surrounding Dendreon, threw cold water on takeover speculation, arguing that Medivation is a much better takeover target than Dendreon. The firm cited Amgen (NASDAQ:AMGN) specifically as a possible acquirer. Jefferies' analysis shows that a combination of Amgen and Medivation would create an incremental $5 billion in enterprise value for Amgen, which would support a takeover price of as high as $134 per share (which would represent a premium of 55.09% as of this writing). A buyout of Dendreon, however, would create just $1.2 billion in incremental enterprise value, according to Jefferies. And that value is only created by buying out Dendreon around its current price, something that the company's investors would never agree to.
Credit Suisse also commented on takeover speculation surrounding Dendreon, in a research piece dated June 26. The firm noted that Dendreon is quietly reorganizing its sales force, with David Ghesquiere leaving as head of business development over the past week or so (no official press release has been issues regarding his departure). Credit Suisse believes that if a sale were to be coming soon, Dendreon would not be reorganizing its sales force and business development team, as there would be no reason. Furthermore, the firm also says that before a deal can take place, potential acquirers would need clarity on 2 specific issues. The first is regarding Dendreon's cost base, and whether or not manufacturing plants need to be closed. The second is what kind of sales Zytiga will see, particularly in the pre-chemo phase.
Both Jefferies and Credit Suisse are cautious on Dendreon. And almost every other analyst covering Dendreon is as well. Could this pessimism be a contrarian signal? We believe it is a distinct possibility, and have positioned ourselves accordingly.
Second Quarter Earnings: Conflicting Signals & An Options Trade
Dendreon is set to report its second quarter 2012 earnings in the first part of August. Per Reuters data, the current consensus estimate calls for Dendreon to post a loss of 59 cents per share.

Click to enlargeConsensus estimates regarding Dendreon's losses this quarter (as well as this year as a whole) have only widened in the past year, as analysts grow increasingly pessimistic about the company.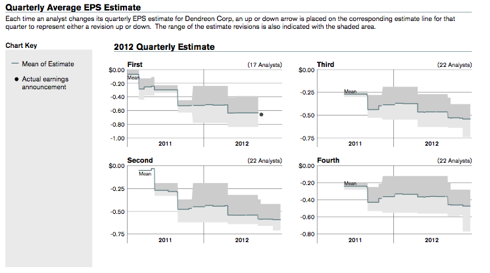 Click to enlargeThere is a contradiction, however, between analysts' widening loss estimates, and their price targets. The Reuters average price target for shares of Dendreon currently stands at $10.40, implying upside of over 43% from current levels. And of the firms whose research we have access to that cover Dendreon (Credit Suisse and Merrill Lynch), this contradiction is also present. In its latest piece on Dendreon, Credit Suisse offered little in the way of positive commentary, and it maintained a neutral rating. But, the firm also kept its $12 price target, implying upside of over 65% from current levels. Stocks with that much upside should be rate as buy, or outperform, in our opinion. Merrill Lynch presents the same contradiction. The firms latest research piece provides commentary about its meeting with Dendreon's management. Like Credit Suisse, Merrill Lynch had little in the way of positive sentiment. The firm wrote that Dendreon must continue to focus on cutting costs, and that the "body language" of management when discussing large Provenge accounts as leading to an inflection point seemed cautious. That led Merrill Lynch to maintain its neutral rating on Dendreon. And its price target? That was kept at $13, implying upside of almost 79% from current levels.
We believe that the pessimism surrounding Dendreon has lowered expectations to such a low point that anything positive that the company says on its earnings call will spark a rally in the stock. As a result, we have bought shares of Dendreon. But we did not stop there.
As a general rule, we do not buy the stocks of small biotechnology companies on their own. We do not have the kind of risk tolerance needed for that. And Dendreon is no exception to that rule. In addition to buying shares of Dendreon, we also bought August 18, $8 puts, as well as sold August 18 $11 calls. The mathematics of this trade are broken down below (prices are accurate as of this writing).
| | |
| --- | --- |
| | Cost |
| Dendreon Stock | $7.27 |
| August 18 $8 Puts | $1.51 |
| August 18 $11 Calls | -$0.19 |
| Net Cost / Share | $8.59 |
This trade yield a net cost per share of $8.59, with losses capped at 59 cents per share, or 6.868%. Our primary motivator behind the use of puts was to lower the risk of a negative earnings release, which would send shares of Dendreon plunging. We chose to defray some of the cost of that put by selling $11 calls, which cap our upside at $11. Should Dendreon rise to that level, that would bring profits of over 28%, a level that we are comfortable with. Investors can customize this trade depending on their own expectations and risk tolerance, choosing not to utilize covered calls, or choosing a different strike price.
For us, buying shares of Dendreon on their own entails taking on risk in amounts that we do not tolerate. That is why we capped our potential losses at under 7%, while still retaining the possibility of realizing profits. For us to realize a profit, Dendreon shares must rise to over $8.59, or 18.157% from current levels. We believe that if Dendreon reports a good quarter and offers positive commentary on its conference call, the shares can rise above that level.
Conclusions
This trade is predicated on the possibility that analysts are too pessimistic in their opinions of Dendreon, and that expectations have been lowered too much. That being said, we are not comfortable buying the shares outright, for the risks of doing so go beyond our level of risk tolerance. That is why we chose to utilize an options collar, and believe it is an appropriate strategy for investors who wish to invest in Dendreon, but are unwilling to take on all the risks that go along with doing so. Investors who are willing to take on more risk would be better off buying the stock on its own. Dendreon is a company from which, rightly or wrongly, the market expects little, and we believe that investors have a decent chance of profiting from that level of pessimism.
Disclosure: I am long DNDN, AMGN, MDVN.
Additional disclosure: We are long shares of AMGN and MDVN via the iShares NASDAQ Biotechnolgy Index Fund. We hold DNDN put options and are short call options in addition to the shares.