Ever hear that the cure for high prices is higher prices?
Well if you want gold in U.S. dollars to go up, start rooting for it to go down … in India. Oh, and we'll need more rain.
Here's how the story plays out
Gold prices are soaring ever higher in terms of Indian Rupee. According to Reuters, record gold prices in India plus a doubled import duty is keeping demand soft.
India's gold imports could pick up in the second half of 2012 if record prices ease but annual volumes will still fall about 30 percent after a tax hike, which could crimp demand until 2014, the head of Mumbai's gold trade association said.

Imports could hit 300 tonnes in the second half, up from 250 tonnes in January to June, if local prices steady around 30,000 rupees for 10 grams, said Prithviraj Kothari, president of the Bombay Bullion Association, keeping the annual fall to just 30 percent.

Volumes are likely to stay flat in 2013, he added, as the impact of a doubled import duty continues and there are fewer festival days for traditional gift-giving.
This chart shows how gold sits near record levels in Indian Rupee terms, comparing the price in dollars and rupee.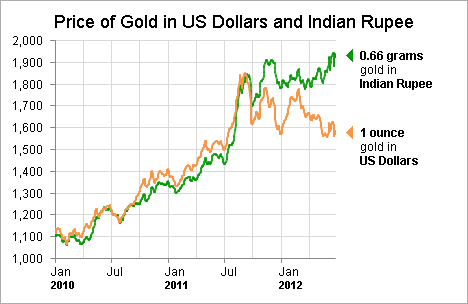 The price of two-thirds of a gram of gold in rupee and one ounce of gold in dollars has been roughly equivalent for several years (even prior to where the chart above begins), but has diverged. As Reuters notes:
A fall in the rupee currency to record lows has driven domestic gold prices to peaks above 30,000 rupees for 10 grams, but international dollar-denominated gold prices have sunk, keeping Indian investors wary.

Kothari expects gold prices to fall to test support as low as $1,400 an ounce this year, down as much as 11 percent from current levels, on a flight to safety in the dollar.
Poor monsoon season may cause more inflation
The Financial Times reported that Indian sales are down sharply year over year
Dealers say that gold sales to India - traditionally the largest consumer of the shiny metal, although it looks likely to be overtaken by China this year - are down 50-60 per cent year-on-year since March. The consensus view is that Indian demand is likely to fall 20-30 per cent over the full year.
And the Monsoon season isn't going well.
Most recently, the monsoon season has started badly, dealing a fresh blow to Indian gold demand since farmers are usually among the keenest buyers of gold.
But the Financial Times also pointed out that "the downturn in Indian consumption is a purely cyclical phenomenon; a reflection of the state of the Indian economy."
That means that when the Indian economy recovers, gold demand should bounce back with a vengeance. In 2010, Indian gold consumption soared 74 per cent to a record high of 1,006 tonnes, GFMS estimates, as pent-up demand was unleashed.


A similar rebound, later this year or in 2013, could be just the stimulus gold needs to regain its previous peaks above $1,900 a troy ounce.


The key question is: will western investors be patient enough to wait for Indian demand to return?
I'd say an even more essential question is what's the state of that monsoon?
The latest report I could find on Bloomberg (from June 28) suggested that. "the worst start to the monsoon season in India in three years is threatening crops from rice to sugar cane, stoking concern that the nation may limit exports to preserve supplies," but that the season can "recover."
The monsoon can recover, bridging the June shortfall, said D.S. Pai, head of long-range forecasting division at the India Meteorological Department.

Sugar cane will be hit by a less than normal rainfall this year, Ferrari from Computer Sciences said, joining Morgan Stanley in raising concerns over India's crop prospects.

Prime Minister Manmohan Singh is counting on growth in farm output, which accounts for about 15 percent of gross domestic product, to curb inflation in India, where the World Bank says more than 75 percent of the people live on less than $2 a day.
The lesson here is the gold market is way more complex than many of us realize. Sure, gold prices could go up without the participation of Indian farmers and consumers, but they'll need some price relief to boost demand.
And I never realized how much the monsoon season in India could impact inflation in that country and thus the price of gold worldwide. Something to think about whether you own the Gold ETF (NYSEARCA:GLD) or the physical commodity.
Disclosure: I am long GLD.