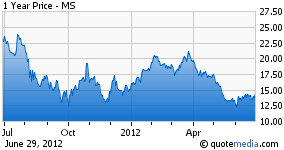 Being a shareholder of Morgan Stanley (NYSE:MS), I was bewildered while watching James Gorman's recent interview live on Bloomberg Television. Here was the CEO of Wall Street's second most prestigious investment bank, dodging some very relevant questions with regard to shareholder value. The interviewer asked Gorman some great questions, but he failed to follow up when Gorman dodged key issues regarding the valuation of MS.
After the interview, Christine Harper, the author of one of Bloomberg's most read articles that day, put forward the concept of empire building. In her article, she quotes Ken Fisher: "The inherent nature of a lot of CEOs is to love empire building ... The ones that love empire-building will do whatever he or she can to dissuade the board of directors from breaking their companies up." Is James Gorman building an empire at shareholders' expense?
Morgan Stanley Today
MS is an immensely valuable franchise. They have leading footprints in investment banking as well as retail brokerage. The company seems to be performing relatively well, but the share price is languishing near all time lows. The company trades at a valuation close to 50% of tangible book value (TBV). The stock price is nearing a 52-week low.
Bloomberg Interview
There were two questions that Gorman dodged:
1. Would MS be worth more broken up than in its existing form?
2. Would Morgan Stanley Smith Barney trade at a much higher multiple as a separate entity?
Gorman went into the often-used argument that their clients demand broad service offerings, but did not address the valuation gap that exists between MS and other standalone brokers or investment banks.
Gorman also went into a long diatribe about how Morgan Stanley Smith Barney is a much more significant entity than regional brokerage competitors, but failed to address how many standalone brokerages are trading significantly higher than tangible book value, while MS is trading at 50% of tangible book.
Gorman went on to say that many other storied institutions are trading below tangible book, but failed to address the companies that are trading above TBV, such as: Wells Fargo (NYSE:WFC), U.S. Bancorp (NYSE:USB), BB&T (NYSE:BBT), PNC (NYSE:PNC), Greenhill (NYSE:GHL), Legg Mason (NYSE:LM), Raymond James (NYSE:RJF), BlackRock (NYSE:BLK), State Street (NYSE:STT), Ameriprise (NYSE:AMP), Charles Schwab (NYSE:SCHW), etc. If MS were valued like its lesser competitors, then its share price would be approaching $50 a share. Why is there a valuation disparity between MS and the above mentioned stocks? What is Gorman's plan to close the gap?
Mr. Gorman owes shareholders a better explanation that asking them for patience. He should address the fact that MS is trading much lower than the sum of its parts, and put forward a strategy to realize that value. Shareholders have waited long enough.
Phil Purcell's WSJ Editorial
Purcell was chairman and chief executive of Morgan Stanley and its predecessor company Dean Witter, Discover & Company, from 1986 to 2005. In his editorial he highlights valid arguments that Gorman not so artfully dodged. He states:
"Right now the market valuation of too big to fail institutions is too low because of the earnings volatility inherent in investment banking and trading … The five obvious too big to fail institutions - Bank of America, Citigroup, JP Morgan Chase, Morgan Stanley and Goldman Sachs - have a median stock market value of considerably less than the values of those component businesses they own that have predictable earnings streams, strong franchises and established client bases."
The rest of the editorial goes on to state that the market capitalization of the too big to fail institutions are less than their component parts, and that Bank Boards should be studying ways to realize that value.
The fact that James Gorman is not publicly putting this strategy on the table makes me fear that building an empire has taken precedence over creating value for his shareholders. At $14 dollars a share, it is a mystery why shareholders have not publicly forced him to thoroughly address this issue.
Disclosure: I am long MS.