You can learn a lot at a trade show, even a corporate one. And not all of it is positive for the company in question.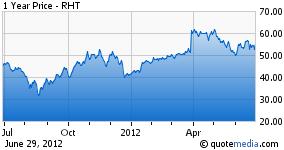 Take this week's Red Hat (NYSE:RHT) Summit, now finishing up in Boston. Full disclosure, I like the people. CEO Jim Whitehurst is an alma mater of my old school, although he went through a decade after I left. I believe in their mission of open source.
But I learned that, as a reporter, I had some misconceptions about the company.
For one thing, Red Hat is not yet a real cloud player. That's partly because most enterprises aren't interested in cloud. They're interested in virtualization, in consolidating servers, and there Red Hat has been backing the wrong horse, KVM. The virtualization system of choice for most enterprises is vSphere, from Vmware (NYSE:VMW). This means Red Hat's new cloud products have a mountain to climb.
Second, Red Hat's biggest "failure," the 2006 acquisition of JBOSS for $350 million, is in the process of becoming its biggest success. Before I left Boston I chatted with Craig Muzilla, who came to Red Hat with a smaller acquisition, MediMatrix, and now runs the unit.
"It's not sexy in the press, but we have tremendous demand. There are niche areas that are explosive, like rules management and business process management." Big companies like Sprint are now standardizing on Red Hat middleware, instead of products from IBM and Oracle.
And the small news that broke during the show, the acquisition of FuseSource from Progress Software (NASDAQ:PRGS), could turn out to be the bigger win for investors. That's because FuseSource specializes in CAML, a language for writing rules management for which demand is growing, and the team includes 20 people who do work for the Apache Foundation on the language, including lead developer James Strachan.
Middleware purchases are far more complex and protracted than those of operating systems, Muzilla explained, so it took a lot of time to fully integrate JBOSS into Red Hat and start to see results. But those results were all over the 2012 Summit, in the form of 4,000 relatively-happy corporate customers anxious to both see what's new and add their two cents.
And this is the key to open source success, those two cents. Customers don't just buy software, or pay for support with open source. Gaining value from open source means contributing to the software, adding to it, collaborating in the company's business model.
Since JBOSS, Red Hat has turned the acquisition of strategic open source code and coders into a system, a checklist, that allows coders to work where they live and lifts the financial burdens from them. You might even call companies like Red Hat 21st century Medicis, sponsoring artist-coders in the work they love and monetizing it.
It's because Red Hat has learned to manage this process better than many other open source companies that it's only the fourth software company ever to do $1 billion in sales.
If you like open source, you probably love this stock. After disappointing the street on earnings last week, Red Hat made up nearly all that ground just this morning.
I'm not the only person who likes these folks.
Disclosure: I have no positions in any stocks mentioned, and no plans to initiate any positions within the next 72 hours.