Well I did. At least I did when screening for investment opportunities. There it was, True Religion (NASDAQ:TRLG), making expensive name-brand jeans.
What stood out for me was that a branded consumer company was trading at a reasonable valuation. TRGL is trading at a 14.5 forward 2012 P/E and its earnings estimates have been stable. It's also trading at 2.1 times book value while presenting a decent 16.5% ROE, which is rather nice since the company has no debt (indeed, it carries $204 million in net cash). It also carries a 2.8% dividend yield that, given its fundamental performance, is likely to rise over time (TRLG started paying a dividend during 2012).
I say the dividend is likely to increase over time because TRLG has been a stable grower, and is expected to continue growing. For instance, the chart below illustrates the evolution of revenues and earnings over the last 10 years.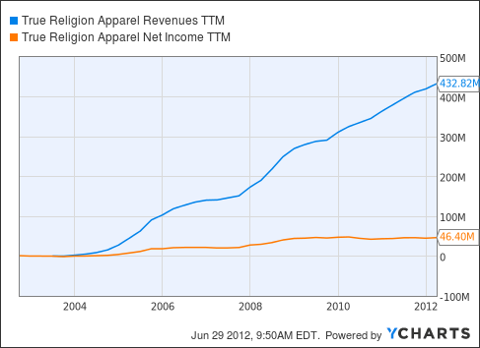 Click to enlarge
(Click to enlarge)
TRLG Revenues TTM data by YCharts
Two main worries
With a stock like True Religion, being brand-name in the apparel sector, the main worry is that it might be a fad. True flameouts have happened before, like Crocs (NASDAQ:CROX), which suffered significant revenue and earnings deterioration during the 2008 recession, as illustrated below, though it has managed to climb back recently: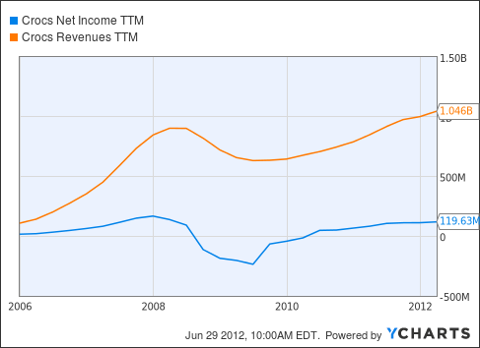 Click to enlarge
(Click to enlarge)
CROX Net Income TTM data by YCharts
That brings us to the other worry: The possible impact of any economic weakening. That's probably what's holding back TRLG at this point, in fact.
A best case
There is another possible outcome. That would be True Religion continuing on its growth path and approaching privately-held Levi Strauss territory in terms of size and image. True Religion is still growing faster than Levi Strauss, certainly helped by its smaller size. Levi Strauss grew revenues 8% last year, but has been rather stagnant since 2007. Levi's revenues in the year ended November 25 2007 were $4.36 billion, and in the year ended in November 27 2011 had grown just to $4.76 billion, with a dip in the middle during the recession - showing how expensive brand-name clothes can be a victim of the weaker economy.
So at this point True Religion is just 9% of the size of Levi Strauss, growing faster and actually presents a significantly better financial position (Levi Strauss carries around $1.7 billion net debt). This should mean True Religion is still far from exhausting its natural market. (source for Levi Strauss data: Levi Strauss 10-K)
Conclusion
At this point TRLG seems like a very decent long candidate for either growth or income portfolios (given that its present dividend yield is already juicy and seems likely to be increased in the future). The main worries are both that it might turn out a fad - which doesn't seem likely given the stable, non-parabolic, growth - or that some economic weakness might derail its growth temporarily making for a better entry point.
Disclosure: I have no positions in any stocks mentioned, but may initiate a long position in TRLG over the next 72 hours.