Shares of United States Steel Corp (NYSE:X) traded lower mid day Friday despite a major rally in the broad market indices and most commodities following positive news out of Europe.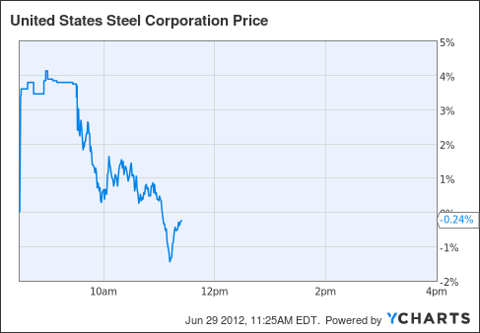 Click to enlarge
(Click to enlarge)
After opening higher by 4%, X shares have turned negative mid way through the session.
S&P 500 & Commodities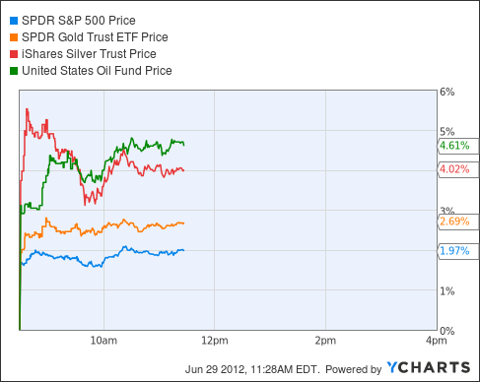 Click to enlarge
(Click to enlarge)
SPY data by YCharts
Sector
As shown by the chart below, the steel sector is mixed on Friday. Arecelor Mittal (NYSE:MT), Nucor (NYSE:NUE), Mechel (NYSE:MTL) are all trading higher while AK Steel (NYSE:AKS) is trading lower.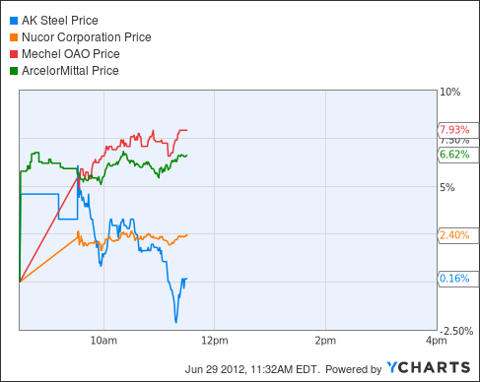 Click to enlarge
(Click to enlarge)
AKS data by YCharts
S&P Revises Outlook To Negative
From the revision:
Affirmed BB rating on the company for now.
Negative outlook
The company has "fair" business risks but "aggressive" financial risks.
Steel prices remain weak.
My Take
Friday's terrible session is enough reason for traders to exit the name. While the stock has climbed significantly over the past few days, Friday's weak relative performance suggest the run may be coming to an end. As for long-term investors, as I have said before, I would also be a seller of X as I believe their are higher quality steel companies such as Nucor to invest in.
Disclosure: I have no positions in any stocks mentioned, and no plans to initiate any positions within the next 72 hours.