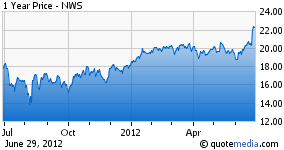 The pending split of News Corp. (NASDAQ:NWS) into publishing and "entertainment" assets is long overdue, from an investment perspective.
The newspapers had been dragging down the company's results for a decade, and once the split is complete investors would be wise to dump the publishing stock as fast as they possibly can. The tell on all this is that "newsman" Rupert Murdoch is going with the "entertainment" company.
Valuentum has this pegged right. The publishing entities, one-third of them Australian and hidden behind paywalls, have very low operating margins. The TV operations have decent operating margins of 15%, but this hides the real story, a huge financial advantage from ownership of the property being broadcast.
The big money is in cable and network programming, where margins are 34% and revenues are nearly equal, right now, to those in publishing. This segment includes Fox News, but the secret sauce is in networks like F/X, Fox Sports and the Fox movie studios. The cable networks represent a big slice of your current cable bill, and the studios create assets that can pay-off over decades. Seth MacFarlane, in other words, matters more to the bottom line here than Bill O'Reilly.
The split also reveals an economic truth behind Fox News. They don't need the news. Sticking a camera in a studio and yelling through it doesn't require a sophisticated newsgathering operation, like running a newspaper does. The innovation here never had anything to do with news at all, but with turning talk radio into TV.
What the publishing arm will try to do, once the split is complete, is emulate the Australian model, putting everything behind a paywall and expecting people to "pay for the news." That's because no one will advertise in print. And it's stupid, because they will advertise on Internet news sites. The right strategy is to use registration and free offers to make sure that your readers are your target market's targets, then turning that connection into commerce. But I digress.
The Murdochs will have economic control of both companies after the split, but the hope is that the divide will give the entertainment company the chance to take over BskyB, the satellite broadcaster whose acquisition was in the bag before the phone hacking scandal hit. That would give you the economic power of a Comcast (NASDAQ:CMCSA) at a fraction of the price.
If that transaction can be completed, all the pain of this deal will be worth it, and those who buy NWS at current levels will be more than amply rewarded. If the stench of the scandal still prevents the BskyB deal from going through, it's a wash.
Disclosure: I have no positions in any stocks mentioned, and no plans to initiate any positions within the next 72 hours.