In the recent flight to "safe" investments, a lot of solid companies with strong growth have sold off. These companies still have very strong fundamentals, and as such, companies with a lot of growth potential can often be obtained for a very reasonable valuation.
One such company is Deere & Company (NYSE:DE). Deere is fairly well known in suburbia for their solid lawnmowers, but in fact, they make many other types of agricultural machinery.
Reasons To Like Deere
1: Cheap Valuation
As mentioned in the intro, many companies have been unfairly beaten down due to broad market selloffs. Deere is one such company, with a P/E well below the market average of ~15.5. The P/E is near the bottom of Deere's 5-year average P/E trading range, suggesting that the stock has potential for significant appreciation.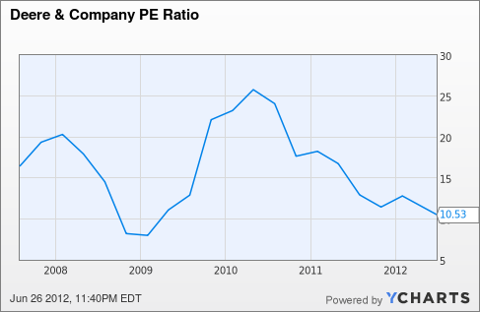 Click to enlarge
DE PE Ratio data by YCharts
2: Growth Prospects
Cheap valuation means nothing if the stock is valued cheaply because it's going down the drain. Deere doesn't have this problem. Projected long term EPS growth is 12.25% annually, and if the economy kicks off, this figure may well increase. Despite lack of incentive right now for a lot of users to replace old equipment, Deere's been doing well. Year-on-year EPS growth on a TTM (trailing twelve months) basis is a solid 23.84%. EPS growth for the past five years has been 16.57%, well above the machinery industry average of 7.75%.
3: Good Debt Management
While Deere does use a significant amount of debt to fund growth, analysts like the way Deere is managing this debt. Currently, Deere is refinancing a lot of debt due to historically low interest rates. From Businessweek on 6/26/12:
"They [Deere] had a lot of debt maturing in the next couple of years and should the market freeze like it did a few years ago, then it would be a problem," Jody Lurie, a corporate credit analyst at Janney Montgomery Scott LLC, said in a telephone interview. "What better time to issue than when the market is offering such low rates."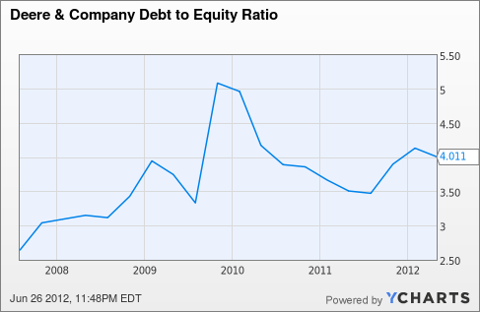 Click to enlarge
DE Debt to Equity Ratio data by YCharts
4: Strong Dividend
Some investors focus on growth, and some investors focus on dividends. Every investor likes stocks that offer both. Deere does this, with a solid history of dividend increases. Deere's current dividend yield is a solid 2.35%, and the company's policy of routinely increasing dividends means that yield-on-cost will most likely increase in the years to come.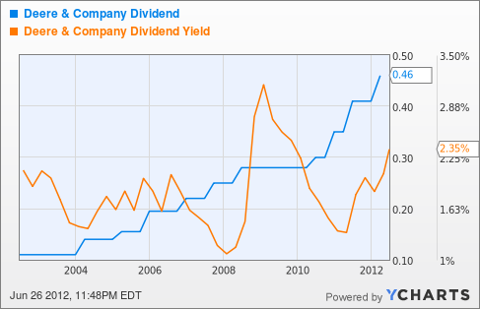 Click to enlarge
DE Dividend data by YCharts
Conclusion: Cheap Growth With Deere
Deere's dividend combined with its growth prospects make it an ideal candidate for a DRIP (Dividend Reinvestment Plan) investment. With growth available at a cheap price by historical valuation standards, Deere might be worth a look.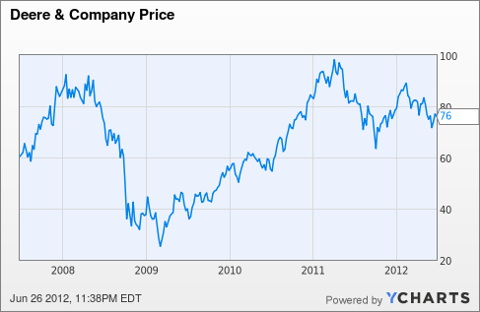 Click to enlarge
Disclaimer: I am an individual investor, not a licensed investment advisor or broker dealer. Investors are cautioned to perform their own due diligence. All information contained within this report is presented as-is and has been derived from public sources & management. Always contact a financial professional before making any major financial decisions. All investments have an inherent degree of risk. The future is uncertain, and actual results may be materially different from those expected. Past performance is no guarantee of future results. All views expressed herein are my own, and cannot be interpreted as the views of my employer(s) or any organizations I am affiliated with. Presentation of information does not necessarily constitute a recommendation to buy or sell. Never make any investment without conducting your own research and reading multiple points of view.
Disclosure: I have no positions in any stocks mentioned, and no plans to initiate any positions within the next 72 hours.