While shares of most publicly traded companies have hit the skids this year, those of consumer staples have maintained an upward bias. One such firm that falls under this umbrella is gum manufacturer William Wrigley Jr. Co. (WWY), which is about as resistant to economic downturns as could be found.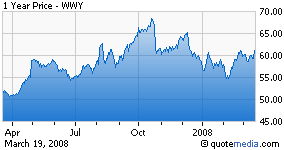 We issued an upgrade of our rating on Wrigley shares upon preliminary analysis of the 4Q`07 financials February 4, citing a potential bottom in operating margins and strong price increases enacted in 2H`07.
Having revisited our analysis, we believe a more aggressive posture is warranted given the volatility associated with many sectors of the U.S. economy and attributes of Wrigley's business. On this basis, we are particularly optimistic on Wrigley's earnings potential in 2H`08 as a result of price increases, new gum launches, the cycling of retail trade adjustments that hurt volume in 2007, and exposure to robust international growth trends.
Valuation relative to other packaged food companies is not cheap by any stretch of the imagination, but in our opinion the premiums are justified by Wrigley's positioning as a best in class consumer staple enterprise.
Written by Brian Sozzi, a Research Analyst for Wall Street Strategies (www.wstreet.com) specializing in the apparel/hardline goods sectors of the retail industry.
Disclosure: none