By Lee Lowell
With oil prices blasting past $111 a barrel last week (the price has since dropped over $4 today, back to around $106) and gold prices finally breaching the important $1,000 an ounce level, the commodities sector is still barreling along relentlessly.
So as our resident commodities guy, it would be remiss of me to not give you some analysis and guidance on these crucial markets that can not only move the commodities world, but also spill over and affect your stock positions, too.
While most of the media love to talk about oil and gold ad nauseum, the truth is that it's not just those two products that are surging higher. Several other commodities are enjoying bullish runs. For example, wheat prices just hit an all-time high of $13 a bushel - almost twice as high as the previous high of $7, set 12 years ago.
While massive moves like this garner plenty of press attention and dinner party conversation, many investors don't actually know that you can make some serious money from commodities - and in my experience at the NYMEX, often more money than from the stock market. So let me show you how and where the money is being made…
$111… And Rising
Without doubt, the crude oil market is grabbing most of the headlines at the moment. Having hit $111 per barrel last week, this is now the highest price ever paid for a "front-month" futures contract (i.e. one that trades just one month ahead, the closest to the current date).
Not only is crude making new highs almost daily, it's also experiencing some extremely large intraday price swings. While oil used to trade relatively calmly during any given trading day, it's now commonplace to see $4 a barrel swings from high to low during the day - just like we saw today. Such volatility can make or break traders, which in turn leads to more volatility. Here's the current daily chart.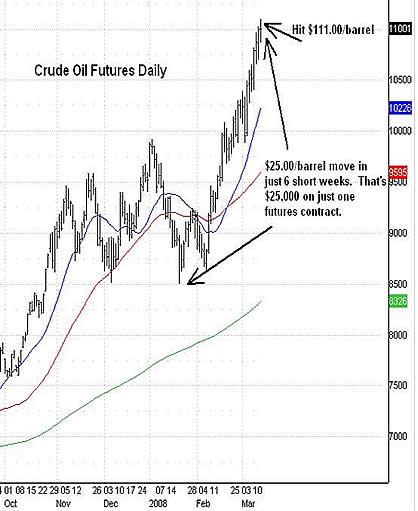 As you can see, oil prices have shot from $85 a barrel to $110 in just six weeks. While the media likes to talk merely about the price-per-barrel gain, in investor dollar and profit terms, that's actually a $25,000 move on just one futures contract.
And it's not just the obvious factors driving the price forward. Sure, we're always likely to have some kind of turmoil in the Middle East (or at least potential for turmoil, which can keep prices high, too). But this has been known and priced in for some time now.
Instead, one of the main price drivers over the past year or so is not geopolitical issues, but intense hedge fund speculation. With the stock market getting hit hard, due to a myriad of well-documented problems in real estate, the falling dollar, declining GDP growth and others, the massive hedge funds are pouring their money into areas like commodities - and oil is one of the biggest benefactors of the capital influx. Going forward, we'll certainly see volatile dips along the way, but for now, expect this market to keep going up.
If you don't want to invest in the sector directly, through future options contracts, you can always gain simple exposure through a couple of the most liquid ETFs - the largest one - U.S. Oil Fund ETF (AMEX: USO), or the Energy Select Sector SPDR (AMEX: XLE), which invests in some of the biggest firms in the oil and oil services sector.
Metals On The Move… And This One Is Dishing Better Returns Than Gold
When it comes to the metals market, most of the media and financial outlets are focusing on gold. Hardly surprising, since the metal just whizzed by $1,000 an ounce.
But while gold dominates the headlines, the truth is that most of the sector is enjoying incredible strength. Take silver, for example - a market not getting much press, but which is also setting new all-time highs over $21 an ounce. In fact, the silver market has actually given a better return on investment in a very short timeframe - as you can see on the chart.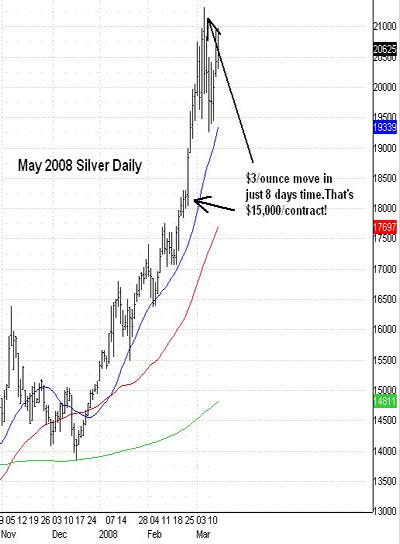 Since the middle of December 2007 to today, silver has moved from $14 an ounce to its current level of $21 an ounce. That represents a dollar value $28,000 on just one futures contract.
But what's so striking is that $3 of that move has occurred in just the last three weeks alone. That's a $15,000 move. Keep an eye on the metals market, as there seems to be nothing holding it back from going higher.
The Ultimate Market Shift From Unforgiving Stocks To Lucrative Commodities
From talking with many of the colleagues I still have on the trading floors, most of the extreme moves in the various commodities have happened because of the trading activity from large, speculative commodity funds.
As the stock market has tumbled, these funds have moved away from equities and tossed their money at what they believe to be "undervalued" commodities instead. And while it's hard to say whether these commodities are indeed undervalued, when the ball gets rolling, it's hard to stop it until everyone decides to get out at the same time.