Nike (NYSE:NKE) is trading down sharply today after the release of its latest earnings report. The steep sell-off to the news has presented an opportunity for entry into the shares at a very attractive price. In this article I will cite three reasons why I believe NKE is attractive at this level, and an option strategy for short-term traders.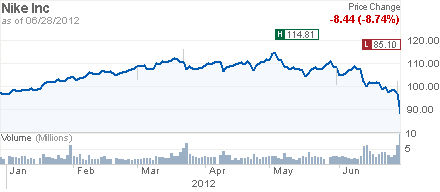 Details
| | |
| --- | --- |
| Today's Open | $87.84 |
| Previous Close | $96.89 |
| Day's Range | $85.10 - $88.35 |
| 52 Week range | $76.98 - $114.81 |
| Beta | 0.91 |
| Avg. Volume (10 Day) | 3,393,598 |
| Put/Call Ratio (1 Day) | 1.1 |
| Put/Call Ratio (30 Day) | 1.5 |
Earnings TTM (GAAP)
| | |
| --- | --- |
| Earnings per Share (06/28/2012) | $4.7322 |
| Price/Earnings | 20.47 |
| Forward P/E | 16.82 |
Details
Dividends
| | |
| --- | --- |
| Quarterly Div. (Ann. Yield) | $0.36 (1.49%) |
| Previous Ex-Date | May 31, 2012 |
| Next Pay Date | Jul 2, 2012 |
Details
Shares
| | |
| --- | --- |
| Market Capitalization (Large Cap) | $32.1B |
| Shares Outstanding | 368.4M |
| Shares Held By Institutions | 84% |
(Financial information courtesy of Charlesschwab.com.)
NKE is footwear and apparel designer with a stable of well-known brands such as Jordan, Lebron 9, and LunarGlide sneakers along with all 32 NFL teams' uniforms and 2012 Olympic merchandise. The exclusivity and consumer demand for these brands gives NKE a wide and defensible moat that it uses to charge far higher prices than other, lesser-known brands. As we can see from the chart below, the durability of these brands is what allows NKE to consistently grow earnings and sales and will allow it to do so into the foreseeable future.
Click to enlarge image.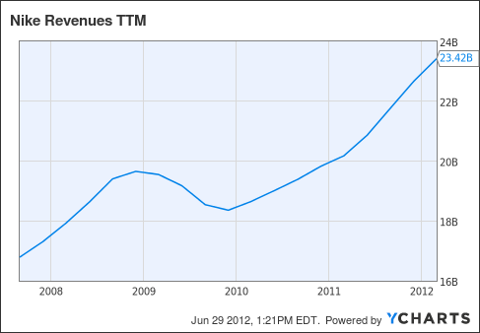 NKE is not content to simply hike up the prices on its existing brands and hope shoppers continue to buy them. NKE has consistently innovated, which allows it to defend its existing brands and to expand on them. The innovation that NKE is able to create allows it to grow earnings further. The newest innovation, Flyknit, is the latest example of the company's stellar innovation. The Flyknit process allows it to save a significant amount in material and potentially move some manufacturing back to the U.S. The lightweight, one-piece shoes will go on sale in July and hopefully will become a huge hit with runners, giving NKE a new brand franchise.
Another reason for an investment in NKE is the current share price. After the steep early sell-off in the shares, NKE is currently trading at $88 per share, which gives it a P/E of 17 when compared to next year's expected earnings of $5.20 cents. The company currently has a minimal amount of debt and has a few catalysts (Flyknit, NFL uniforms, and the Olympics) that will hopefully improve on the expected earnings.
For the short term, option traders who are comfortable holding NKE may wish to consider selling the July 90 or 92.5 covered calls against their position to generate additional income. Due to the volatility caused by the earnings miss, volatility in NKE shares has increased, leading to higher-than-normal option premium. I am unable at this time to give an exact example due to the rapidly fluctuating price of NKE shares as of this writing.
In summary, the recent sell-off in NKE shares offers, in my opinion, an attractive entry point into this large-cap growth company. I believe the issues that NKE had are temporary and growth will resume shortly due to demand for the new Flyknit running shoes, along with the redesigned NFL uniforms and official Olympic merchandise.
Disclosure: I am long NKE and sold the July covered calls against my position as outlined above.
Disclaimer: This article is for informational purposes only and not actual investment advice.