Today, I sold my stake in the SPY (NYSEARCA:SPY).
I had held my small share in the SPY for five years. Considering that the fund on average trades its entire $100 billion market capitalization in five days, this means that the SPY has endured approximately $26,000,000,000,000 ($26 trillion) of churn during my five years invested in the fund. 52 weeks x $100 billion x 5 years = $26 trillion. The CNBC article I learned this staggering statistic from says that the SPY trades its entire capitalization "and then some" every week; so this number is likely slightly understated! Five years later, I have essentially broken even and am thrilled just to be able to say that.
Here is what I had to endure over the years just to get back to even: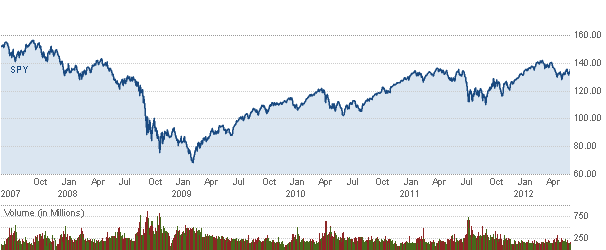 A basic summary of the reasons why I sold my stake in the SPY today:
The market is up on the news of the Euro Summit today. CNNMONEY article's Apt Tagline: "Hooray! Euro is saved... for the 483rd time! Basically, the problems in the global markets have not suddenly disappeared. The U.S. deficit is still enormous. The PIIGS are still pigs. The markets are still riddled with economic and political uncertainty.

The SPY at $135 is close to its 52-week high of $142. The 52-week low is $107. This implies that there is significantly more room on the downside for the SPY than there is on the upside.

The yield is paltry at 2%. I felt that there were better opportunities for me elsewhere to deploy my capital.

The top five holdings of the SPY: Apple Inc. (NASDAQ:AAPL), Exxon Mobil (NYSE:XOM), Microsoft (NASDAQ:MSFT), International Business Machines Corporation (NYSE:IBM), and General Electric Company (NYSE:GE), are all very close to their 52-week highs. The furthest of the top five off of their highs currently is AAPL at $580 with its 52-week high at $644. The other four are all very close to their all-time highs. I have not looked too closely at some of the smaller holdings but these top five holdings represent approximately 11.3% of the index.

I no longer wished to have my money in an ETF that is a play thing for high frequency traders and others.
Disclosure: I have no positions in any stocks mentioned, and no plans to initiate any positions within the next 72 hours.