By Joey Vazquez
We continue our search for the most attractive companies to buy and sell right now. The markets opened sharply higher today reducing its second quarter losses. The move came after European Union leaders agreed to steps to bolster its most weakening countries. I strive to find attractive companies with strong or weak fundamentals and technicals that will outperform or underperform the markets. Should you buy or sell these companies?
Home Depot Inc. (NYSE:HD):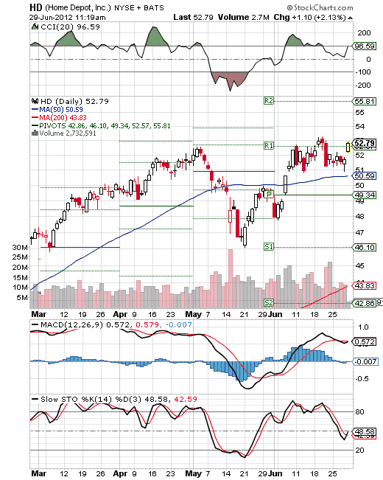 Click to enlarge

The Home Depot has been profiting from the strong housing industry recovery all year long, up over 20% YTD. TheStreet (NASDAQ:TST) has taken notice of its strength and has kept a Buy rating for most of the year. On June 26th TheStreet Reiterated its Buy Recommendation on HD citing solid stock performance, impressive record of EPS growth and compelling growth in net income. HD broke through a resistance line today and will not use it as support. Its CCI indicator looks poised to re-enter the bullish +100 area, a move that would indicate the continuation of this bullish trend. Its MACD indicator seems to confirm this as it crossed over its signal and will look to continue its bullish run. HD stochastics have also crossed its signal line and will head higher, all but confirming our bullishness in he stock.
Trade Idea: Go long HD
Entry Range: 52.94- 52.68
Targets: 53.34, 53.87
Stop Loss: 51.75
Our Entry: 52.81
Marriott International Inc. (NYSE:MAR):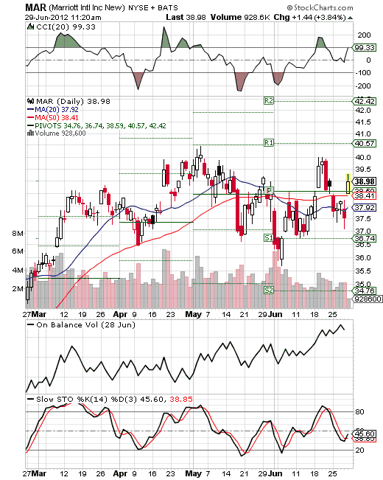 Click to enlarge
Marriott has enjoyed a stellar year and the stock is eager to head higher and hit new 52-week highs. On June 18th, MAR reported that it is on track to have 4,000 hotels in 90 countries by 2014. MAR also reported it could open between 90,000 and 105,000 new rooms around the world in 2012 through 2014 and that's not even including its Gaylord Entertainment (GET) acquisition. The hotel Industry has been strong for most of the year and we like to play this industry with strong companies such as Starwood Hotels & Resorts (HOT), Choice Hotels International (NYSE:CHH) and MAR of course, which all seem to be outpacing the rest of the industry right now. MAR broke through its 50-day MA and pivot point and re-claimed them as support levels today. Its CCI indicator is a couple of buys away from entering the favored +100 area. Its OBV indicator has been in a strong upwards channel since the start of March, showing that positive momentum has been flowing into stock even during times of weakness. MAR stochastics have also turned around and are headed higher, confirming our bullishness in the stock.
Trade Idea: Go long MAR
Entry Range: 39.16- 38.96
Targets: 39.45, 39.84
Stop Loss: 38.28
Our Entry: 39.06
Yum! Brands Inc. (NYSE:YUM):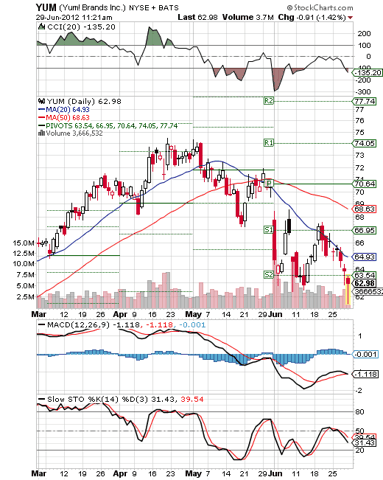 Click to enlarge
Yum! Brands relies heavily on markets abroad, especially Asia to sustain its sales and profit growth. With the recent economic slowdown in Asia, this spells bad news for YUM. On June 4th analysts at Raymond James (NYSE:RJF) took notice of this weakness and downgraded YUM to market perform from Outperform. They cited concerns about the strength of the market in China. The company's inability to rally today is very weak signal for Yum. YUM very recently intended to rally but was rejected by its 20-day MA and resistance line at 66.95, showing great resistance there. Today YUM broke down through its last support line and looks to have no bottom. Its CCI indicator is indicating it will continue to go lower as it has just entered the bearish -100 territory. YUM MACD indicator will look to cross its signal line down today, a move that would confirm our bearishness and push the stock lower.
Trade Idea: Go short YUM
Entry Range: 64.10- 63.78
Targets: 63.30, 62.66
Stop Loss: 65.21
Our Entry: 63.94
WellPoint Inc. (WLP):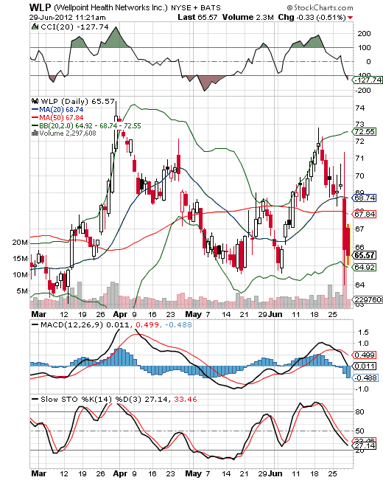 Click to enlarge
WellPoint was practically destroyed yesterday after the Supreme Court upheld the Affordable Care Act other Healthcare insurance that were greatly affected as well, such as Aetna (NYSE:AET), Cigna (NYSE:CI) and HealthNet (NYSE:HNT). WLP showed more weakness today, on a day that the markets rallied close to 2%. WLP struggled to stay positive. The strong selling pressure WLP has been facing has caused it to break down through its 20 and 50-day MA. Its CCI indicator is at -127, implying that this weakness is not over and will likely continue to push lower. WLP MACD indicator recently crossed its signal line down, a move that suggests WLP is not out of the woods yet. Its stochastics are trending lower and will look to stay in that bearish trend.
Trade Idea: Go short WLP
Entry Range: 64.79- 64.46
Targets: 63.98, 63.33
Stop Loss: 65.92
Our Entry: 64.63
Disclosure: I have no positions in any stocks mentioned, and no plans to initiate any positions within the next 72 hours.