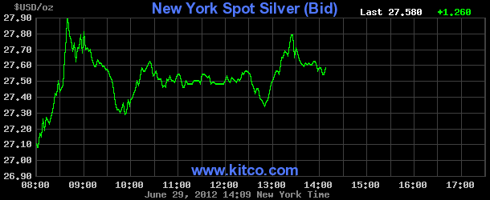 With apologies to Captain Brian's ZSL hedge, silver (NYSEARCA:SLV) has soared on news of the EU summit:
Silver and platinum group metals also soared after EU leaders agreed to let their rescue fund inject aid directly into stricken banks from next year and intervene on bond markets to support troubled member states.

Bullion, which has for the most part of this year moved in tandem with riskier assets, also received a boost from heavy short-covering after losses earlier this week sent the metal close to being oversold.
This is confirmation of my prediction (Silver Charts Bullish) that silver was approaching oversold levels and could soon see a rally. The liquidity measures out of Europe are an undoubted positive for silver in the short term and a confirmation of the continuation of loose monetary policy.
However, there is still one factor investors should be wary of: the strengthening of the US dollar. If European currency debasement continues without further quantitative easing action from the Fed (which may well occur), the U.S. dollar may continue strengthening over the next few months as it looks like the "best of a bad bunch." While silver has shown periods where it has rallied along with the U.S. dollar, in general, higher values of the dollar are bad for dollar-denominated commodities like precious metals. See the chart below for SLV prices, USD strength, and RSI.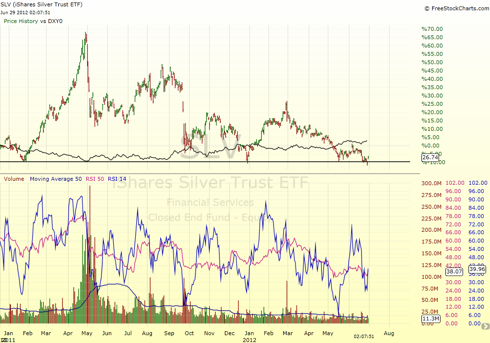 Some commentators view silver's downtrend since May of last year as quickly coming to an end, and note that such corrections are typical of silver's long-term trend.
On another note of good news for bulls, shorts are covering. With net commercial position steadily moving from short to long, silver looks to be in a good position right now.
Disclosure: I am long SLV.
Disclaimer: I am an individual investor, not a licensed investment advisor or broker dealer. Investors are cautioned to perform their own due diligence. All information contained within this report is presented as-is and has been derived from public sources & management. Always contact a financial professional before making any major financial decisions. All investments have an inherent degree of risk. The future is uncertain, and actual results may be materially different from those expected. Past performance is no guarantee of future results. All views expressed herein are my own, and cannot be interpreted as the views of my employer(s) or any organizations I am affiliated with. Presentation of information does not necessarily constitute a recommendation to buy or sell. Never make any investment without conducting your own research and reading multiple points of view.