China Architectural Engineering (Amex: RCH) came out of the gate with a full head of steam gaining over 440% in value in its first week of trading. However, since hitting a high of $27.25 last October, the stock has seen a steady decline and is now trading back at IPO levels. RCH is now looking very attractive as a China play with solid fundamentals to support it at current valuation once the China craze slows down after the Beijing Olympics.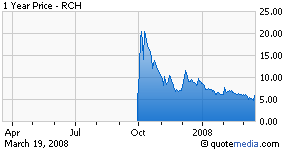 RCH is on-track to report another year of record revenues of over $90 million on earnings of over $12 million. It is a fast growing construction company operating in one of the world's fastest growing economies - - China.
Based on recent announcements, 2008 should be a break-through year for them. They have a backlog of over $100 million - - in only the first two months of the year. Their earnings are expected to grow at a high double-digit rate as it continues its very successful international expansion. With this rate of growth, a doubling of its current valuation is easily justified based purely on fundamentals.
The catalyst for such an upward move can be the new CFO the company just hired. The significance of a Chinese-American CFO for a Chinese company on a US exchange is crucial to its success in terms of generating investor support. With a new CFO on board, they can now easily communicate their story to the Street. The new CFO allows RCH to incorporate a much more aggressive disclosure policy, including conference calls, financial guidance, and overall shareholder communications to maintain the interest that the IPO proved Wall Street had on the stock. With new analyst coverage, the new CFO embarking on a series of institutional meetings and presenting at investor conferences both in China and the US, this stock can relive its IPO glory days very quickly.
Disclosure: Author has a long position in RCH