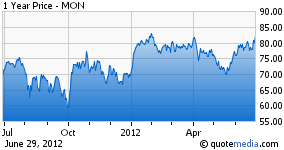 On Wednesday, agricultural giant Monsanto (NYSE:MON) reported stronger-than-expected results for its fiscal year 2012 third quarter. Revenue grew 17% compared to a year ago, about $220 million stronger than expected, and earnings per share grew 27% to $1.63 ($0.05 higher than the Street consensus). Although results were stronger than anticipated, we think shares are fairly valued at current levels (click here for our stock report).
The company's bread-and-butter corn seeds and traits grew 35% for the third quarter, Monsanto's strongest selling season. Management noted the strong spring led to higher overall corn and soybean planting acreage than last year, and its Round-Up Read 2 Yield soybeans are driving strong sales growth. Its soybean segment grew 15% versus last year. Cotton seed sales were relatively flat year-over-year, and vegetable seed sales fell 10%. Though these segments are not immaterial to revenue, both segments are much smaller portions of the firm's business than either corn or soy, so weakness in these segments is not too negative. In fact, cotton has a slightly different selling season, and year-to-date cotton sales are actually up 13%.
We suspect strong corn and soybean seed sales will continue in 2013, as much of the Midwest has been affected by draught and unseasonably warm weather. The firm projects mid-teens earnings expansion during fiscal 2013 on top of current fiscal year 2012 earnings guidance of $3.65-$3.70 per share. Monsanto also forecasted operating cash-flow for fiscal 2012 to be in the range of $2.7 billion to $2.9 billion, with capital expenditures in the range of $1 billion to $1.1 billion, which translates to free cash flow of $1.7 billion to $1.8 billion.
As we stated earlier, we think shares are fairly valued at current levels; however, we think Monsanto has the potential to establish a strong dividend. We think the current 1.5% annual yield is quite safe, and we think there is an excellent chance the firm grows it over the long term. Much like the healthcare industry, biotechnology agricultural firms require heavy initial investment, but the firms then enjoy years of strong cash flow generation with relatively little marginal capital investment required. Monsanto registers a 3 on our Valuentum Buying Index, so we aren't interested in establishing a position in the portfolio of our Best Ideas Newsletter at this point.
Disclosure: I have no positions in any stocks mentioned, and no plans to initiate any positions within the next 72 hours.