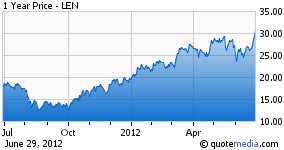 Homebuilder Lennar (NYSE:LEN) reported better-than-expected second quarter results on Wednesday. Revenues grew 22% compared to the same period a year ago, to $930 million, slightly higher than consensus, and the firm earned $0.21 per share versus the $0.17 the Street was predicting. Even more promising, the company noted that its backlog grew 61% when compared to the second quarter of 2011, and it saw orders for new homes soar 40%. We believe shares are fairly valued at current levels.
According to CEO Stuart Miller:
"Evidence from the field suggests that the 'for sale' housing market has, in fact, bottomed and that we have commenced a slow and steady recovery process. And while the housing downturn was broad-based and national, the recovery process continues to be very localized. Although highly conservative mortgage lending practices and challenging appraisals remain a constant headwind, we are experiencing net positive price and volume trends in most of our markets."
Miller seems assured that housing has finally bottomed and that the acceleration in orders and backlog demonstrates this. Miller's insight regarding local recoveries seems consistent with what we've seen in the Case-Schiller Index. Certain markets, Phoenix, Miami, and Charlotte for instance, have been solidly recovering for the last several months, while other markets like Detroit and Atlanta seem to be moving in the wrong direction. It appears that several other markets, though not necessarily turning positive, seem to have found somewhat of a bottom.
The firm also posted its strongest operating margin (9.2%) since the second quarter of 2006. Gross margins also improved by 300 basis points to 22.5%, indicating strong pricing trends. However, Lennar's net-debt/capital ratio remains relatively high around 46.5%. By extension, unexpected and prolonged troubles in the housing market would place the company in dangerous territory, in our view.
Overall, we like what Lennar's results had to say about the housing sector, but we aren't too crazy about the firm's upside from current levels. Lennar registers a 5 on our Valuentum Buying Index, and it trades just above the top-end of our fair value range. We aren't big fans of any names in the homebuilding space at this time, but find this improved performance reassuring for the financials exposure in our Best Ideas portfolio.
Disclosure: I have no positions in any stocks mentioned, and no plans to initiate any positions within the next 72 hours.