Leading online auctioneer Bidz.com (NASDAQ:BIDZ) presented at the Citi conference this last Wednesday. On hand for the presentation were CEO David Zinberg and CFO Lawrence Kong.
The primary thing that I look for when attempting to parse the contents of a conference for actual content is new information. In this case, there were quite a few things to report. Another important thing is the demeanor of the people presenting. I always watch for hesitation on the part of the presenters when investors ask questions. If they are able to handle the questions without slipping up, this is usually indicative of a confident company and a good situation.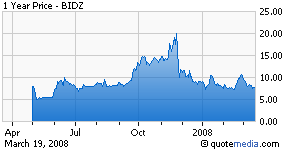 In this instance, both Zinberg and Kong answered all questions in a forthcoming and confident manner. Another thing that they did was address the points made by some of the recent blog posts and reports on the company. They clarified their position on inventory in a satisfactory manner by explaining that they record inventory at cost, lower of FIFO or market, to be exact.
They explained their inventory reserve procedures which is in addition to inventory costing. Those being that they reserve 100% of any merchandise over a year old, and that they reserve for items where the average selling price is lower than the cost. The reserve methodology is appropriate for their unique business model where there is no fixed selling price.
As with all of the information presented, the attendees of the convention seemed satisfied with these answers. While it's too bad that it was necessary, I'm glad that they addressed these concerns. It's sort of a catch-22 for companies. If they don't respond, they look guilty for not doing so. If they do, they give the source of the negative campaign too much credibility. By doing so in a clinical factual matter at a professional conference, they were able to address the issues in a dignified manner befitting of a multi-million dollar corporation of their scope.
Describing the rest of the new information as stellar would be conservative. Their pre tax margins for the year of 2007 were up to 11.2% compared to 4.2% in 2006. 2007 net revenue was up 42% to 187.1 million. That's right, a 42% growth in revenue for a luxury seller in this economy! I don't know how they do it, but it's obvious they're on the right track.
The 4th quarter was where the real stunning displays of growth were. Net revenue in the 4th quarter of 2007 was 63.2 million, up a whopping 68% from the same quarter in 2006. As the retail industry typically sees its widest margin of profits within the 4th quarter, the fact that the 4th quarter was up more than the year as a whole is positive for the company. It indicates that they aren't just growing their business year to year, but are growing it quarter to quarter and riding the cyclical jewelry industry to exceptional profits.
They also released guidance for both the 1st quarter of 2008 and the full year. One can reasonably assume that they will likely fall within or above first quarter guidance as there is enough data available to them to know if they were not going to, at this point.
Ultimately, I consider their predictions to be credible as their 2007 guidance was not just met but exceeded by millions of dollars. For 2008, they stated that they expect net revenue of $59-61 million, and earnings before taxes of $6.5-7.3$ million.
For 2008, they expect net revenue of $225-$230 million, gross margins around 27-28%, and pre-tax earnings between $25 and $26 million. Those are serious figures coming from a serious company To be honest, I was not sure how this conference would go as there has been quite a feeding frenzy with commentators having a lot of negative things to say about the company.
However, numbers do not lie. Bidz.com has done tremendous this year. With sister site Buyz.com on the horizon, I think that good things are in store for this company. It's always nice to see a success story in this dog eat dog economy. Before going public, Bidz was somewhat under the radar, and I have a feeling that their growth has shocked a lot of people who weren't paying attention. Now that all eyes are on them, they have increased demands to be successful and they seem to be meeting those demands head on.
Disclosure: none