Exposure to monoline insurers and credit derivative risk could weigh on Royal Bank of Canada's (NYSE:RY) stock price, says Citigroup analyst Shannon Cowherd.
"The bank has disclosed at least C$8-billion of exposure" to credit markets, which could cost C$6.28 a share, Ms. Cowherd said in a note.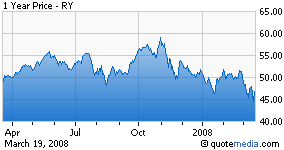 The Citigroup analyst has reduced her target price for the bank's shares from C$58.00 to C$47.00, although maintains a "hold" rating on the stock.
Her analysis contrasts with that of UBS Investment Research analyst Peter Rozenberg, who has upgraded RBC from "neutral" to "buy."
RBC is "Canada's largest and most diversified bank," Mr. Rozenberg notes. "We are upgrading RBC on valuation." UBS has a C$55.00 target price for RBC's stock.