Business Summary
Helmerich & Payne Inc (NYSE:HP) is primarily engaged in the contract drilling of oil and gas wells for exploration and production companies. Net income has grown annually by 21% for the past two decades and such a strong performance apprises us of the abilities of successive management to excel in an industry that is exposed to financial and economic cycles, and political adventurisms from time to time.
We recommend investors to accumulate this stock on every dip because the development of new technology in the oil and gas industry will cause a tectonic shift in energy production patterns across the world. HP's portfolio of rigs, of which 90% are land drilling rigs, positions HP to take massive advantage of the profitable and exciting times ahead.
What is fracking?
Fracking or hydraulic fracking is the process of drilling vertically and then horizontally to reach the shale rock formations and crack open the rocks by creating small explosions beneath the earth's surface. Water, sand and certain proprietary chemicals are then pumped into the rocks at pressure to keep the fissures open so that the gas flows out. Shale rock is impermeable and hence gas could not be extracted from it earlier, however, this new technique of pumping in millions of gallons of water and sand under high pressure enables gas production in commercial quantities.
In 2011, the US achieved a major milestone becoming a net exporter of petroleum products for the first time in 62 years. Driving this transformation is the boom in producing oil and gas from unconventional sources, of which shale is a major contributor. According to PFC Energy, a Washington based think-tank, shale sources will make up about one third of total US Oil and Gas production surpassing Russia and Saudi Arabia and becoming the top global producer.
Hundreds of new jobs are being created each day by the oil and gas industry. At the end of 2011, according to data released by the Labor Department, US oil field employment stood at 640,000, up 33% from 5 years ago. This boom is creating a new ecosystem around itself across the value chain. All in all, the Oil and Gas Industry will not just grow with the economy, it will itself grow the economy.
Company Background
Helmerich and Payne is primarily engaged in contract drilling of oil and gas wells and operates in North and South America providing drilling rigs, equipment, personnel and camps on a contract basis. Its business can be divided into three components; US land drilling, offshore drilling and International land drilling.
As of September 2011, HP had 281 drilling rigs under operations classified as conventional, self-erecting, tension leg, SCR and Flex-Rig (I - IV). Among all of these the Flex-Rig is the most technologically advanced which are highly mobile and depth flexible which reduces drilling times as compared to traditional rigs. The Flex-Rig series operates most efficiently when drilling to the depth of 4000 to 18000 feet, the range in which shale rock is found in the earth's crust. The Flex-Rig V is the latest addition in this series and is designed specifically for long lateral drilling of multiple wells from a single location, again an advantage for drilling in the shale rock formations.
SWOT's
Strengths:
· The company is mainly focused on Land Drilling as opposed to offshore drilling. Of the 281 rigs that the company operates, 272 are land drilling rigs. This is particularly favorable in the current scenario where there has been explosive growth in land drilling in the US. 248 rigs in its portfolio are based in the US, the heart of drilling activity.
· The company builds and operates the technologically advanced FlexRigs. Of its entire portfolio 232 are FlexRigs and 47 are under construction.
· The company bills clients on a "daywork" contract basis under which it charges a fixed rate per day with a price determined by the location, depth and complexity of the well to be drilled and duration of the contract. Contracts executed on a daywork basis are the most advantageous for HP as it considerably reduces risk and uncertainty in comparison to turnkey billing.
· Of its portfolio, 158 rigs operate under fixed contracts ranging from six months to seven years. This provides revenue and cash flow visibility to the management and shareholders.
Weaknesses
· The company is operating in a highly capital intensive industry and is yet a mid-sized company. Hence it faces tough competition from other large sized competitors that have higher cash flows and access to cheap capital.
· The company generates 57% of its revenues from its ten largest contract drilling customers and approximately 32% from it three largest customers. This leaves the company vulnerable to any risk that its customers face.
· It sources a number of components that it uses for building rigs from one or two vendors which exposes it to supply chain risks.
Opportunities
· The changing dynamic that has been brought forth by technological advancement is a major opportunity for the company and it is well positioned to capitalize on it.
Threats
· Both the US Congress and the US Environment Protection Agency (EPA) are studying whether there is any link between hydraulic fracturing and ground water contamination and a threat to public health. There is also an increasing opposition to land drilling in the US citing these concerns. Some of the states are even considering passing strict laws to ensure stringent adherence to best practices which may affect the company's profitability. However, we believe that over time, realization and consensus will emerge among every stakeholder which will ensure that this great opportunity is not wasted.
· Sustainable drilling is possible only when oil and gas prices remain above a threshold level which leaves the company vulnerable to market determined volatile prices of crude and gas.
· In 2010, the Venezuelan government seized the drilling assets of HP in a nationalization drive that cost all oil companies considerable loss of assets. Though the matter is being pursued on all international forums any recovery is uncertain. HP also has minor operations in Tunisia, Ecuador and Columbia, which have seen different degrees of Arab Spring leading to disruption of operations.
Financial Highlights
| | | |
| --- | --- | --- |
| Income* | 2011 | 2010 |
| Operating Revenue | 2,543,894 | $1,875,162 |
| Net Income | 434,186 | 156,312 |
| Profit Margin | 17.1% | 8.3% |
| | | |
| --- | --- | --- |
| Balance Sheet* | | |
| Current Assets | 956,313 | 652,804 |
| Current Liabilities | 416,729 | 232,638 |
| Current Ratio | 2.3 | 2.8 |
*$000's omitted
| | | |
| --- | --- | --- |
| Cash Flow* | 2011 | 2010 |
| Operating | 977,552 | 462,288 |
| Investing | (667,537) | (309,260) |
| Financing | (8,789) | (186,150) |
*$000's omitted
Towards the end of 2007 the world saw a financial crisis comparable only to the Great Depression of 1929 and even after four years economists still use the adjective "subdued" when referring to any form of recovery. This has had a significant impact on all oil and gas drilling companies and many of the companies are yet to reach revenue levels seen only in 2007.
HP, however, has strongly differentiated itself from its same size competitors. In the graph below we track revenues and profits of six of HP's competitors with their 2007 earnings indexed to 100 and each subsequent year compared to the earlier year on a scale of 100.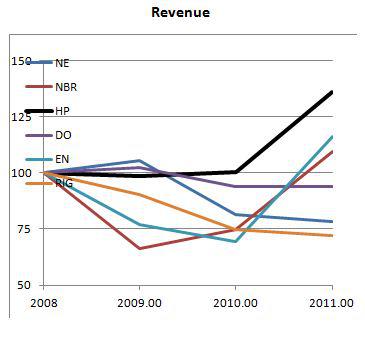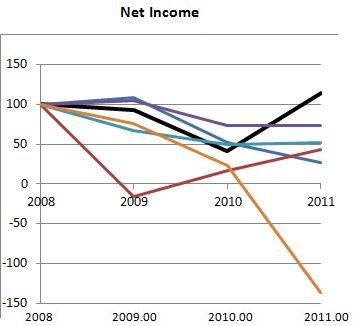 Clearly evident from the graph is the fact that HP is the only company to have scaled above its 2007 watermark.
As of September 30, 2011, HP's current assets stood at $956 million and current liabilities at $416 million. The total assets on the books of the company are $5 billion and the total liabilities are $1.7 billion. The company has $115 million worth of debt maturing this year and holds sufficient cash to finance the outflow. Presented below is the debt schedule of the company in the immediate future.
| | |
| --- | --- |
| Debt Schedule | |
| 2012 | $115,000 |
| 2013 | 40,000 |
| 2014 | 115,000 |
| 2015 | 40,000 |
| 2016 | 40,000 |
Assuming stable business conditions it seems unlikely that the company will have any trouble in servicing its debt.
Valuation
Earnings Per Share: 3.99
Dividend Per Share: 0.26
Retention Ratio = 93.5%
Return on Equity = 14.8%
Sustainable Growth Rate = 13.8
The company currently has orders for more than 71 new rigs to be built and brought into service within the next 3 years. These new rigs will lead to revenue growth which is almost equal to the company's sustainable growth rate. Hence we shall use the sustainable growth rate itself for projecting future stock
Given all its superior positioning and growth rate we believe that the company should at least be valued equal to the market PE. Hence we have a Relative PE of 1 for the company.
Target Price
Target Price = Target EPS x Target Mkt PE x Target Stock PE
= 6.69 x 14 x 1
= 93.66
Disclosure: I have no positions in any stocks mentioned, and no plans to initiate any positions within the next 72 hours.