Picasso once said "I paint objects as I think them, not as I see them." The market likes to paint its stocks in a similar vein. Sherwin-Williams Co (NYSE:SHW) has become one of the darlings recently (aptly for a major part of its run), and the stock is trading based on what the investors think about the housing recovery, instead of what they should see in the company's financials.
Stock Performance
SHW's 52 week low was $69 and is trading at around $132, closer to its 52 week high of $134. SHW has already appreciated 47.9% YTD, and its 3 month move has been even better at 59.7%.
Earnings Performance
The company's Q1 2012 earnings of $0.95 beat the $0.88 consensus that analysts were expecting. Q2 2012 earnings will be announced on the week of July 19, 2012, and this time around the consensus should be around $2.12 per share.
Technicals
Let us start with what has been happening since 11/30/2011.
1) Bullish Sign#1: Trend Type - Long Term Bullish
On 11/30/2011, the technical chart showed a bullish Continuation Diamond pattern for long duration of 306 days (until 10/06/2012). Important thing to note is that the Inbound Trend Duration is 430 days, which is LESS than 612, the double of the pattern's long duration which makes this pattern, although it has held very well until now, not an ideal one. The two gray lines you see on the chart are the price points.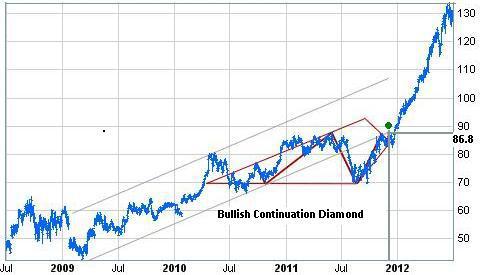 2) Bullish Sign#2: Trend Type - Long Term Bullish
On 03/31/2012, the KST "Know Sure Thing" Oscillator rose above its moving average, indicating another long term bullish trend. See the chart below.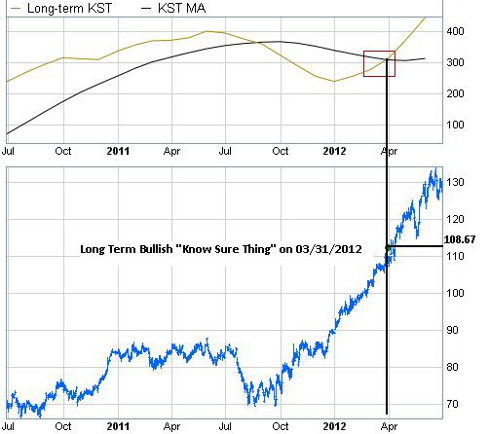 Click to enlarge
3) Bullish Sign #3: Trend type - Short term Bullish
This week itself, there are two short term bullish trends in a span of 2 days, one at $130.15 and another at $130.30. See the chart below.
06/26/2012: Price crossed the 21 day moving average.
06/28/2012: There was a momentum trend. Momentum measures price change velocity (maybe in terms of physics, I should call it acceleration?), and momentum such as this shows the price trend is healthy. On the other hand, a weakening trend shows a possible trend reversal or correction.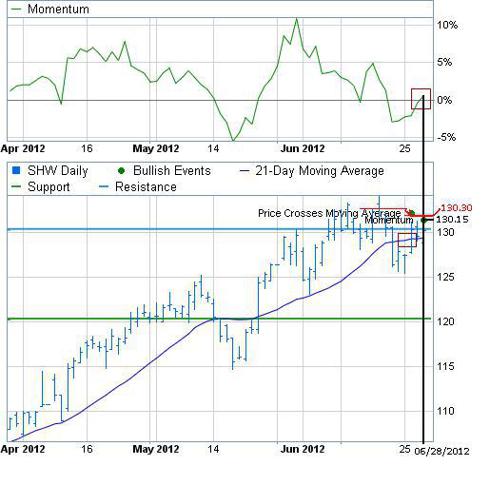 Click to enlarge
Overall, the technicals say that the stock still has momentum, a strong relative strength, a rising 50 Day and 200 Day moving average, and a breakout possibility at $133 without a known resistance ahead.
So should you buy SHW hands-over-fist?
Unfortunately, I have a horrible answer for this question: It depends. The thing is, there are two main types of investors.
A fundamental investor goes by the book - earnings statements, so to say, and the growth story, of course.

With his perspective, even though there is a lot to like in the charts and the housing recovery's "growth story," the valuation seems full.

The stock seems overvalued at $132 right now, and even if you consider an 18 times multiple and a 2012 year end avearge EPS of $6.26, the stock should be trading at around $112.

In 2013, the average EPS is $8.85, so the target price for 2013 year end should be around $134.82!

In order to justify the stock's current price, Wall Street should really be expecting SHW to beat the estimates with an EPS of $7.33, a 15% more than the consensus for 2012. Has the housing market really improved that much, or are we too optimistic? What if the company does not meet its earnings or does not post any positive surprises, how badly can SHW "splatter.?"

Of course, risk with this view is that should the blind rally continue because of its momentum, and should the company in fact beat the average EPS in July and 2012 overall, SHW will be a lost opportunity. Note that in fact, if SHW does post a 15% surprise EPS for 2013 as well, the stock would trade at around $155 next year.

Then you have the technical trader. He mainly looks at charts and defines entry and exit positions to trade and get short term profits by going long or short.

According to his perspective, the charts show that this momentum could take SHW to as high as $140 plus range.

Risk to this approach is that technical charts take no time to reverse. One bad week for XHB and overall housing picture could change the charts completely.
When I wrote the article regarding EMC, I put the following note, because at times investors in general tend to develop a split personality and apply traits of both investing methods. That could be one reason why we see so many inconsistencies in our trading decisions (and maybe so many scars on our backs).
Note: Investors must remember that historically, the June-July summer rally is more contained compared to the rallies in Q1, Q2 and Q4. Also, the months of August and September have historically been neutral to very bearish.

Investors must consider seasonality aspects when using trends to decide on entry points for long term investments.

These technicals are more useful if you are trading the stock and plan to get out before the end of a confirmed rally, and then get back in after a downtrend. In such cases, investors should read and review the chart daily for possible bullish or bearish signals and act accordingly.
If you want to invest in SHW, do your due diligence. You must track the housing news and related economic indicators like a hawk.
For me, all this is just too much thinking, and I opt to stay out. I prefer to have the regret of not initiating this type of a long position where technicals do not match fundamentals, rather than having the regret of initiating one.
Disclosure: I am long EMC.