On Wednesday morning, after already having provided preliminary results, Retalix (Nasdaq: RTLX) posted losses as the maker of software for food retailers blamed a variety of issues for the swing.
Forbes reported that:
The company said the fourth-quarter was hurt by wages paid in currency other than the U.S. dollar, mainly in Israel, where it is headquartered. The weaker dollar resulted in $1.4 million of additional costs.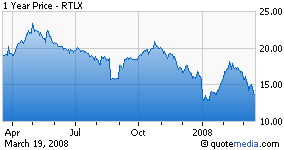 We've spoken before about the effect the strengthening shekel is having for Israeli companies reporting in dollars. Retalix's issues stem less about the dollar than about gunning the company for further growth ahead and/or positioning the company to be taken out by a larger software concern looking to penetrate the retail food industry. We've even gone out on a limb and said that this could occur as early as this year.
After some corporate miscues and some issues about succession planning, we were happy to see FIMI Opportunity Funds establish a 12% position in Retalix. FIMI's presence may compel the company to work harder at holding down costs and move more aggressively after growth opportunities.
Disclosure: The author's fund holds a position in RTLX as of March 19, 2008.