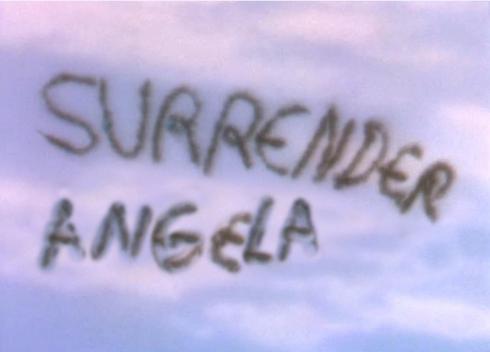 They worked Angela Merkel over until 4:30 AM whereupon she finally agreed to bailout Italy, Spain and whoever else shows up for a piece of the pie. Repayment rules were eased for Spanish banks and possible aid for Italy was included in a $149 billion bailout plan as outlined. There were grandiose statements, promises and more importantly, details to be worked out. The latter will wait since bullish algos only move on headlines and not pesky details.
"We affirm our strong commitment to do what is necessary to ensure the financial stability for the euro area, in particular by using the existing EFSF/ESM instruments in a flexible and efficient manner in order to stabilize markets," was the official statement. The EU also made sure new funds received would not be senior to existing debt relieving bondholder's anxiety.
The UBS's Paul Donavan outlines the questions and a comment: "Going into this summit we had a monetary union in Europe that clearly did not work. Coming out of this summit we have a monetary union that still does not work."
Will the bank supervisor have real powers?
What will be the conditions for direct bank recapitalization?
What about those countries that have already bailed out banks with euro area assistance?
Who guarantees deposits?
Again, "good intentions do not in fact change anything regarding the solvency of banks today." Lastly, and not to be ignored, Finance Minister Schauble states the ESM "must have a fiscal pact in place" and there's the rub. A fiscal pact would require a central authority over budgets and Germany would be in the lead there.
No matter the reflex rally especially at quarter end, this is still a work in progress and perhaps just another "kick the can" effort. Will there be any systemic changes or austerity? I doubt it and we'll be revisiting all this again soon enough.
Stocks globally rallied sharply and the question is how long this will last? The quarter end newsless rally during the same period in 2011 lasted one week before drifting into volatile bearish conditions.
Meanwhile back at Wall & Broad, stocks rallied sharply on the euro news. Euro currency shorts (NYSEARCA:FXE) which had increased by 13% last week, were thoroughly squeezed. Euro stocks (NYSEARCA:IEV) rallied sharply as did anything with a ticker except inverse issues and bonds. Commodities (NYSEARCA:DBC), oil (NYSEARCA:USO), gold (NYSEARCA:GLD) and copper (NYSEARCA:JJC) rallied since they liked the weak dollar (NYSEARCA:UUP). Frankly, when push comes to shove, politicians will choose inflation vs deflation every time.
Consumer Sentiment fell (73.2 vs 74.1 prior) and Chicago PMI fell (52.9 vs 53 expected). But let's not let crummy data get in the way of the party.
Volume was relatively low until the last few minutes when someone decided to punctuate the rally. Breadth per the WSJ was quite positive.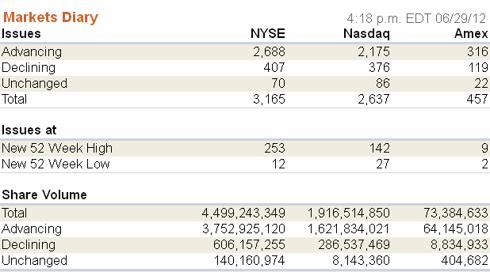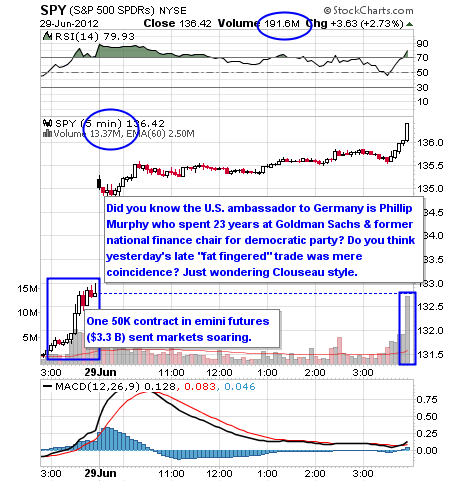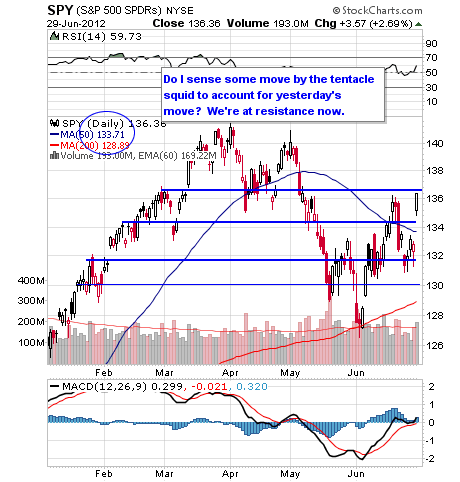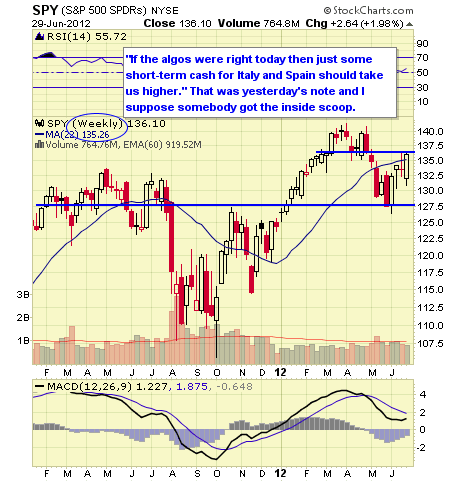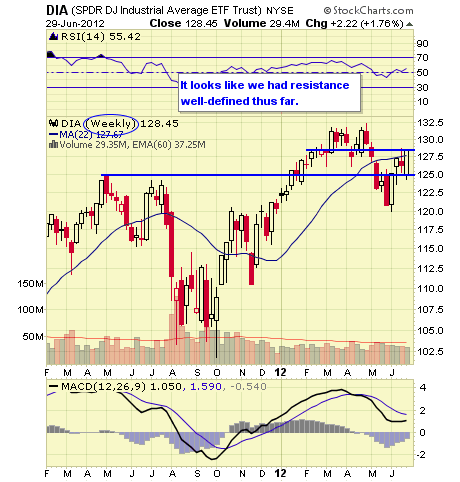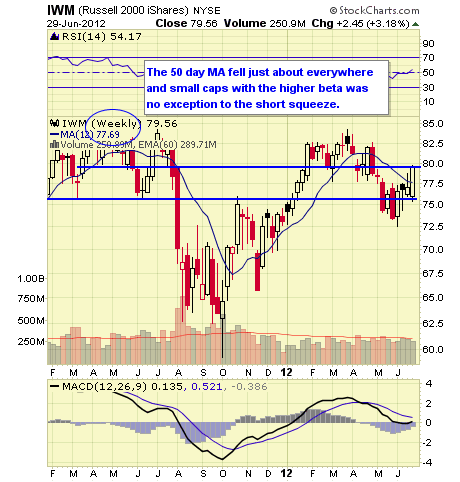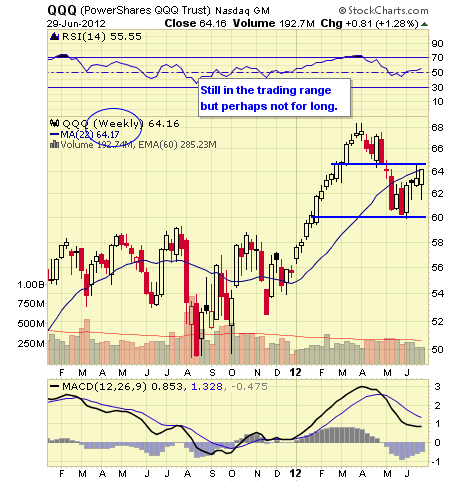 Continue to U.S. Sector, Stocks & Bond ETFs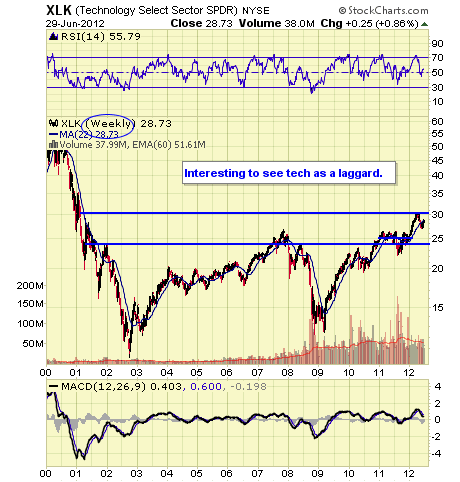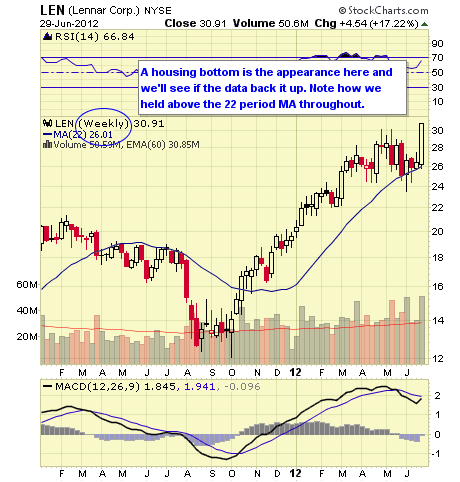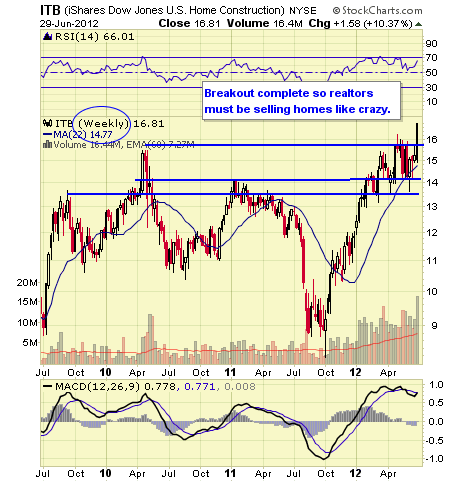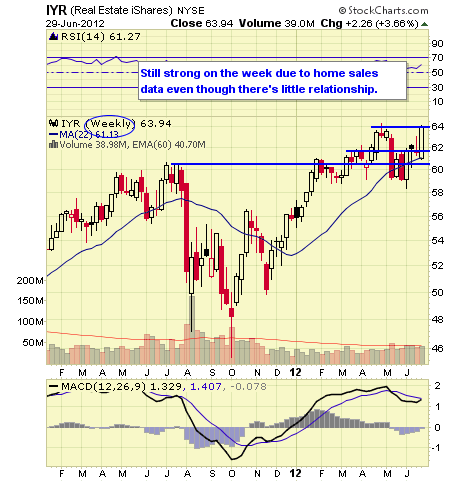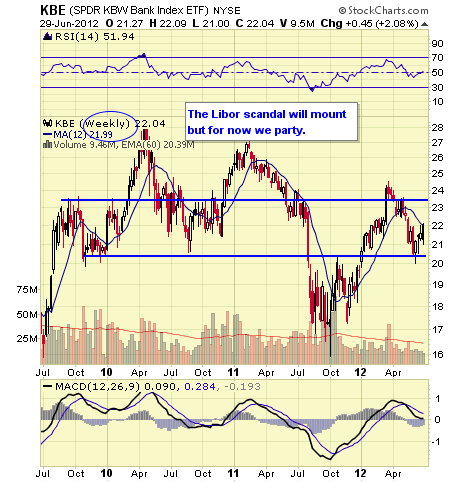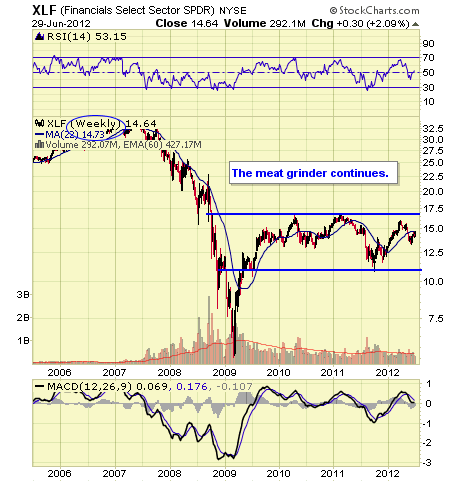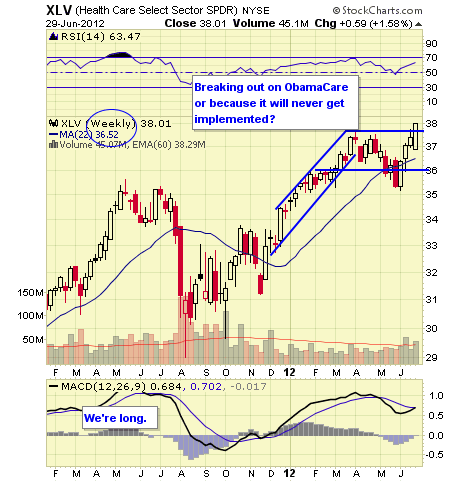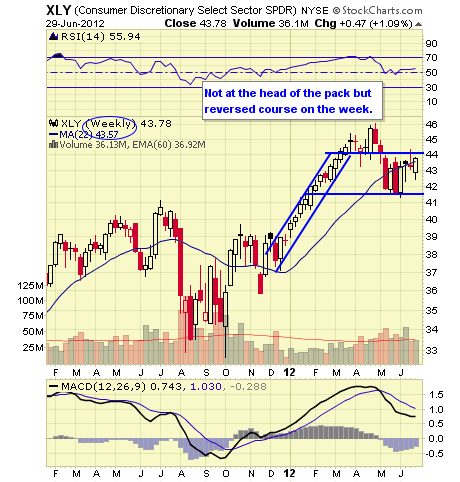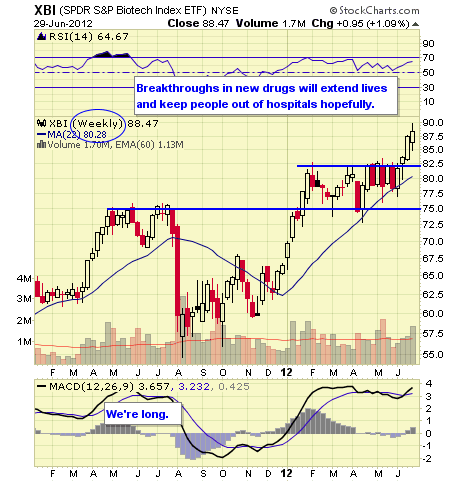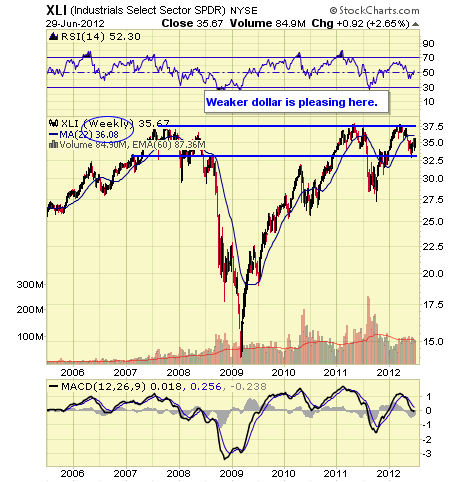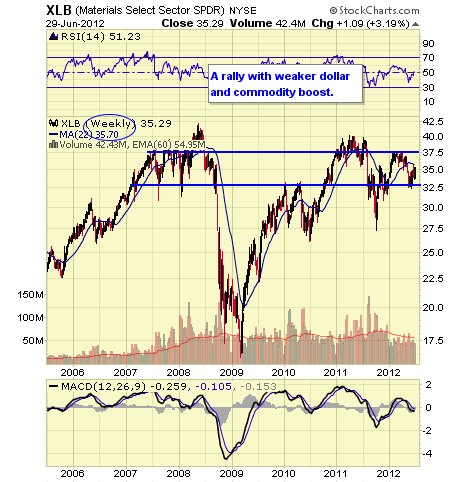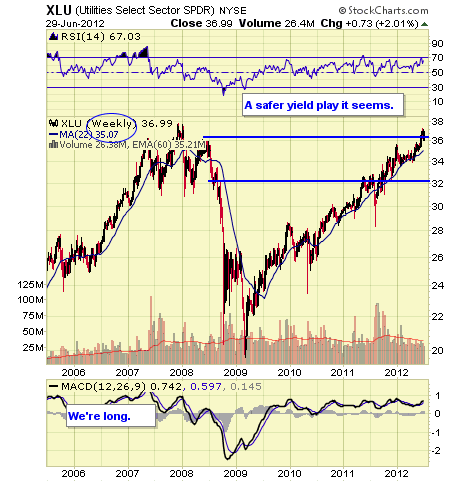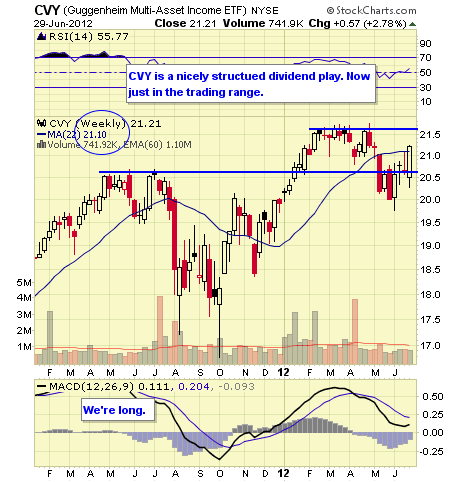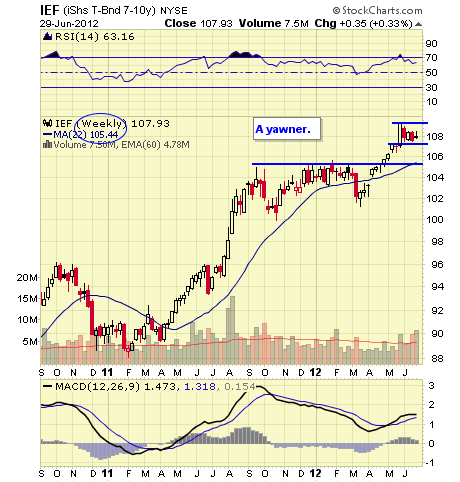 Currency & Commodity Market ETFs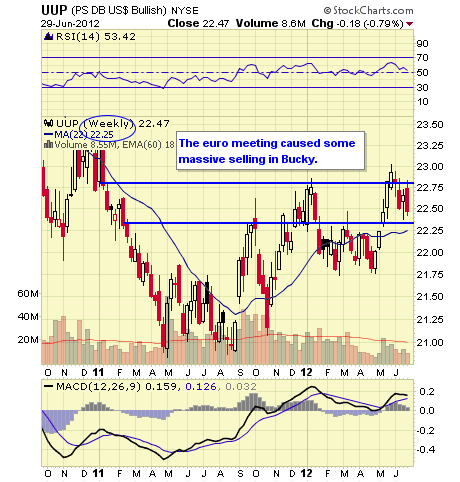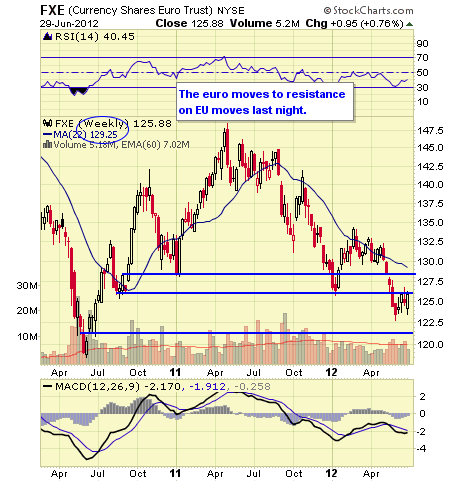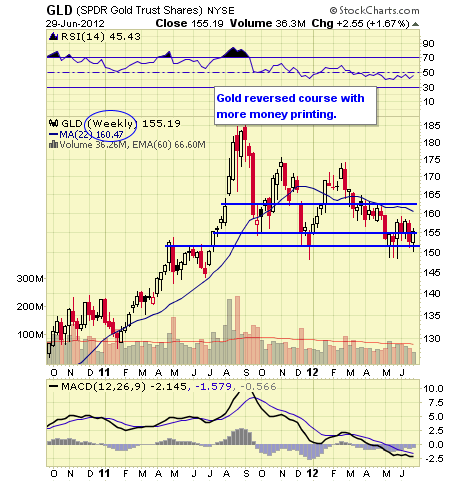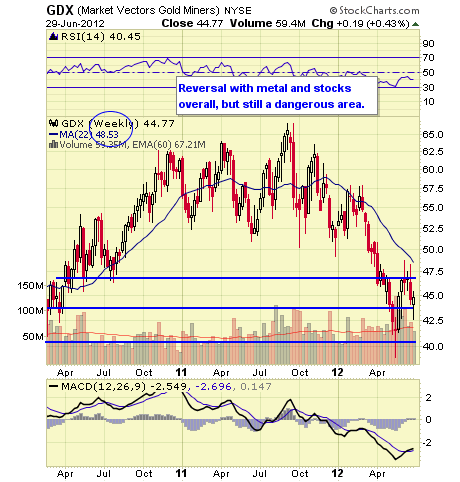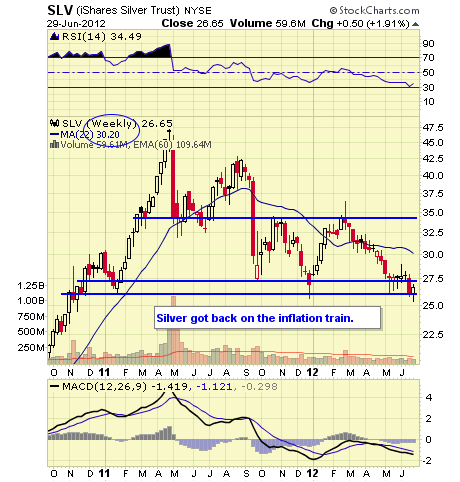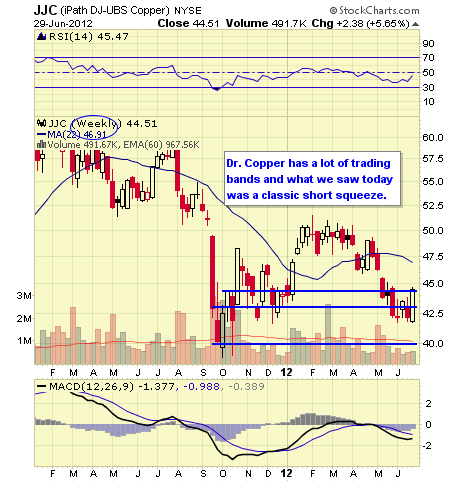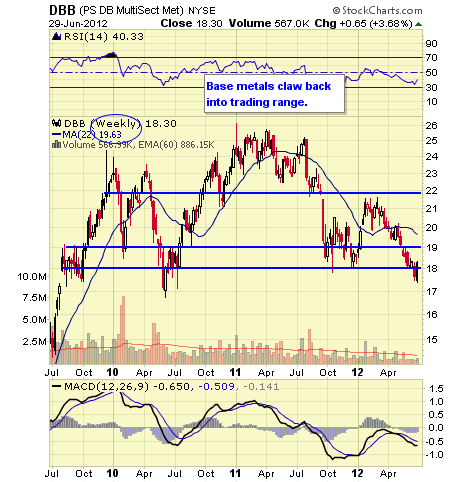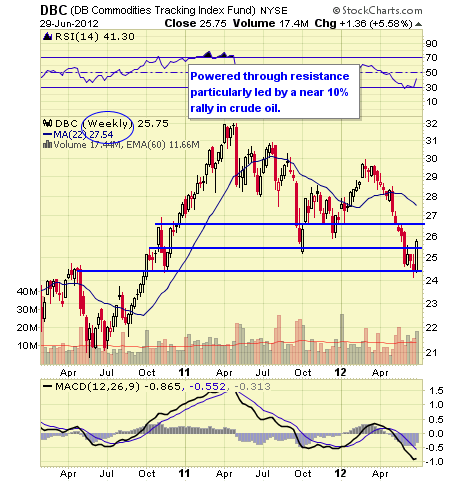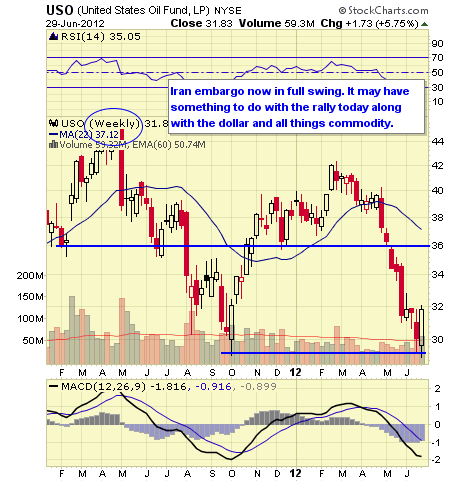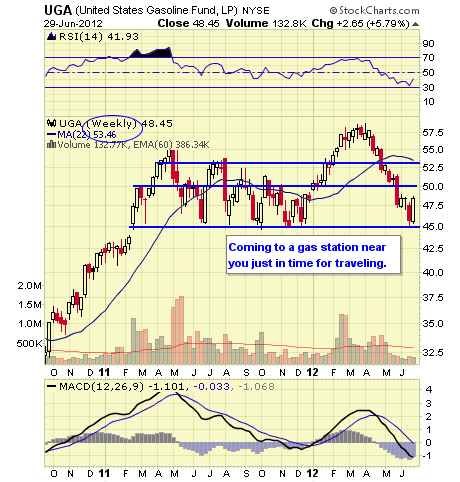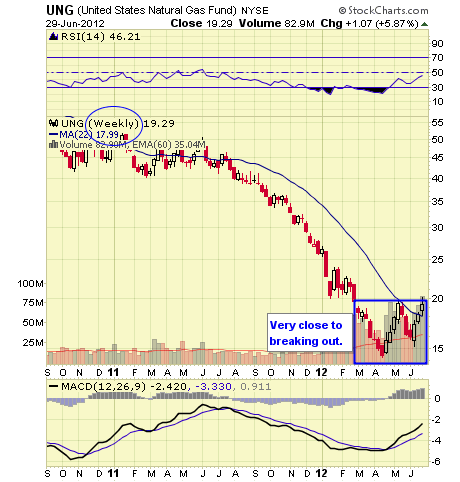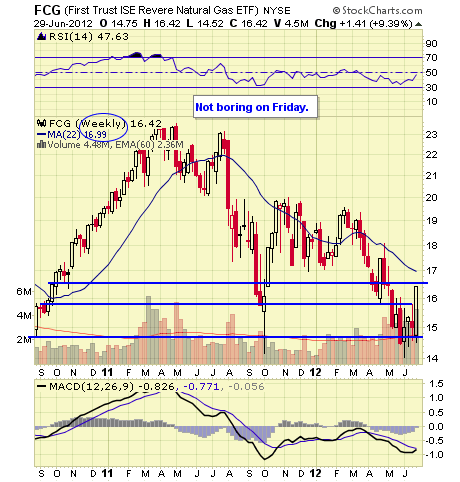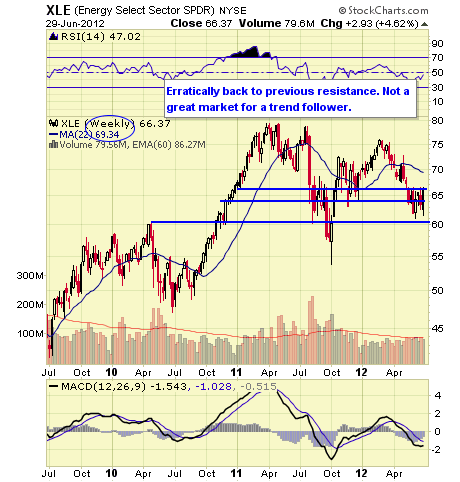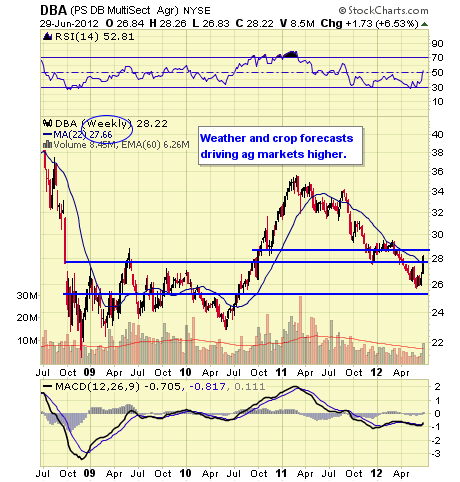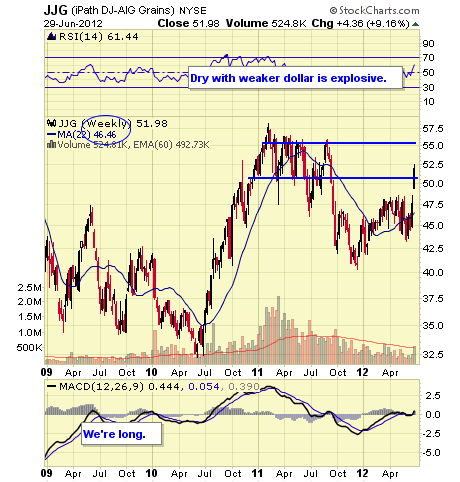 Overseas Sectors & ETFs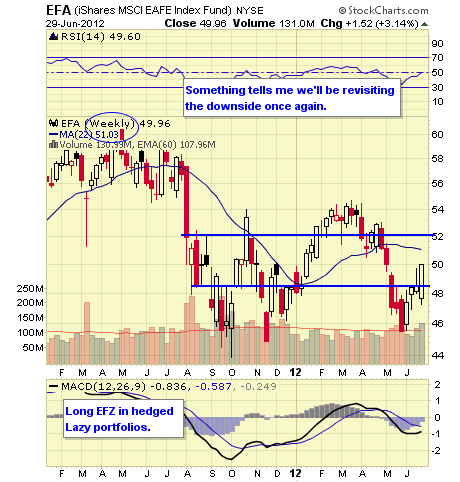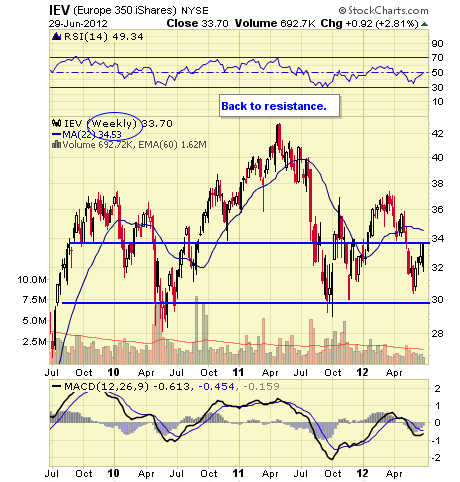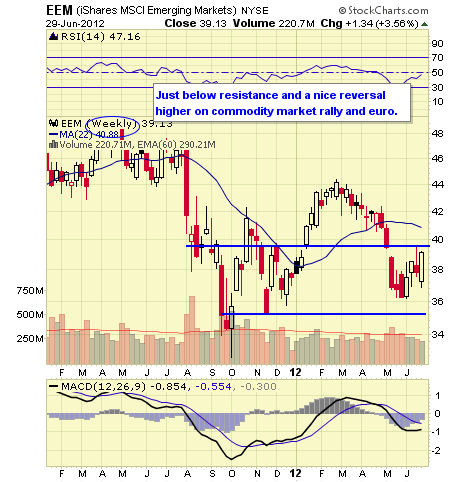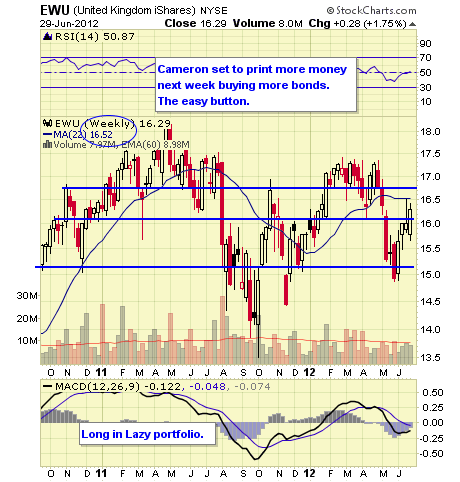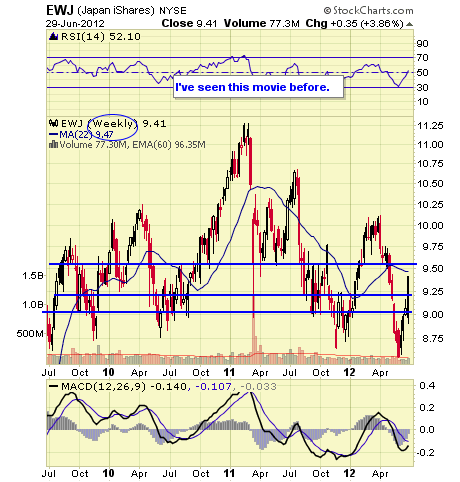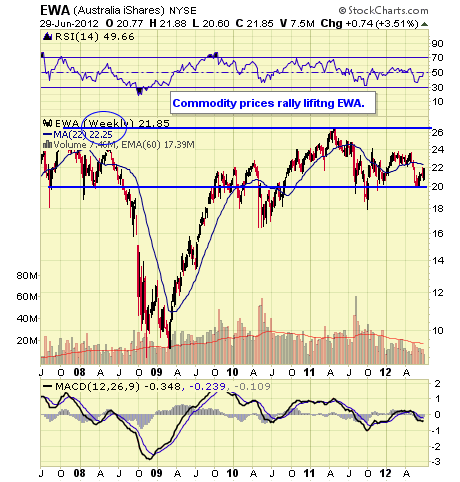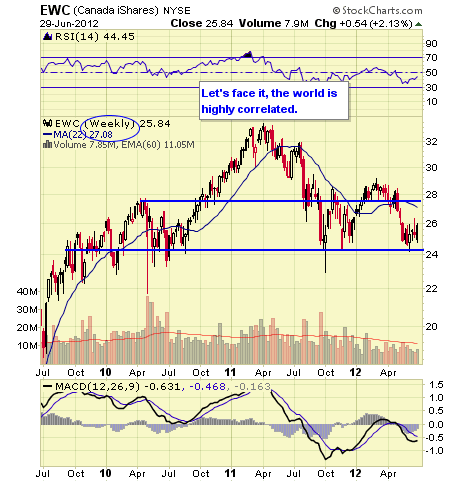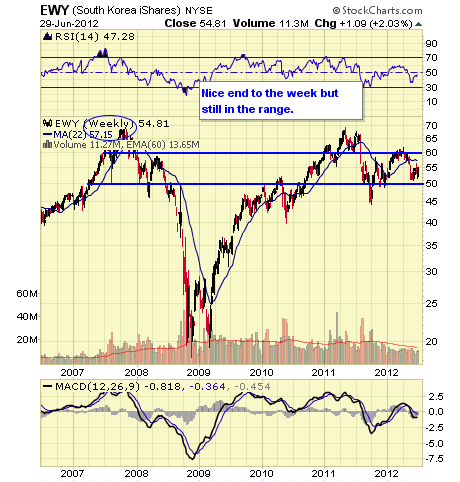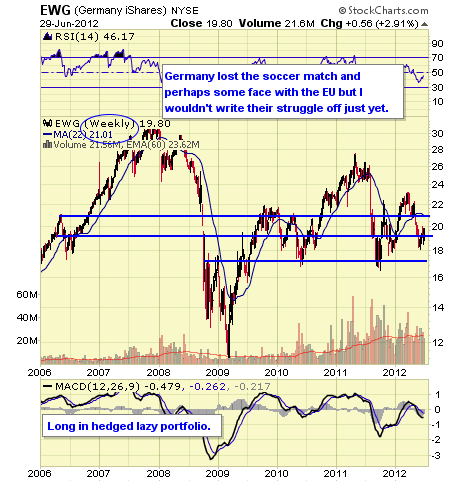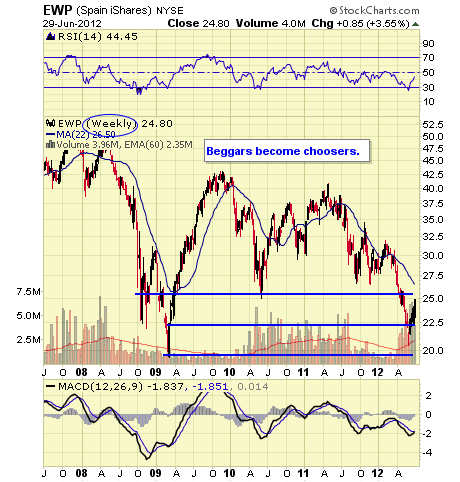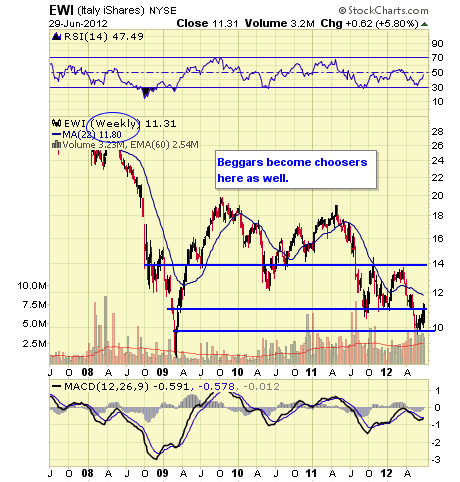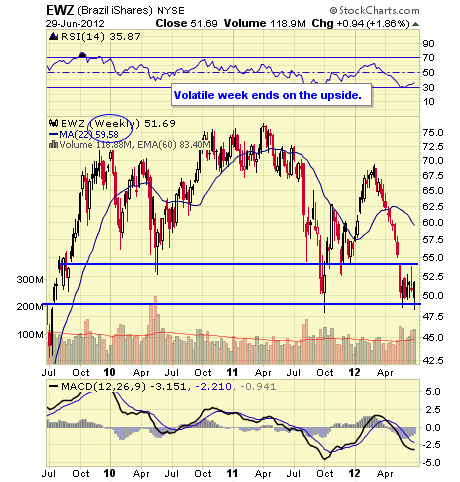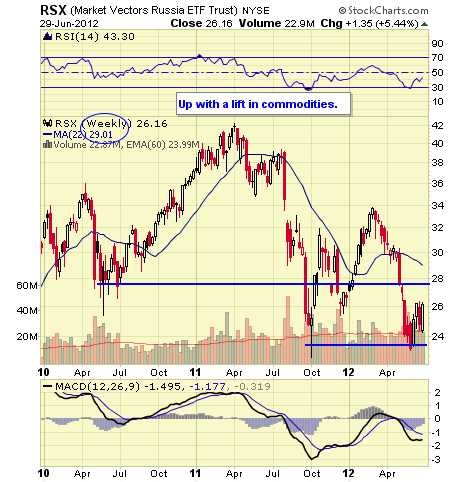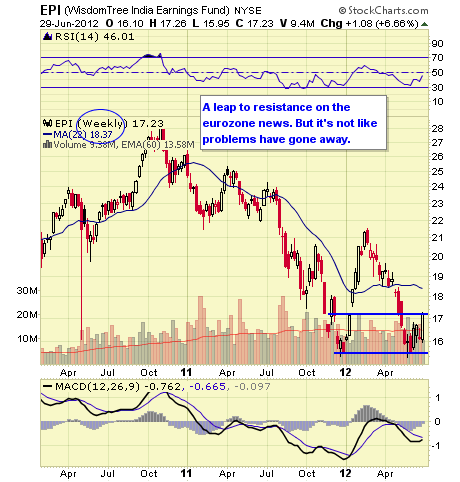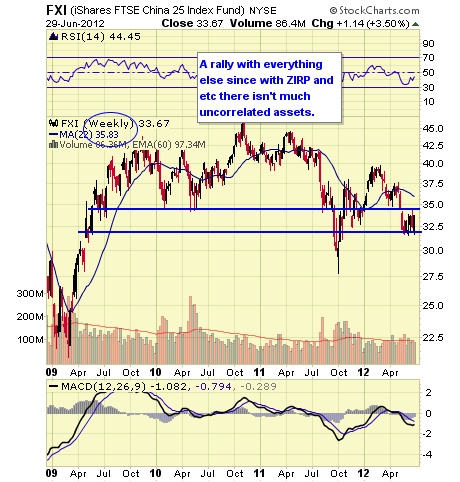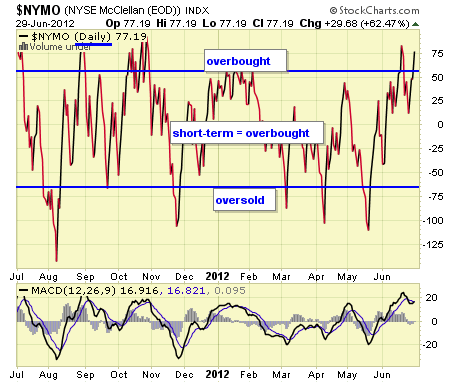 The NYMO is a market breadth indicator that is based on the difference between the number of advancing and declining issues on the NYSE. When readings are +60/-60 markets are extended short-term.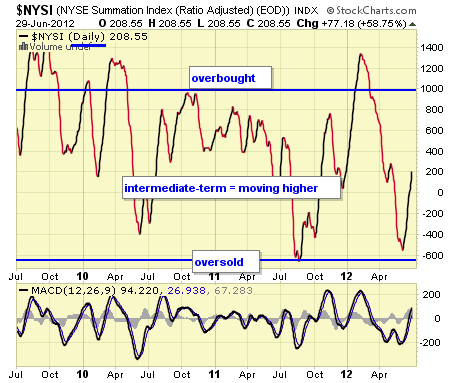 The McClellan Summation Index is a long-term version of the McClellan Oscillator. It is a market breadth indicator, and interpretation is similar to that of the McClellan Oscillator, except that it is more suited to major trends. I believe readings of +1000/-1000 reveal markets as much extended.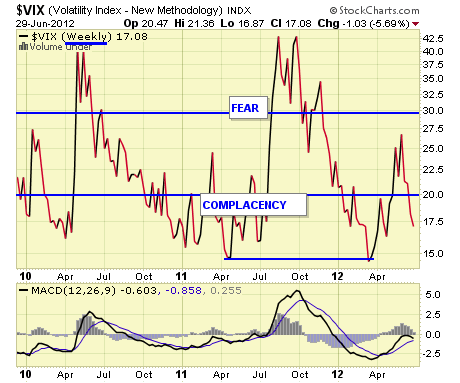 The VIX is a widely used measure of market risk and is often referred to as the "investor fear gauge". Our own interpretation is highlighted in the chart above. The VIX measures the level of put option activity over a 30-day period. Greater buying of put options (protection) causes the index to rise.
Okay, that was the week that was-and a helluva week it was. The DJIA and S&P were down 3.5% or so on the quarter. It could've been a lot worse. The eurozone issue is like a tar ball in the Gulf that floats to the water again and again. It's not going away. There's still much to be done. There is no austerity or any move to cut spending. They've just given the crack addicts another fix which will last for a few months (if that) only to return again. The beggars are now choosers.
But, the tape is the tape and most investors now are very short-term oriented as algos and rumors spark much HFT activity.
I have no idea whether Goldman Sachs (NYSE:GS) has anything to do with Thursday's late trade. In fact the last thing we knew from them was that they recommended shorting the S&P last week. The company has many tentacles that reach into the power centers of the globe. They also will trade against their clients and their own calls. That was all begun with Robert Rubin back in the 90s.
We move forward just as our commander in chief instructs. Next week will be a pretty screwy affair with a holiday mid-week and a lot of people phoning it in from afar. Friday's non-farm payrolls report should be something to behold.
Disclaimer: The ETF Digest maintains active ETF trading portfolio and a wide selection of ETFs away from portfolios in an independent listing. Current "trading" positions in active portfolios if any are embedded within charts: Lazy & Hedged Lazy Portfolios maintain the follow positions: VT, MGV, BND, BSV, VGT, VWO, VNO, IAU, DJCI, DJP, VMBS, VIG, ILF, EWA, IEV, EWC, EWJ, EWG, & EWU.
The charts and comments are only the author's view of market activity and aren't recommendations to buy or sell any security. Market sectors and related ETFs are selected based on his opinion as to their importance in providing the viewer a comprehensive summary of market conditions for the featured period. Chart annotations aren't predictive of any future market action rather they only demonstrate the author's opinion as to a range of possibilities going forward.
Disclosure: I have no positions in any stocks mentioned, and no plans to initiate any positions within the next 72 hours.