A few weeks ago, Tempur-Pedic (NYSE:TPX) lowered its earnings guidance for 2008 and I said even though the current consensus estimates are at the low end of management's new guidance, I wouldn't be at all surprised to see additional cuts to future estimates.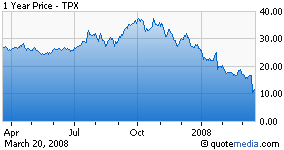 To me, the most telling sign in the press release was management's excitement over new product launches. "Next week, we will introduce a new mattress model in the U.S…. This model… will have a suggested retail price point of $3,999 for a queen size mattress." Four thousand dollar mattresses aren't likely to be high on cash strapped consumer's shopping lists.
Wednesday Tempur-Pedic noted that first quarter sales to date in the U.S. have been significantly below the Company's plan as a result of economic factors affecting consumer spending. The Company's first quarter operating expense structure was planned and incurred to support a higher sales level. Therefore, the Company currently expects first quarter earnings per share to be approximately half the amount for the first quarter of 2007.
That means less than $0.20 per share in earnings, compared with analyst estimates of $0.44. So much for the apparently-low P/E multiple. The Company currently expects to amend financial guidance when it reports first quarter results in April, and its previously announced financial guidance for full year 2008 should no longer be relied upon. The question is whether the amended financial guidance should be relied upon.
That said, the company generated $130 million in free cash flow to the firm last year. At today's share price, the enterprise value is $1.4 billion, including $600 million in debt. The Company said today it will be using that cash flow to reduce the debt load, which I view as appropriate.
April $10.00 put options are trading for $0.60, offering a 6% six-week premium and/or a $9.40 entry price to anyone daring enough to write the options ahead of the new financial guidance. I don't have the capacity for it right now, but it's something I'll consider in a few days.
Disclosure: None