RPC (NYSE:RES) is a holding company providing a broad range of specialized oilfield services and equipment primarily to independent and major oil and gas companies engaged in the exploration, production and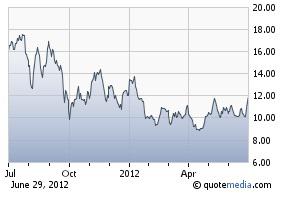 development of oil and gas properties throughout the United States and in selected international markets. RPC's service lines have been aggregated into two reportable oil and gas services business segments, Technical Services and Support Services:
Technical Services include RPC's oil and gas service lines that utilize people and equipment to perform value-added completion, production and maintenance services directly to a customer's well. This business segment consists primarily of pressure pumping, downhole tools, coiled tubing, snubbing, nitrogen, well control, wireline and fishing.
Support Services include RPC's oil and gas service lines that primarily provide equipment for customer use or services to assist customer operations. The equipment and services include drill pipe and related tools, pipe handling, pipe inspection and storage services, and oilfield training services.

Oil drilling and production activities generate 45% and gas generates 55% of revenue. RPC is focused on the US market. It has selective international operations (less than 10% of revenue). Pressure pumping (includes fracturing) generates more than 55% of the revenue.
The US domestic drilling activity has a direct impact on the company's performance. The current rig count of 1996 is almost equal to prior cyclical peak (Q3 2008). RPC benefits from an increase in either directional or horizontal wells. These types of wells require RPC's pressure pumping and coiled tubing services, as well as downhole tools and services. They are more difficult to complete and more costly, generating a higher revenue. Out of the 1996 rigs in the US, 1165 are horizontal. The increasing trend of horizontal drilling will benefit RPC. Rig count information can be found on the baker hughes (NYSE:BHI) website.
RPC had a tremendous growth over the last 10 years. Annual revenue increase is 21% and EPS growth is 26%. Graph 1 shows the revenue growth. Assets have grown at a similar rate as revenue (10 year average asset growth: 21%). I consider this a minus point; prefer revenue to grow faster than assets.
Graph 1: 10 year Revenue trend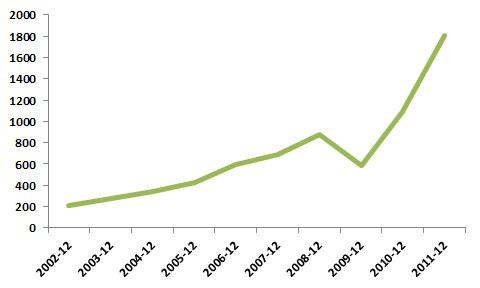 Ten year Average Return on Equity is 22.35%. Let's analyze this further:
 
Average 10 year profit margin: 11.7%,
Asset turn-over of 1.18,
Return on assets of 13.83%.
Financial leverage: 1.62
ROE of 22.35%
RPC has been able to achieve a good ROE by having healthy profit margins and a relative good asset turn-over. The financial leverage is relatively low. The Gross Margin remained above 30%, indicating a good competitive position.
Graph 2: 10 Year Gross Margin trend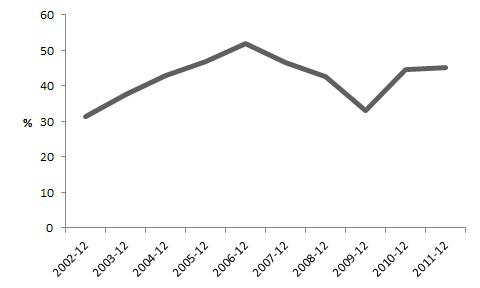 Capital allocation has been excellent. Ten year Net Income was $808 million. The company took on additional debt of $200 million and returned $235 million back to investors through stock buy backs and dividends. More than 95% of net income was retained to support growth. EPS has grown 26% annually, giving a return on retained earnings of 28%. These are the kind of returns you would like a company to have when retaining earnings.
We're looking at a company with healthy gross margins, a good ROE, great capital allocation and growing more than 20% a year. The current market valuation is cheap. EV/EBITDA is less than 4. Earnings per share for the first quarter came in at $0.37 (compared to $0.30 in Q1 2011). The current P/E ratio is less than 8. I see no reasons why RPC should not trade at double its current valuation.
Disclosure: I have no positions in any stocks mentioned, but may initiate a long position in RES over the next 72 hours.