By Alexander Crawford
With the news of the Supreme Court's approval of the Affordable Care Act on Thursday, one of the biggest winners has been the hospital industry. Among them is Universal Health Services Inc. (NYSE:UHS), which operates hospitals throughout the US. UHS stock has risen over 10% since the news and by many measures the stock may have more value to price in.
Universal Health Services Inc. owns and operates acute care hospitals, behavioral health centers, surgical hospitals, ambulatory surgery centers, and radiation oncology centers throughout the country. According to the company's website, UHS has a strategy to develop a franchise "based on exceptional service and effective cost control."
The stock is rallying above its 20-day, 50-day, and 200-day moving averages. The stock had a big boost from the Supreme Court's approval of the Affordable Care Act on Thursday, rising over 8% that day. The stock has risen an additional 2% during trading on Friday.
Many measures indicate the stock may have farther to climb. PEG at 0.70. P/FCF at 14.92. TTM P/E at 10.17 vs. 16.04 for the industry's average. TTM P/S at 0.55 vs. 0.71 for the industry's average.
According to the Graham Number, a measure of maximum fair value created by famous value investor Benjamin Graham, the stock may be undervalued.
Graham Number = SQRT(22.5 x TTM EPS x MRQ BVPS).
For UHS, diluted TTM earnings per share at 4.2, and a MRQ book value per share value at 25.07, implies a Graham Number fair value = sqrt(22.5*4.2*25.07) = $48.67. Based on the stock's price at $39.07, this implies a potential upside of 24.58% from current levels.
Sources of profitability are also encouraging. According to DuPont analysis, the company has seen increases in profits over the last year based on increases in net margin and asset turnover but not increases in leverage. MRQ net profit margin at 7.05% vs. 6.5% y/y. MRQ sales/assets at 0.235 vs. 0.231 y/y. MRQ assets/equity at 3.207 vs. 3.635 y/y.
Earnings growth has been strong and is expected to continue, with EPS growth over the last 5 years at 12% and projected long-term EPS growth over the next 3-5 years at 15.24%, according to Fidelity.
Over the last 12 months, sales have grown almost 23%. However, comparing quarterly sales data to accounts receivable is less encouraging: Revenue grew by 3.86% during the most recent quarter ($1,825.29M vs. $1,757.41M y/y). Accounts receivable grew by 18.69% during the same time period ($1,116.63M vs. $940.8M y/y). Receivables, as a percentage of current assets, increased from 67.14% to 76.32% during the most recent quarter (comparing 3 months ending 2012-03-31 to 3 months ending 2011-03-31).
Taken all together, I believe Universal Health Services may very well have farther to climb given its profitability, low price multiples, and strong earnings growth. This boost from the Supreme Court's approval of the ACA may just be the spring the stock needed.
For an interactive version of this chart, click on the image below. Analyst ratings sourced from Zacks Investment Research.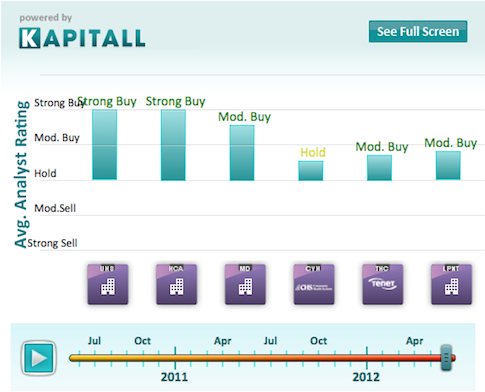 Tool provided by Kapitall.
Price multiple data sourced from Fidelity, EPS data sourced from Yahoo Finance, accounting data sourced from Google Finance.
Disclosure: I have no positions in any stocks mentioned, and no plans to initiate any positions within the next 72 hours.