Actionable Items:
CEF Weekly Review: On average, the 13 closed-end fund (CEF) types registered a share price increase of 1.2% for the week ending 6/29/12. The high-low spread (average percentage price change difference between the highest and lowest fund types) registered this week was +2.1% versus +2.1% the previous week.
The PowerShares CEF Income Composite (NYSEARCA:PCEF), an ETF that invests in taxable income CEFs, advanced 1.6% for the week. PCEF is now up 4.6% YTD on price appreciation alone. Currently, PCEF's trailing twelve months' yield is 8.4%.
It was all about Friday. The S&P 500 surged 2.5% on Friday amidst another burst of optimism coming out of yet another European Summit-the 19th or 20th depending on your count. "Banking Unification" was the featured headline coming out of this Summit. For the week the S&P 500 was up 2.0% and is now up 8.3% YTD for the first half of 2012. The ETF (NYSEARCA:SPY) tracked well with the index as it also rose 2.0%.
Lynchpin: One thing for investors to remember is that a significant lynchpin in this whole Euro equation is whether the German people will retain Mrs. Merkel's services in her current role. One need not look into the too distant past to experience the change in France's perspective with the election of Mr. Hollande's Socialist government.
Human Nature: Given human nature, I wouldn't place a big bet on the German populous to want to support profligate neighbors unless they can be convinced that those "burning houses" will set their house on fire. I'm not sure the voting public thinks that deeply and historically has been more worried about their personal financial situation.
CEF Weekly Fund Type Performance: The equity CEFs led this week in term of average price performance reversing last week's laggard status. SpecEqFnds were up 2.4%, WrldEqFnds 2.2%, and GenEqFnds (1.8%).
SpecEqFnds were driven by Health/Care & Biotech names that included H&Q Healthcare Investors (5.2%) and H&Q Life Sciences Investors (NYSE:HQL) (5.1%). These stocks were momentum-driven on the back of the Supreme Court's upholding elements of Obama Care. The stock prices significantly exceeded their percentage change in NAV. However, on the whole the average rise in price of SpecEqFnds was less than the relative change in average NAV.
WrldEqFnds saw a significant jump in the Mexican CEF, Mexico Fund (NYSE:MXF), which advanced 7.0%. Even this strong share price performance proved to be 0.1% shy of its change in NAV per share. MXF price advanced continuously for the week and gap opened on Friday-all on average volume.
PrefStkFnds which advanced 2.1% last week lagged this week posting a modest 0.3% increase in a "risk on" environment. Yet the fund type generated the largest negative PrcNAVSprd of 1.3% as its average relative NAV's advanced 1.6%.
click to enlarge images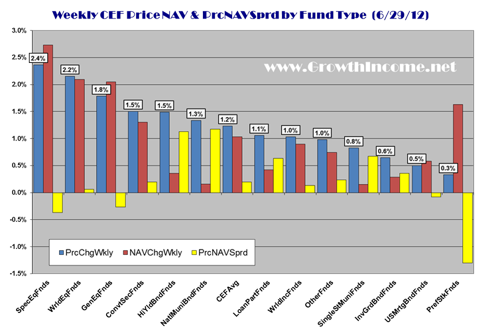 Weekly CEF Winners and Losers: One of the CEFs with the greatest positive PrcNAVSprd* for the week was MFS Municipal Income Fund . MFM's share price advanced 5.8% while its NAV per share rose a more modest 0.3% generating a positive PrcNAVSprd of 5.5%. By comparison, the NatlMuniBndFnds funds type on average price advanced 1.3% versus 0.2% for its respective NAV. This generated a positive PrcNAVSprd of 1.2% (rounding).
MFM trades at an 8.1% premium to its NAV and generates an annualized nominal monthly yield of 6.2% and a taxable equivalent yield of 9.5%. MFM modestly reduced its monthly distribution from $0.042 to $0.04 per share in May of this year. The stock typically goes ex-dividend in the middle of the month.
MFM has approximately $400 million in total net assets with $113.7 million in Auction Rate Preferred Shares which will likely need to be redeemed with slightly higher yielding debt equivalents. This 28% financial leverage is augmented with leverage from its derivative positions. This boosts the total leverage exposure to 31.0%. The stock saw some heavier volume Wednesday and Thursday. MFM's appeal is its single digit accessible price per share of $7.85 and its high current nominal and tax-exempt yields.
One of the CEF(s) with the greatest negative PrcNAVSprd for the week was ING Infrastructure Industrial . IDE's share price declined 1.8% while its NAV increased 2.7% generating a negative PrcNAVSprd of 4.5%.
IDE invests in the infrastructure companies globally as well as the industrial and materials sectors. The stock trades at a 5.2% discount to its NAV and at an annualized quarterly distribution yield of 11.1%. Its total net assets are approximately $340 million with no apparent debt or derivative leverage.
The stock goes ex-dividend on Monday, July 2nd at a quarterly distribution amount per share of $0.45 per share. Given the imminent large quarterly distribution available to shareholders' who could have purchased the shares this week, its share price still traded lower even with a slight bump on Friday.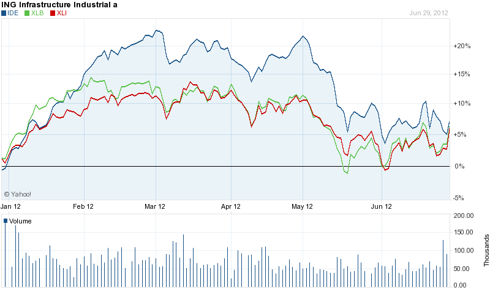 The adjacent chart demonstrates IDE's ("blue") outperformance of both the S&P Sector ETFs for both industrial ("red") and materials ("green").
The slide since mid-May now places its return comparable to these broader based indices on a YTD basis. As a "risk on" trade, IDE may be worth picking up on an ex-dividend basis for those more optimistic regarding future global growth. Because the annualized 11.1% distribution is funded by capital gains, YTD NAV per share is off by 2.3% while the stock price is up 8.0%.
Significant Events: There were two IPO CEF offerings this week. ClearBridge Energy MLP Total Return Fund (NYSE:CTR) completed for its initial public offering this week. CTR's IPO raised $700 million in its common stock offering. MainStay Defined-Term Municipal Opportunities Fund (NYSE:MMD) raised $564 million in its initial public offering.
CEF Focus Stock(s) for the Week: Our focus stocks of the week are in the health care area which seemed to have received a significant boost from the Supreme Court's interpretation of the individual mandate.
H&Q Healthcare Investors' share priced advanced 5.2% while its NAV increased 1.3% generating a positive PrcNAVSprd of 3.9%. HQH share jumped 4.1% on Friday on almost twice its average 3 month volume of 80,000 shares. Its sister CEF, H&Q Life Sciences Investors was not far behind with a share price advance of 5.1% and an increase in NAV per share of 1.5% generating a 3.6% positive PrcNAVSprd. Both of these gains were multiples of the 1.6% gain registered by the broader Health Care Select Sector ETF (NYSEARCA:XLV).
HQH invests globally in health care and medical technology firms along with some private equity investment in that space. Approximately 60% of its portfolio is invested in U.S. companies. The stock trades at a 7.4% discount and generates an annualized quarterly distribution yield of 8.7% based on a managed distribution policy.
HQH's total net assets are $466.0 million dollars. Its largest holdings are in the pharma area and include Gilead Science (NASDAQ:GILD) and Alexion Pharmaceuticals (NYSE:ALEX) each representing 4.5% of the portfolio. These stocks appreciated 1.5% and 3.5%, respectively this week. YTD, HQH is up 22.6% on price and 18.6% on NAV. So, backing out the 8.7% annualized distribution yield, the NAV has increased approximately 10%.
Investors should remember that not all health care companies will be beneficiaries of Obama Care. Medical device companies will be subject to a 2.3% tax on medical device sales beginning in January of next year. This would include devices like pacemaker and CT scan machines.
These shares are obvious momentum plays on the Supreme Court news and could see some interim back tracking early next week-"buy on rumor sell on news". The next quarterly distribution dates are scheduled for mid-August.
Last Week's Focus Stock(s): Given the volatile nature of the markets' we've been recently providing investors with both a focus stock for the week and a contrarian pick as events can radically change over the week.
Our focus stock of the week is Tri-Continental for two reasons: there was some significant insider buying by one of its portfolio managers; the stock generated a modest negative PrcNAVSprd of 0.8% last week with its price declining 0.5% and it's NAV rising 0.3%.
Our contrarian play this week is Cushing MLP Total Return Fund . The stock benefited from firming of oil prices.
TY was up 2.5% for the week and SRV was down 2.6% for the week. With regards to SRV, most of that decline occurring in the last hour on Friday. It dropped 3.7% for the day on very heavy volume (233,315 versus average 3 month daily volume of 140,100). This may have been a function of investors cashing-out or "shorting" to buy the new MLP, CTR mentioned above.
---
[*] All things being equal, price and NAV should move in tandem. A price movement greater than the NAV generates a positive PrcNAVSprd and may be interpreted as negative on a near-term basis and indicate that the stock is overvalued relative to its NAV which in theory is the stock's intrinsic value. The opposite would be true for a negative PrcNAVSprd.
Disclosure: I am long MXF, PCEF, TY, HQH, HQL. I own a diversified portfolio of CEFs and ETFs and am long stocks in the CEFBig10™ and CEFMuni10™.) The first is a balanced equity-income portfolio (CEFBig10™) and the second a tax-exempt income portfolio (CEFMuni10™).