Our TFN Hot Stock Pick for this week is a little-known company that's just starting to garner attention, Rex Energy Corporation (NASDAQ:REXX). This company is involved with the drilling and exploration of oil and natural gas. Its operations are in the Appalacian, Illinois and Permian Basins of the United States.
With proven reserves of 15.9 MMBOE in such stress-free locations, the future is bright for this small energy outfit.
And as you well know, it's the right time to be in the energy business.
On the cutting edge…
Based in State College, Pennsylvania, Rex Energy uses both conventional and unconventional methods – like horizontal drilling and ASP technology which allows for the recovery of residual oil by rinsing reservoir rocks.
With proven reserves of 15.9 million barrels of oil equivalent (MMBOE) in stress-free locations, the future is bright for this small energy outfit.
No time to read? Watch the video…
A smooth transition took place just a few weeks ago when then president Thomas Shields resigned. Assuming his duties is 34- year-old, Benjamin W. Hulbert.
Stepping up to the presidency from the CEO position, Mr. Hulbert has served as an officer on each of the corporation's affiliated companies since he co-founded the first Rex Energy partnership in 2001. Prior to that, he was CFO for Douglas Oil & Gas.
Fundamentally strong for a still small player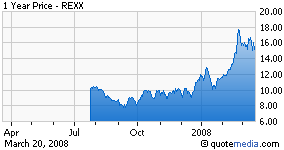 The $89 million from its July 2007 IPO was used to repay debt and set up a new credit line. Year-end 2007 revenues of $16.1 million came in up 46% over 2006. Total net production volumes of 1 million BOE were up 31% from the prior year.
The promise of its existing land-holdings, wells coming online in 2008, and its aggressive acquisition strategy will keep Rex Energy on target.
In addition, the small cap is awaiting the results of testing performed on company-owned territory for Marcellus black shale. The Marcellus formation, stretching from New York State down to West Virginia, is estimated to have a potential 168 trillion cubic feet of natural gas – and that's a conservative estimate. Rex Energy owns over 38,000 acres in western Pennsylvania that may contain this deposit.
If you're interested in oil and natural gas stocks, this is your company.
A largely young but experienced management with a willingness to take advantage of the latest technologies, prime operating locations, and a share price that's hovering around $15 as I speak, make Rex Energy an excellent choice for any investor looking for a decent domestic energy stock.
And if the test results for Marcellus black shale – due to be released any day now – turn out to be positive, the share price for this company will jump.
I recommend you buy shares of Rex Energy Corporation at or under $19.
Disclosure: None