When markets get crazy you can sometimes pick up world-leading companies at extraordinary prices. I believe that type of opportunity exists right now in Amgen (AMGN).
Amgen: [NDQ:AMGN] current price $41.15
52-week range: $39.16 [today] - $66.06 [ May 2, 2007]
Amgen and Genetech [DNA] are the two most profitable biotech companies on the planet. While many lesser biotech names continue to lose money year after year Amgen has been profitable each year since the early 1990's.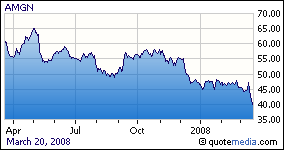 Amgen earned $0.82 /share in 1998 and $3.31 /share in operating earnings in 2007. Revenues grew from $2.71 Billion to $14.7 Billion over those 10 years. Cash Flow/share increased from $0.99 to $4.02 in the same span.
By definition, AMGN has been a premier growth company in an exciting industry. Yet these high quality [Value Line financial strength rating: A+] shares hit a new 6-year low today. Not only are they absolutely low priced but the current P/E is just 10.4x median EPS projections for 2008.
Amgen shares have traded at multiples ranging from 20x - 80x over the past decade but have never been this cheap EVER before. Sales and earnings are both likely to hit all-time highs this year so I see no reason for these shares to remain at such a depressed valuation.
As of year-end 2007 AMGN held over $7.1 Billion in their treasury or about $7/share cash. Earnings predictability is high at the 85th percentile and AMGN's Beta is low at 0.80. Their 10-year median P/E has been 31x and the lowest annual average P/E since 1995 has been last year's 17.4x multiple.
With consensus estimates of $4.00 for this year a return to even 17 times that number would bring Amgen shares back to $68 or up $28.00 [+70%] from today's price.
Is a $68 12-month target price realistic? AMGN shares actually hit peak prices of $66.90 - $86.90 in each calendar year from 2003 through 2007. Record high sales and earnings should certainly be able to support similar prices to those achieved when fundamentals were far below this year's levels.
Value Line rates these shares 'above average' for safety.
Amgen has a high quality, low risk profile and a historically low P/E. The shares are right at multi-year lows while expectations are for record numbers in 2008.
Genetech (DNA) had a similar fall from investor favor previously. DNA shares peaked at $100.20 in December 2005 before falling all the way down to $65.40 in December 2007. DNA shares hit as high as $79.06 today and now trade at > 30x trailing earnings.
Just a change in mood could see a nice rebound in Amgen's share price also. Ironically, the 'momentum guys' will be much happier buying it at $50 on the way back up to $68 than loading up on shares today in the $41's.
Why not be smarter than them and pick up some shares below the lows from 2003 - 2007?
13 of our Gurus owned AMGN as of year-end 2007. Dec. 31, 2007 close: $46.44
Disclosure: I bought AMGN shares on Wednesday morning.