As of June 29, 2012, the average dividend yield as expressed by the yield of the S&P 500 was 2.01%. For income investors, those who are able to beat this yield may very well be considered as earning a high income relative to the market. Taking this into account, it's therefore very atypical to find an investment capable of earning a steady 8% yield which is an amount that is four times the market average. Even more difficult, it's nearly impossible to find companies that have proven their ability to further grow that yield.
The following list attempts to capture just that criteria. Looking forward, these five companies offer a yield exceeding 8% and have historically been growing their yields in a relatively stable fashion. Each of these companies trade with a market valuation greater than $500 million, and each have traded on the market for at least 4 years. In my attempt to compile this list, I sought companies that are in uniquely different industries. This factor should help readers when it comes to complementing their own portfolios by providing them with several distinct options. All values were taken based on the closing price as of June 29, 2012.
| Company Name | Market Cap. | Fwd. Div.% | Payout Ratio | Industry |
| --- | --- | --- | --- | --- |
| AstraZeneca (NYSE:AZN) | $57.01 B | 8.7% | 43% | Drug Manufacturer |
| SeaDrill (NYSE:SDRL) | $16.52 B | 9.0% | 155% | Offshore Drilling |
| Buckeye Partners LP (NYSE:BPL) | $5.10 B | 8.0% | 400% | Pipeline MLP |
| Pitney Bowes (NYSE:PBI) | $3.00 B | 10.0% | 43% | Business Equipment |
| Triangle Capital Corp. (NYSE:TCAP) | $621 M | 8.8% | 69% | Bus. Dev. Company |
AstraZeneca's drug pipeline has often been criticized as being weak, but the company has continued to make efforts to grow through acquisitions. Most recently, the company acquired Ardea Biosciences for $1 billion. The company has more than ample cash flow to pay for future dividend growth.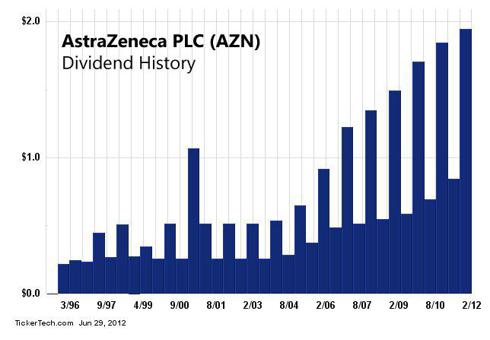 Click to enlarge
SeaDrill operates as one of the largest offshore drilling companies in the world. It's therefore opportunistically positioned in the right field when it comes to the future growth for oil exploration. While some may critique the rather high payout ratio, these companies often based their distributions on cash flows of their chartered fleets and are often capable of sustaining the yields.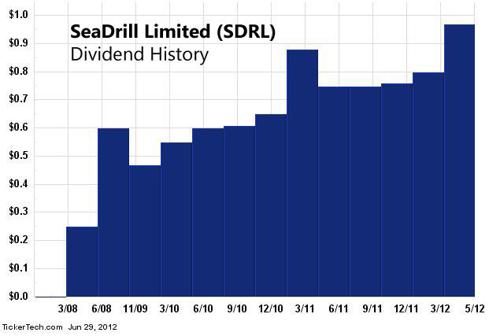 Click to enlarge
Buckeye Partners has been issuing distributions for over 16 years as a master limited partnership. As a pipeline operator, the payout ratio is again dependent on the cash flows of the company and often gets skewed by the depreciation of the assets. As long as the petroleum products flow, there will be income for investors.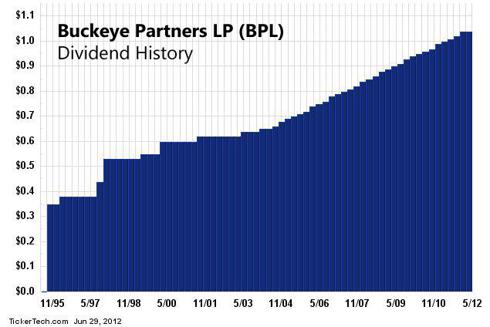 Click to enlarge
Pitney Bowes is a relatively controversial pick given its declining share price. Yet I would contend that its ability to convert its leverage funds into consistently paying cash flows is almost second to none. Undoubtedly the company's yield has reached this level due to a rapid decline in share price. The decline in paper-oriented business equipment has been the largest motivator for correlated trade. However, recent insider purchases along with a low price-to-earnings ratio of 7.72 looking forward suggests that the company might be nearing some support at these levels.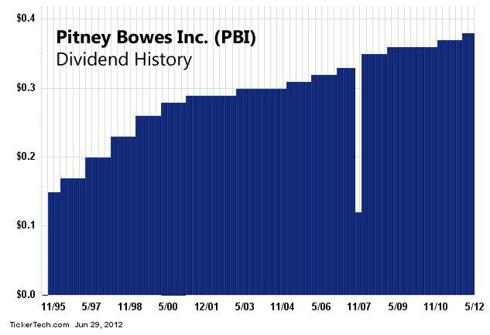 Click to enlarge
Triangle Capital Corporation is the only company listed here with a market capitalization under $1 billion. It's relatively short dividend history also makes it less predictable over the long run. Nevertheless, the trend thus far appears to be healthy and the company is trading accordingly.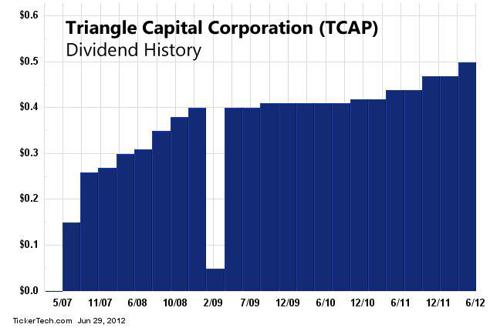 Click to enlarge
Disclosure: I am long AZN.