Global markets shuddered on Monday, as Asian stocks plunged after the Federal Reserve's emergency-meeting rate cut and the sale of Bear Stearns (NYSE:BSC). Taiwan was no exception, with the country's Taiex index falling almost 2%, bringing it down nearly 8% since March 6.
Prior to the most recent crisis, which saw global stock markets lose $2.4 trillion in market value before Monday's bout of selling, Taiwan's markets were in relative rally mode compared to much of the rest of the world.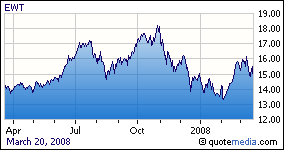 When trading closed on March 14, iShares MSCI Taiwan Index ETF (NYSEARCA:EWT) was down 0.8% year to date, still remaining more than 10 percentage points above the MSCI EAFE index. It was also the best performer for one month, three months, and year to date among Pacific ex-Japan ETFs tracked by Morningstar. Through March 14, EWT held a 17.9% year-to-date advantage over the category average and was nearly 12 percentage points better than the next best fund, iShares MSCI Australia (NYSEARCA:EWA).
EWT has moved swiftly up our ETF Momentum Tracker Sector Momentum Table in recent weeks, jumping from 29th on Feb. 12 to eighth last week.
The ETF tracks its namesake index, a cap-weighted bogey of about 110 holdings that represent nearly 85% of the Taiwanese market. Like Taiwan's markets, EWT's 126-stock portfolio is heavy on information technology, with nearly 55% of the fund's holdings allocated to that sector. Top holding Taiwan Semiconductor (NYSE:TSM), consumer electronics maker Hon Hai Precision Industry (OTC:HNHAF), and LCD screenmaker AU Optronics (NYSE:AUO) make up 22.7% of the portfolio, sandwiched around the country's top financial holding company, Cathay Financial, and a few materials companies, including China Steel and two plastics makers.
Taiwan took a nasty beating when the tech bubble burst early in the decade, and it has lagged Asian and emerging markets ever since, in part because the eight year leadership of Chen Shui-bian, whose term will end this week, saw the country pull further and further away from China just as the Asian giant's economy and markets skyrocketed.
Taiwan's presidential election will be held on March 22, and Ying-jeou Ma, a pro-business candidate with a more favorable view of China than the current regime has, is expected to win. That's brought new hope—and new money—to Taiwan's markets. The MSCI Taiwan index gained 10.4% in February, compared to a 2.7% gain for the MSCI Asia Pacific ex-Japan index, according to The Wall Street Journal.
Taiwanese equity funds recorded inflows for seven straight weeks, according to Massachusetts-based EPFR. Year to date, Taiwanese funds have attracted $636 million, compared to $4.8 billion in outflow from China and Greater China funds, says EPFR.
Last week, the Journal also posited that Taiwanese stocks may be cheap, trading at 16 times reported earnings vs. 19 times for Hong Kong shares and 22 times for overseas-listed China stocks. The Taiwan dollar has been gaining since legislative elections in January and has hit a series of eight-year highs against the weakening U.S. dollar.
The Journal quoted several analysts bullish on Taiwan, including Andrew Foster of Matthews International Capital Management, a San Francisco firm specializing in Asia. "I've always seen Taiwan as a peripheral market if you're trying to invest in the China story," he said. "And Taiwan clearly hasn't met its long-term potential in terms of economic development."
At the moment, many Taiwanese firms—including Cathay and Taiwan Semiconductor—are heavily invested in China, but the Taiwanese government limits what they can do there and essentially bars Chinese investment on the island. Whether Ying-jeou Ma will be able to change that is unknown, but if he does, Taiwanese stocks could benefit.
All that said, EWT carries plenty of risk, as evidenced by a three-year standard deviation of 20.49. The fund's heavy exposure to single-country risk, highly cyclical chip stocks, and other tech names warrants caution.
Morningstar's Emiko Kurotsu notes that although Taiwan Semiconductor is the world's largest chip foundry and AU Optronics holds a 20% global market share, they "have no defensible advantages in fiercely competitive" industries.
He prefers iShares MSCI Emerging Markets and other funds with a stake in Taiwan's largest companies. Should Taiwan indeed get a bounce from improved relations with China, or from lower valuations after trailing many markets for much of the decade, EWT could be the place to be. The fund holds more than 70% of assets in large- and medium-cap stocks, according to Morningstar, giving it much deeper exposure to Taiwan.
For now, EWT looks like a bet on improved relations between the two countries and on a market that hasn't kept up with its red-hot neighbors during the long post-2000 rally. There are some signs that's a possibility, but as the last few months—and even the last week—show, investors shouldn't expect the ride to be a smooth one.