The beauty of J.M. Smuckers Company (NYSE:SJM) is that it has been a consistent dividend paying company with steady growth over the long-term. Sure, the stock has had some volatility in the short-term, but it always comes out ahead when taking a step back and looking at the five to ten year performance.
The company is well-diversified among a variety of products and brands. The Smuckers brand handles jellies, jams, peanut butter, ice cream/dessert toppings, and syrups. Some of the company's other well-known brands include: Crisco, Dunkin Donuts, Eagle Brand, Folgers, Hungry Jack, Jif, Knott's Berry Farm, Millstone, Pillsbury, and Pilon.
At first glance, Smuckers looks fairly valued with a forward PE ratio of 13.4 and a PEG of 1.82. However, the stock is currently trading at only 1.59 times its book value per share making it undervalued.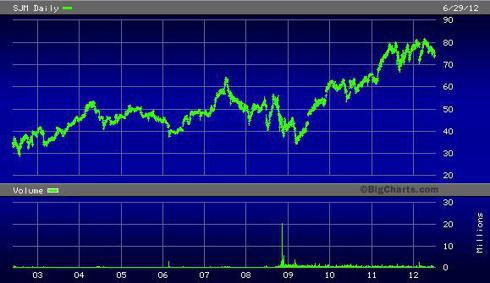 Click to enlarge
Smuckers currently pays a dividend of 2.6%. It has increased the dividend payout every year since 2002 with an average increase of 11%. This is a great track record for a dividend paying stock.
The company has 2 upward earnings revisions for FY13 and 4 upward revisions for FY14. It is expected to grow earnings annually at 7.97% for the next five years. This growth should allow for capital appreciation in addition to the dividend payouts. If dividends are reinvested, investors can expect an initial investment of $7500 to be worth about $12,400 in five years.
Eating out is three times more costly than preparing meals at home. There has been an upward trend for the amount of meals prepared and eaten at home. According to the NPD group there has been a 6.5% increase in the amount of individuals preparing meals at home from 2005 to 2011. Smuckers should benefit from this trend as its products are geared towards home preparation.
The company plans to achieve future growth through acquisitions, supply chain efficiencies, brand building, and product innovation. Existing brands can be strategically bought for continued growth. Distribution channels are constantly being improved to reduce costs. Marketing will be optimized to build brands. Smuckers will also look to invent new products to drive growth. Fifty new products are expected in 2012 with 80 expected in 2013. The company plans on implementing future pricing actions, optimal promotions, and to reap the benefits of productivity savings.
Smuckers has established an office in Shanghai, China to build its international presence.
To take advantage of the short-term volatility in the stock to collect some extra cash, investors may consider selling a call against their long position when the stock becomes overbought. Right now the stock looks oversold, so now would be a good time to start a position in the stock, but I wouldn't sell a call just yet. Potential investors could consider selling a put to start a position in the stock since the stock looks to be emerging from an oversold level. After the stock has another run-up, look to sell a call to capitalize on the next pullback. Or simply buy the stock and reinvest the dividends as a long-term investment.
Disclosure: I have no positions in any stocks mentioned, and no plans to initiate any positions within the next 72 hours.