Despite a burgeoning market for smart-phones and a voracious consumer and corporate appetite for Blackberrys and iPhones in the US, once leading player Palm (PALM) continues to struggle. Their market share is hovering around nine percent (Apple (NASDAQ:AAPL) took approximately 28 percent of the U.S. smart phone market in less than one year. RIM's (RIMM) Blackberry has 41% (via Canalys)). Since October, Palm's stock price has fallen more than 60%. Since Elevation Partners purchased a 25% stake in June, the company's market cap has shrunk to just above $500m.

(Palm's shares were up about 10% to $19.57 per share following the deal but optimism was short-lived as Palm continued to lose business and see cash reserves erode.)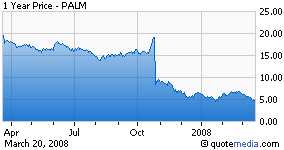 Thursday, Palm announced their earnings for the third quarter. After two quarters of lowered guidance, there was again little to get excited about. There was also little to suggest Elevation's money and efforts have started to make an impact.
For the quarter ended February 29th, Palm lost $31.5m (30 cents a share) compared to a profit of $11.8m (11 cents a share) for the same period last year. Less one time charges, including restructuring fees, the company lost $17m (16 cents a share) on revenue of $312.1m. Both numbers failed to meet analysts' (Thompson) modest expectations of a loss of 14 cents on revenue of $315.3m.
Palm has acknowledged, much like a storied sports franchise whose stars have faded with time, that they're in a rebuilding mode. They lost their way and are working to improve their operations and product pipeline. They're trying to build with new talent.
In September, Palm killed their Foleo product and promised a return to the fundamentals. To trim costs, they laid-off about 10% of their staff in December. In January, they announced a plan to shutter all but one of their retail stores.
CEO Ed Colligan said during the analyst call: "We've come through a tough quarter and continue to have a lot of work ahead of us."
That things have been rough is clear. The question is: is management doing enough to get back on track? Is there a track to get back on to?
Improving the product pipeline is essential. The Centro, which the company introduced in late September, and began selling in October, has done well. Carried on its back, smart phone sales were up 13% to about 833k units in the quarter and smart-phone revenue was $275.4m. But the Centro is an entry level smart phone aimed at the consumer market. With a marketing slogan of "life begins at 5 o'clock" and a low price point, margins are relatively slight.
More expensive (e.g. higher margin), and more feature packed, corporate focused products are where Palm originally built their reputation. They remain something the Company needs to get back to. To get there, they are betting on a new TREO line due at the start of their next fiscal year in June. These will run on the Windows Mobile platform, offer QWERTY keyboards, and more sophisticated styling. Whether they will be sufficiently feature packed, stylish and affordable to regain lost market share from Apple or RIM (or to a lesser extent in the US market: Nokia (NYSE:NOK), Samsung (OTC:SSNLF) or Motorola (MOT)) remains to be seen. But the more time that goes by, the harder it will be for Palm to recover market share from competitors.
During the analyst call, CEO Colligan made a point of saying he is "more confident than ever that [the company is] on the right track to build for long term value."
I want to know how "long term" he's thinking. Similarly, how far down that right track does the company need to go before shareholders will start seeing a change? Per Colligan's own words: "This quarter is going to continue to be a tough quarter." And, "we're not going to return to profitability next quarter."
Since Palm stopped providing specific forward guidance in December, there's no official word on when to expect improvements. That the CEO is confident seems hardly reassuring.
For now, it seems safe to say there isn't going to be any notable turnaround before the first quarter of Palm's fiscal 2009 (and any targets for positive results are likely to be small and conservative).
The company's rebuilding after all. And unlike the sports team analogy, they don't have the luxury of a high draft pick to recruit future stars. They have to get back on track the old fashioned way: grinding it out quarter by quarter.