Though not necessarily a bad week, had it not been for Friday's European-fix news, stocks would have finished in the red. That's the good news. The bad news is, Friday's surge was a little too big for the market's own good, as it will be near impossible to tack on more immediate gains. So, that's the ultimate question now…will any pullback simply be a short-term lull where the bulls can regroup before the next bullish wave, or will any pullback now simply convince traders the bigger downtrend is still in motion?
Yes, we're going to mediate that discussion in a moment, right after running through some of last week's and this week's economic data.
Real Estate, Confidence, & Jobs - Weekly Market Outlook
Economic Calendar
Overall, last week was much more encouraging on the economic front than many were expecting, particularly on the real estate and construction front.
First and foremost, May's new home sales rolled it an annualized rate of 369K, easily topping the expected 350K, and reaching the highest level since April of 2010. Pending home sales rose 5.9% for May, while the market only expected a 0.5% improvement. Though the Case-Shiller (home price) index fell for April - by 1.9% - and the MBA Mortgage Index slumped 7.1% for the third week of June, we continue to see more buying activity when it comes to real estate. It may be ugly, and at prices well under peak levels, but it's getting tough to deny there are real signs of growth on this front.
On the flipside, June wasn't a great month for consumer confidence. The Conference Board's consumer confidence score slumped from 64.4 to 62.0, which is a five-month low. The Michigan Sentiment Index for June came in at a final score of 73.2 for June, which was well under May's reading of 79.3. As you can see on the plot of both below, although the last four months have been lethargic on the confidence front, in the bigger picture the trend is still one of growing optimism.
Consumer Confidence & Michigan Sentiment Index vs. S&P 500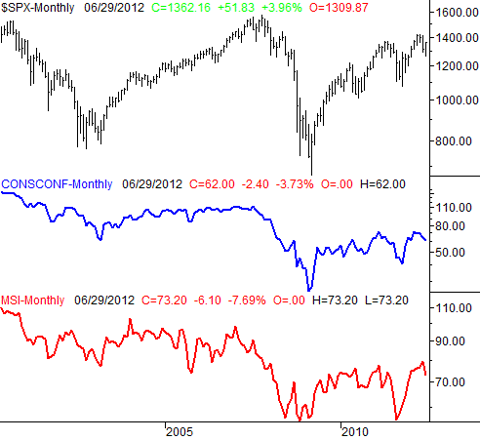 The only other (new) item of interest is May's durable orders, which grew at a decent 1.1% overall, and grew by 0.4% not counting automobiles. Both numbers actually fell in the previous month.
Economic Calendar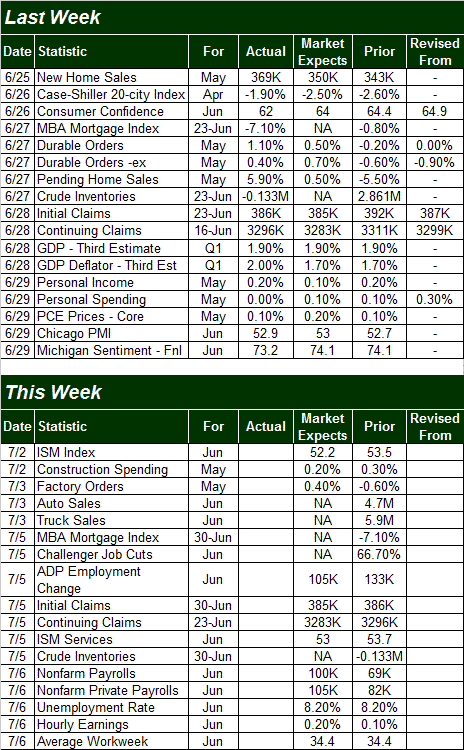 This week is an important one for jobs/unemployment, beginning on Thursday with the Challenger job-cuts number and the ADP employment change number. ADP says we're going to report only 105K new jobs were created in June, which is growth, but at a pace that's getting slower rather faster. The number roughly jives with the government's expected figure of 100K (105K for private payrolls). That's not going to be enough to move the unemployment rate dial, which is expected to roll in at 8.2%.
Stock Markets
While we usually start our chart analysis with a detailed daily chart and then zoom out to a bigger-picture weekly view, we're going to switch things up today and start with the longer-term look… for a reason. The reason is, to explain how the undertow is still bullish even though we may see a couple of bearish days this week now that there's some profit-taking potential in the cards.
The bottom line is, the market's in bullish mode. Three of the last four weeks have been winners (NYSEARCA:DIA) (NASDAQ:QQQ) (NYSEARCA:IWM), and the reversal effort from the first week of June happened right where - and in just the way - it should have. The lower Bollinger band as well as the all-important 200-day moving average line both played a role in stopping the bleeding and giving the bulls a chance to regroup. Sure enough, stocks have been heading higher, even if on weak volume.
S&P 500 & VIX - Weekly
Now, with that as the backdrop…
Although the market's in a longer-term uptrend, in the short run, the S&P 500 (SPX) (NYSEARCA:SPY) still has some hurdles to get over. Namely, the 100-day moving average line at 1359.6 (gray) halted Friday's rally, as it did a couple of weeks ago. The index will need to clear it first before we get too excited, but given the size of Friday's surge, it's not apt to do so early this week…. too many people are already thinking about taking some profits.
The CBOE Volatility Index (VIX) (NYSEARCA:VXX) is also uncomfortably low, compared to recent ranges.
The point is, there are several things working against stocks at this point in time.
S&P 500 & VIX - Weekly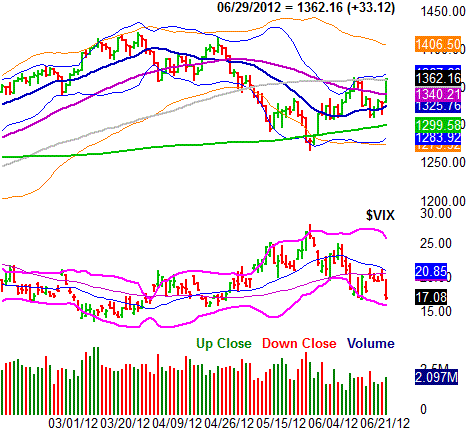 The good news is the 20-day moving average line (blue) seems to be a floor now. It prepped the S&P 50 for the mid-June rally effort, and seemed to be the line in the sand last week. As long as it holds up, the market will stay in the hunt.
All that being said, it's clear the market is in limbo right now, and could be for a few more days while the dust settles. But if this really is the onset of a bigger-picture rebound then it's not too soon to start looking for hot (or cold) spots….sectors or industries to own, or avoid owning.
Disclosure: I have no positions in any stocks mentioned, and no plans to initiate any positions within the next 72 hours.