Unlike even top-selling PC hardware vendors, Apple Inc. (NASDAQ:AAPL) has historically sold a differentiated consumer electronics product to customers willing to pay a premium price. Apple's growth in sales volume and in market share raises questions both about the sustainability of Apple's margins and the sustainability of the growth it has demonstrated over the last several years. The purpose of this article is to discuss the sustainability of past and present margins and growth.
Margins Matter
When Apple was a smaller company, customers' willingness to spend more allowed the company to survive as a niche player despite sales volumes incapable of supporting a commodity vendor. And there were so many commodity vendors. In an interview with All Things D, Oracle CEO Larry Ellison - a longtime friend of Steve Jobs - recounted a conversation with Michael Dell in which Ellison expressed some concern about the fifty PC vendors competing in the United States. Michael Dell's response was to correct Ellison. Dell's correction? "It's more like five hundred." And as mentioned in the interview, many of those commodity vendors of desktop computers failed in the ensuing years' competition for sustainable market share.
Sustainable market share is not a fixed point, but turns on the costs of each manufacturer. Variable costs include not only assembly and advertising but even the third-party parts every vendor competes to buy while supplies last. As different companies have different relationships and different purchasing volume, so too do they face different pricing.
Competition continues for key vendors' goods and services. Since those goods and services are in finite supply, and capable of being sold at numerous prices, both margins and volume are affected by each vendors' access. In this area, Apple supply-chain mastery shows its value. When the iMac was new, Apple pre-purchased holiday air shipping in such volume that the iMac was the only home computer that could be delivered by Christmas to late-ordering shoppers. Later, Apple consumed so many 1.8" hard drives that no other manufacturer could buy the parts needed to manufacturer a multi-gigabyte music player as small as an iPod. Earlier this year, Apple's block purchase of shipping capacity from Asia in the wake of the iPad update caused competitors to pay a 20% premium. Links for these feats appear in a March article describing Apple's cash as a competitive advantage. Apple's huge cash position offers peculiar bargaining opportunities, such as the ability to make ten-figure prepayments for NAND Flash storage, and its purchasing volumes are expected to drive NAND flash pricing for the next several years. Most recently, Apple's newest ultrabook-thin full-feature notebooks have consumed the world's capacity for metal notebook computer chassis. Apple continues its supply-chain dominance as recognized by its position - continued from last year - as Gartner's top-ranked supply chain in the world.
Apple's profit outlook has been impugned repeatedly by observers predicting that competition in new markets will drive Apple's profit margins into the weak realms of its commodity-vendor competitors. Careful scrutiny of those predictions has to date revealed no supporting basis in purchasing volumes, vendor relationships, prepayment flexibility, market segmentation, or intellectual property licensing costs. The conclusion that Apple's margins will raise or decline is only as plausible as its supporting evidence, and the evidence on Apple's margins is that they are supported by significant factors involving intellectual property, liquidity, volume purchasing agreements, and careful brand management to support continued enjoyment of favorable market segmentation. To convey graphically how these factors have worked in Apple's favor as it has grown in geographical reach and in sales volumes, it is worth looking at some data from YCharts: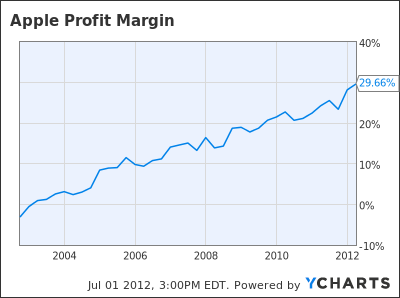 Based on the above graph's occasional transient margins dips, one should not be surprised when an upcoming quarter's margins dip from a previously-posted result. But this author would not bet against Apple's margins to grow long-term. Apple isn't enjoying margins simply because no-one else sells a PC or a smartphone or a music player. Apple has fought against competition in computing devices - sometimes against awful handicaps such as lazy CPU development at Motorola and application lock-in that rendered most of the PC market inaccessible to Apple. No, Apple is no stranger to competition.
Apple enjoys margins because it owns more of the intellectual property in its products than hardware competitors, and thus can enjoy more profit on each unit even at the same prices. Yet, Apple need not sell at the same prices. Apple's volumes mean Apple can safely invest more in the engineering of its products, making them superior to the less carefully crafted products offered by competitors. As a result, Apple - which has established its brand as representing a differentiated product - can charge more than competitors. People expect to pay more for an Apple product, and they are not disappointed when they do. About a fifth of Apple's customers are so satisfied they report being unwilling to switch brands at any price. This is not a violation of any laws of economics: Apple's strategy of product differentiation works against easy substitution in the minds of customers and thus makes its products non-commodities.
Back in 2004, Steve Jobs said, "I've always wanted to own and control the primary technology in everything we do." The ownership of the intellectual property underpinning Apple's products is a competitive advantage. To maintain margins, Apple is not only buying intellectual property (e.g., Anobit to improve margins on its NAND) but is making direct R&D investments intended to further differentiate Apple's product lineup. When asked about the growth of R&D to $80 million, Tim Cook said: "We're thrilled with the ROI we're going to see on these investments."
What value is a customer relationship like that? Not only can Apple sell products without the pricing pressure ordinarily attendant a commodity market, but it creates evangelists for Apple products in every room that contains users of Apple products. Apple's marketing is not limited to paid ad spots, but includes broad support from users.
Apple's margins have grown over time, despite increasing competition from hardware vendors in the phone, tablet, and PC space, and despite renewed competition from a Microsoft (NASDAQ:MSFT) that once dismissed Apple off as a harmless niche player. Apple will continue to face competition from all these players as Apple grows in enterprise and into other markets whose incumbents will attempt to protect their market position. However, Apple will continue to position its products as differentiated products and will offer lower prices only as part of a market segmentation strategy in which new products occupy the top tier of a pricing scheme. Apple will maintain its brand value (faster-loading summary here) by avoiding loss-leaders and other devaluing strategies.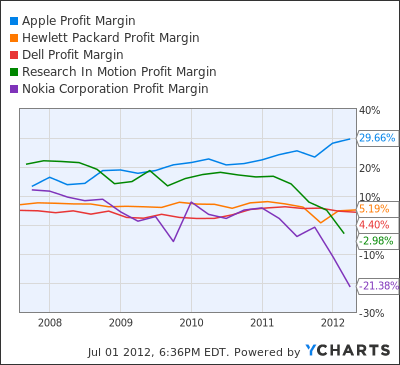 Current competitors lack the critical elements - software, hardware design investments, user interface polish, product ecosystem, branding, etc. - that differentiate Apple's products. Current competitors also lack Apple's post-sales satisfaction: Apple leads satisfaction in cell phones, PCs, and tablets . . . and according to PC World both satisfaction and reliability in notebooks, desktops, tablets, and smartphones. In online sales, Apple is bested only by Amazon (NASDAQ:AMZN), which isn't a direct competitor for most of Apple's product lines. (This author would argue that Amazon isn't a direct competitor even in tablets, but that's another article.) In attracting and keeping the high-end market, Apple continues to invest to insure that it maintains what it needs to offer the product and the post-sales experience that keeps customers paying for Apple products.
Volume Is Units
Apple's profit is a result of per-unit profits of each product being multiplied by Apple's sales in units for each product. It is straightforward math, involving no mystery. Apple's unit sales may peak at some point, but with Apple unit sales having recently grown in markets where sales shrank, it's evident that peak unit volume has not yet been reached at Apple. Of course, not all geographical regions share identical growth rates for all products. For example, Apple's unit sales growth in China for the first calendar quarter of 2012 was up 3x year-over-year, driving China revenue to $7.9 billion. In the country of over a billion people, Macs were available at less than 2,000 points of sale, but their sales grew 60% year-over-year while China's computer broader computer market experienced growth of only 6%. At the close of that quarter, Apple hadn't yet released the new iPad in China, because production volumes were being completely consumed by demand from other markets.
Last quarter, Apple's sales in China amounted to about a fifth of its global sales. Despite having grown to this significant a size, China is on track to roughly double in Apple's fiscal 2012 its China sales in fiscal 2011. By the end of the calendar year, Apple's sales in China will be similar to its sales in the established U.S. market - but will be growing faster.
Despite this outstanding growth in units - the metric that actually drives Apple's profits - Apple's share price faces headwinds because of concern over market share. Market share doesn't have to do with how well Apple is doing at selling profitable products, it has to do with the success desperate competitors are having dumping low-margin products in a panicked bid not to be left at the starting gate. When Amazon launched the loss-leading (or break-even) low-end Fire tablet, it accounted for more than half the non-iOS tablet units. Despite claims that Android tablets - including things like the Amazon Fire and the Barnes & Noble Nook, neither of which comply with Google's requirements to access the Google Marketplace and thus do not share an application ecosystem with other Android devices - were "gaining" to the "detriment" of Apple's devices, Apple's unit sales (and profit) continued to grow. Once consumers wised up to the bargain-basement nature of the Fire, its sales crashed.
One need not even enter into the debate whether Android products are even competing in the same market as the iPad. Apple's profit calculation has two inputs: Apple's per-unit profit, and Apple's units. Excitement over "share" in the market (or even the definition of the market) and whether that "share" it is being "won" or "lost" makes good copy, but has little to do with the present value of Apple's future cash flows. (For those interested in market share instead of unit sales, there are also articles describing the real state of non-iOS share, and predicting iOS as the tablet share winner.)
For a further indication that profit is driven by margins and units, rather than "share", it's worth considering the notebook market and the cell phone market. With but 8.8% of cell phone share, Apple commands 73% of the cell phone profits. Unless one considers tablets to be PCs (in which case, Apple crushes the PC market), Apple's "share" of the PC market barely reaches double digits in the U.S. and on a worldwide basis doesn't even rank among the top vendors. This, despite outgrowing the PC market globally for 24 consecutive quarters. But the devil is in the details. Despite U.S. share of about 10%, Apple sells 66% of computers over $1000. If Apple is growing unit sales in the richest part of the PC market, and is doing so at a pace faster than competitors can grow sales in the bargain-basement segment of the market, Apple is doing something that can't be measured by mere "share". Apple is winning on profit because it's not hung up on share, it's focused on improving its execution of profitable products.
Conclusion
Apple continues to grow unit sales. It expands its products' spacing across customers' price range, grows the geographical availability of products, and increases numbers of points of sale in established geographies. Apple maintains extremely high customer satisfaction, to the point most users report their next product will also be an Apple product. Although unit sales collapse is a theoretical risk, the author would have to see a theory supporting its plausibility before accepting it as foreseeable in the near term.
Apple continues to acquire and develop hardware manufacturing techniques, software, and other intellectual property capable of sustaining the differentiation of its products. Competitors will not enjoy Apple's design investment, included software, or product ecosystem. Apple will maintain strong product margins relative to competitors even as it extends its product reach
Disclosure: I am long AAPL.